Fatigue
Reduced mobility
Visual problems
Urinary incontinence
Numbness or tingling
Muscle stiffness and spasms
Problems with balance and co-ordination
Information processing deficit
When looking for or specifying a chair for an individual suffering from MS, it is important that these potential symptoms are noted and that the chair is able to provide the necessary support.
Lateral Supports in Chairs for People with Multiple Sclerosis
Whether it's a hospital grade care chair or a riser recliner, having lateral supports can make a huge difference when finding chairs for people with Multiple Sclerosis. Individuals who live with MS may find that over time they develop weakness down one side of their body.
They may also lose thorax strength because of their condition, so including lateral supports in a chair will really help maintain a healthier posture when seated.
If you want lateral supports as an option in your chair, then it is possible for us to make them removable as to suit your needs. Our seating assessors often find that the Legacy chair is a great option for those with MS as it can be made with varying levels of lateral support. Read more about chair accessories that can help individuals with MS.
Extra Backrest Angles & Tilt-in-Space
Adjustable positioning is also imperative to finding the right chairs for people with Multiple Sclerosis. The slightest discomfort can cause a lot of pain, so investing in a chair that has the ability to reposition is key to keeping them as comfortable as possible.
Care chairs and riser recliners that are equipped with tilt-in-space can be particularly helpful for those with MS. Tilt-in-space allows muscle groups to relax, and it reduces any stress that may be put on the spine itself.
By simply tilting the person backwards, the chair will spread any weight and pressure that usually sits on the sacrum and the spine, making it much more comfortable, and much less painful for the user. Read more about the importance & benefits of tilt-in-space.
Having an extra backrest angle can also help massively with this. It gives the individual another level of comfort and allows them to still be able to sit upright to socialise. Again, the adjustable backrest will also take some of the strain of the person's spine, and it will help with those people who have reduced trunk strength.
If the individual is still standing and doesn't struggle too much with mobility, then a rise and recline chair with tilt-in-space and an adjustable backrest will be the best fit.
Sculpted Seating
The seat itself should also be taken into consideration when choosing MS chairs. The seat acts as a base to the person's posture and spinal positioning.
If this is ignored, then the chair may cause more harm than good. Having adjustable seating is always advised, as this allows you to change the chair over time to keep up with the person's varying needs.
Our seating assessors have found in the past that having a sculpted seat can really help individuals with MS to remain comfortable and positioned healthily. Because of the weakness and problems with balance that MS can sometimes cause, a slight saddle or pommel-shaped seat usually helps the person maintain a healthy pelvic positioning.
This, in turn, acts as a base for better spinal posture and allows the leg muscles to relax a little more than a typical seat would.
Another thing to consider with your seat is pressure relief. The risk of pressure ulcers and injuries is much higher for people who spend a lot of time sat down, so finding a chair with built-in pressure relief is vital.
At Yorkshire Care, we tend to put pressure relief active air cushions in the seats of our made to measure chairs. This helps to combat pressure build-ups, which slows down and prevents the onset of pressure injuries.
For individuals with more severe MS who sometimes suffer bouts of incontinence, we would suggest having some sort of waterproof cushion cover and materials on the chair.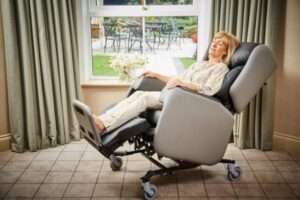 An alternative to sculpted seating would be adjustable seating. The Lento care chair has adjustable seat height, depth, and width.
These are just a few things to look for in chairs for people with Multiple Sclerosis, but it is such a vast and varying condition, we would highly recommend having a seating assessment done prior to making any purchases whatsoever.
No two people with MS will have the exact same body shape, ability level, and postural presentations, so the best seating should be specified on a case-by-case basis.
Get in touch with us today to book your free no-obligation in home seating assessment. Or you can download this free seating assessments eBook that's full of helpful hints and tips that will help with any seating assessments.