Bed side rails are an effective barrier to stop patients falling out of bed. They are an important device for patient safety, but can cause risks to the patient if they are not used properly, so due care and consideration needs to be taken by care homes and their staff.
In this article we look at the regulations that apply to the use of side rails, and what you need to look out for to ensure the patient is kept safe at all times.
The Purpose of Side Rails
Bed side rails are designed to keep patients safe who are under supervised care, and may be at risk of falling out of bed. This is particularly relevant to those who have dementia or other neurological impairments which make them less aware of their actions. Bed rails come in different types and lengths, some are split, mesh, transparent, or padded for mental health care.
Care must be taken however to ensure they do not pose an entrapment hazard to the patient, by getting their head or limbs stuck between the gaps in the side rails or between the side rail and the bed itself. This is where the regulations come into play to prevent this happening.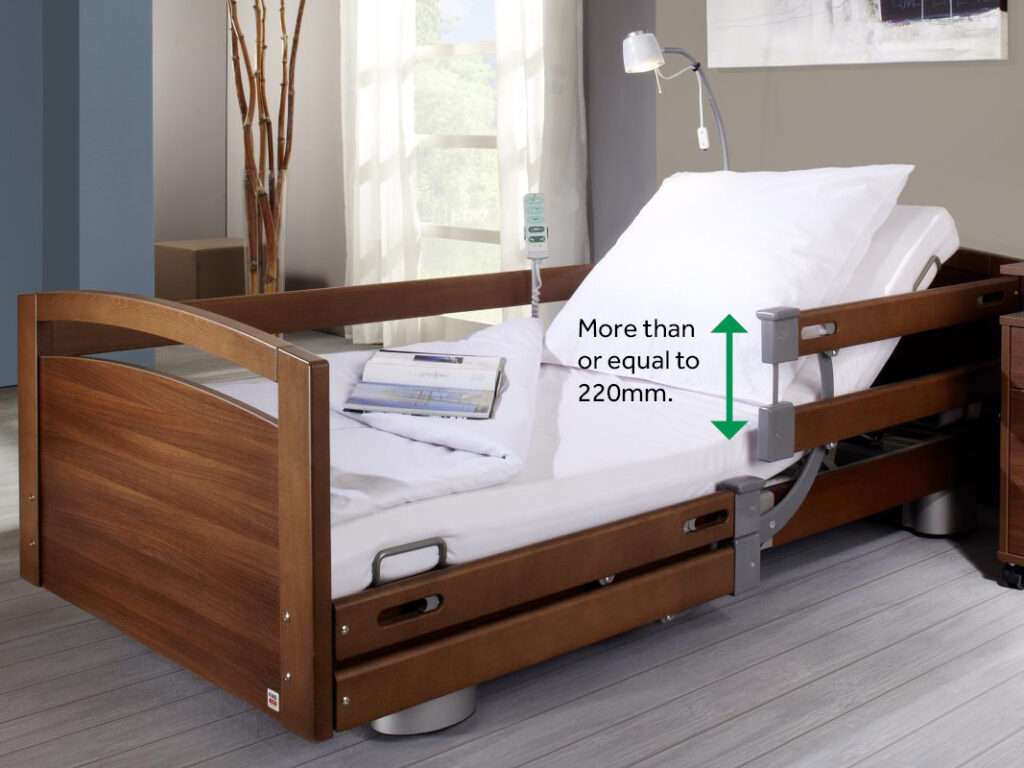 What are the Regulations?
When it comes to side rails, there are certain manufacturing guidelines and regulations concerning their use in care environments that need to be adhered to.
Most side rails are classed as medical devices, which immediately puts them under MHRA guidelines, which are there to ensure medical devices are safe for patient use.
When they are used within registered care environments such as care homes, the Health & Safety at Work Act and Health & Social Care Act apply. Care home providers should already be au fait with these regulations, and staff made aware of the relevant safety rules and procedures that need to be followed. The Care Quality Commission (CQC) is the regulator in this industry to ensure care homes are compliant with the relevant regulations. They have published specific guidance relating to the use of bed side rails, including learnings from previous incidents, which is a great resource for social care providers.
Lastly, the Mental Capacity Act governs the care of patients who are not able to look after themselves due to mental incapacity, and need extra safeguarding and support.
So as you would expect, there is plenty in the statute book to refer to! Whilst we are not able to give any legal advice, we can point you to some of the specific regulations that give detailed guidance about the safe use of side rails.
Staying Compliant
The medical bed standards are the specific ones to look out for when purchasing bed rails and ensuring they are used correctly.
There are two separate standards, one for adults and one for children.
Bed Rail Standards for Adults: BS EN 60601-2-25
BS EN 60601-2-25 is the standard for the dimension of bed rails for adults, including specific measurements for the gaps within the frame and between the frame and headboard.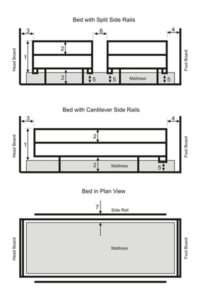 As shown in the diagram, gaps between the horizontal rails (2) should be no more than 120mm so the patient cannot trap their limbs or their head.
Gaps between the sides of the frame and the bed (3, 4, 5) should be no more than 60mm, to avoid entrapment.
The height of the top rail above the mattress (1) should be at least 220mm to prevent the patient falling out of bed.
With split side rails, the gaps between them (6) should also be no more than 60mm. This is an important area to watch being in the middle of the bed, as it is easier for the patient to get their arms and legs caught.
Bed Rail Standards for Children: BS EN 50637
BS EN 50637:2017 is the standard for children and paediatric beds. You will notice there are two diagrams, one for split and one for continuous side rails, but the principles are essentially the same.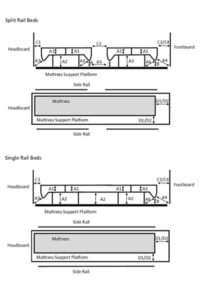 Gaps between the frame (A) should be no more than 60mm.
Gaps between the frame and the bed base, head and foot sections (B & C) should be no more than 40mm.
Gaps between the split side rails (C2 & A5) should be no more than 60mm.
The CubCare is a great example of an advanced paediatric bed for acute environments. The bed sides are clear Perspex and BS EN 50637:2017 compliant, giving visibility to the patient so they don't feel like they are in a cage. They are electrically height adjustable so can be lowered for easy accessibility.
Tips for Care Homes When Using Side Rails
Risk Assessments
Risk assessments are always a good starting point for using medical devices that require care and training to operate. This risk assessment provided by gov.uk is a useful template, which has been compiled from feedback from bed rail manufacturers and findings of adverse incidents.
Bed and Rail Combinations
Always check the compatibility of beds with detachable side rails; manufacturers should give clear guidelines on this in their operating instructions. Most adjustable and profiling beds come with integral side rails that are offered as an optional accessory, which are the preferred option over bed and rails from separate manufacturers.
Care should be taken when using hybrid mattress or mattress overlays, as these may raise the resting height of the patient in relation to the top rail. This distance should be checked to ensure it is in line with the BS EN 60601-2-25 or BS EN 50637 standards stated previously.
Training
Do staff understand how to fit side rails properly? Incorrect or loose fittings can cause accidents and harm to the patient. Proper training should be given and staff shown how to ensure the bed rail is fitted correctly, possibly with the use of a checklist to cover all essential points.
Maintenance
Ongoing preventative maintenance should be carried out by qualified personnel to ensure the rails are in good condition, and flag up any warning signs. Each rail should have a unique ID that can be used to log maintenance records against, and allow them to be identified if a safety issue arises like a manufacturer recall.
Some common signs of disrepair to look out for are:
Rust around welds/joints
Cracking of paint or coating
Loose fixings
Bent components
Missing labels
Conclusion
The use of bed side rails is an area where great care needs to be exercised, to ensure they are compliant with the relevant medical regulations and patients are kept safe as a result. There have been incidents in care homes where patients have been harmed due to negligence, but with the right processes in place, care homes and their staff can be confident they are using bed side rails safely and for their intended purpose.
For more clinical resources and advice, please get in touch.