As an experienced provider of service contracts we are aware of the benefits and reassurance a service contract provides. We are also well aware of the pitfalls of not protecting your equipment with a service contract. In this article we cover how services work, the benefits they bring and how we are equipped to support you.
How Do Services Work?
All mobility equipment with electric motors and moving parts should be serviced at least once a year, to rectify any faults and give you piece of mind that your essential living aids are in good working order. Typically this will include riser recliner chairs, care chairs, bath lifts, ceiling and mobile hoists, electric and manual wheelchairs, lifting aids, mobility scooters and beds.
Contact your local mobility store or service company for more information. At Vivid.Care our engineers mainly cover the north of England; if you are local to us you can bring your equipment into our workshop for a reduced labour charge, where we have battery testing and diagnostics facilities.
A standard service normally takes about an hour, where a full inspection and testing of the product is carried out, general maintenance and wear and tear issues are addressed, and a product checklist and service report is completed. Extra charges may apply for parts supplied.
A standard product checklist would include pass/fail checks for a range of components, as shown by the example below.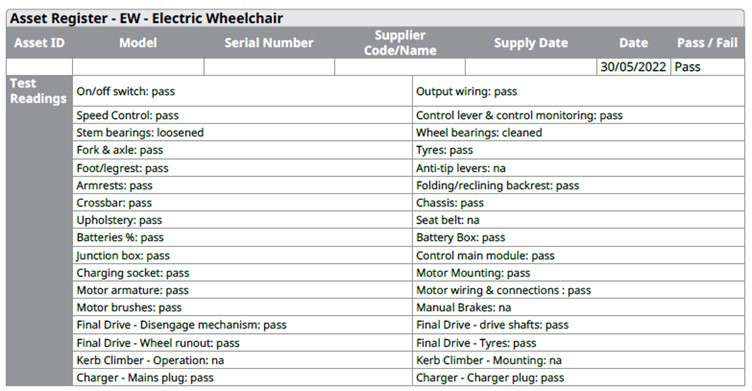 Should I Take Out A Service Contract?
Our bespoke service contracts are designed to give an agreed service level for a fixed period of time, usually between three and five years. Alternatively, regular servicing can be done on an on-demand basis, to which our current service and callout rates apply.
The below diagram outlines the main differences between these two offerings:
Our service contracts are organised into silver, gold or platinum levels. The main differences in terms of service level are remote support time, engineer response times, and discounts on additional parts and labour. Contact our service contracts team to arrange a quote and find the best level of service contract for you.
Location is another factor that affects the cost of the contract, the key determinant being whether your equipment is located under or over 80 miles from our Head Office.
How Often Should I Have My Equipment Serviced?
Most mobility items need servicing at least one a year. Items like ceiling and mobile hoists that carry out a suspended lift must be serviced every 6 months under LOLER regulations. Sometimes it can be a condition of warranty that services are carried out, so check with your equipment supplier for more details.
We cannot over-emphasise the importance of keeping equipment in top working order to prevent problems arising, and identify any issues in advance that may affect the future performance of the equipment. General maintenance is essential to ensure the longevity of your equipment.
What Other Aftersales Benefits Are Available?
Helpsheets and tips are available for you to follow on general maintenance, including when and how to charge batteries, and how to clean and care for your equipment to keep it in good working order.
We offer video or phone time with our engineers so you can get remote assistance at the touch of a button.
We can service products provided by other companies on the proviso that we can obtain the parts. If this applies to you, please check your sales contract to ensure it doesn't invalidate your warranty.
Emergency callouts are prioritised depending on location and impact to the user, for example stairlift breakdowns, but we don't provide a kerbside recovery service.
In Summary
If you rely on mobility equipment for your daily needs or have patients in your care that do, it is essential that you have sufficient backup and support to keep your equipment fully operational for whenever you need it.
Ensure you have a safety net in place by arranging a service or support plan with us today, for individual or multiple items of healthcare or rehab equipment.