Multiple Sclerosis (MS) is a neurological disorder caused by damage to the central nervous system. There is no complete cure for MS, but there are lots of treatment options to help ease symptoms and improve quality of life for sufferers.
MS causes fatigue, muscle spasms and cramps, and problems with balance and coordination. Choosing a chair that facilitates the right treatment and therapy will help MS sufferers improve their wellbeing and relieve pain and discomfort.
Symptoms of MS tend to fluctuate, known as 'relapsing remitting', so adjustability is a key feature that needs to be built in to provide for these changes in symptoms.
Physical Characteristics of MS and how the Lento Neuro can Help
The Lento Neuro has just been launched as a game-changing chair for patients with neurological conditions, particularly helpful for those with involuntary movements. True to the Lento range, it is fully adjustable so can be resized to suit any individual, and has standardised removeable parts that can be renewed and recycled whenever necessary.
Muscle Weakness
MS can cause weakness on one side of the body, making it difficult to maintain an upright posture. The angled seat rake in the Lento Neuro helps the patient maintain a good midline position. The extra postural adjustments help prevent leaning, such as increasing the back angle to create more of a lying position, and adding in extra lateral supports.
Muscle Spasms and Cramps
The chair is upholstered in a soft wicking fabric and dartex material, to make the patient as comfortable as possible and reduce pain and surface pressure. The chair pivots from the front to recline back up to 38 degrees, to easily readjust the sitting position and relieve pain and stiffness.
Incontinence
Some MS patients suffer from incontinence, which is easy to manage in the Lento Neuro with its removeable cushions and backrest that can be easily wiped clean.
Fatigue
Lower energy levels and mobility problems mean some MS sufferers will be seated for longer periods of time. The variable seat angle and cocoon-shaped seat make the patient feels comfortable and supported for longer periods. Enhanced pressure features like breathable fabric and coolgel cushions keep the skin comfortable and pressure-free.
Balance and Coordination Problems
Damage to the nerve cells confuses the messages transmitted to the brain, causing problems with coordination and movement.
The Lento Neuro is great for people with involuntary movements, and the solid build makes it absolutely firm and secure, without any points of entrapment. The channelled footrest helps keep patient's legs in position who may involuntarily move them to one side.
Other Seating Solutions for MS
There are other care chairs and specialist wheelchairs that are well suited to MS, with key postural features such as lateral support and seat size adjustment.
Lento Care Chair
The Lento Care Chair is fully adjustable in seat depth, width and height, to suit any MS patient. It provides a high level of postural support with backrests that can be swapped out, to lateral backrests that provide support where MS patients have muscle weakness on one side, or thoracic backrests where patients have lost thorax strength.
Repositioning is important to relieve pain from muscle spasms and cramps, which is why the Lento Care Chair's multiple positioning options are a winning feature, with tilt-in-space, legrest elevation, and angle adjustable back.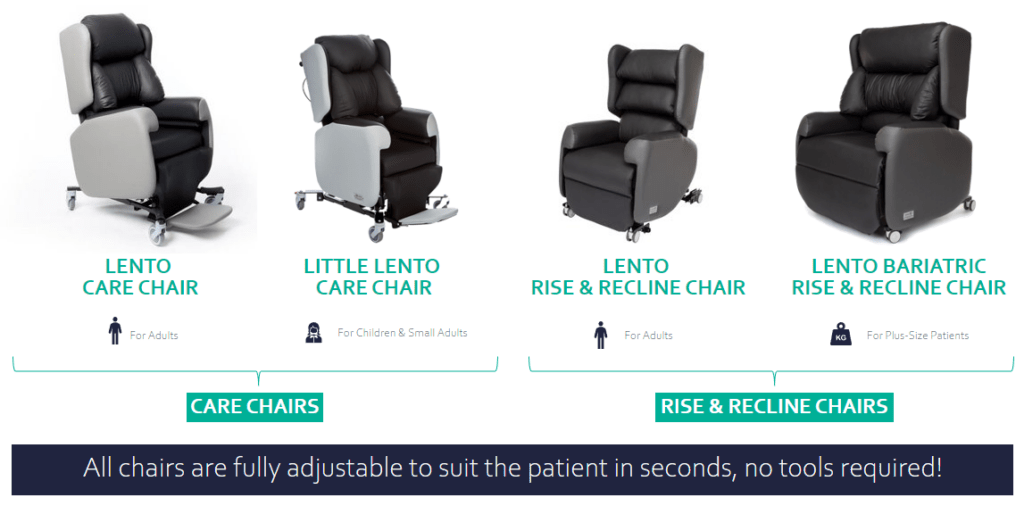 Cura Legacy
The Cura Legacy is a highly adjustable chair that features seat depth, height, width and back angle adjustments. It includes lots of positioning options to help MS patients, and is available in manual or electric action.
Rea Azalea Tilt-In-Space Wheelchair
The Rea Azalea is an attendant-propelled wheelchair with tilt-in-space, so useful for MS patients who have had relapses or are undergoing treatment in hospital. There are lots of optional accessories like seat pommels to help maintain posture and prevent sliding forward in the chair.
VELA Activity Chair
The VELA Activity chair helps patients be more independent and mobile around the home, making everyday tasks more manageable. It features easy electric height adjustment at the push of a button, a solid wheelbase to glide about on, and a central brake for added security when getting in and out.
Summary
The physical effects of MS can be well catered for by a range of different care chairs, helping MS sufferers who have poorer mobility and struggle to manage symptoms.
The adjustability in positioning and build-in width and depth adjustment are perfect for accommodating fluctuations in the condition over time, making the Lento chair range the ideal long-term seating solution for MS sufferers.