Care chairs and riser recliners are terms used frequently in healthcare seating, but it is important to understand what they both mean and what the difference is between them.
What are Care Chairs?
Care Chairs are high-spec seating solutions built for individuals who need a high level of care on a day-to-day basis. They are widely used in care homes and residential care units.
Their seat systems are designed to provide maximum comfort for long periods of time, with extra cushioning and positioning features. They usually have push handles at the back of the chair, and large wheeled castors to enable carers to move the patient around easily.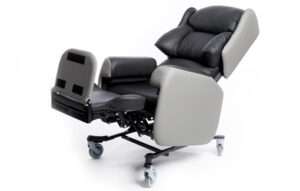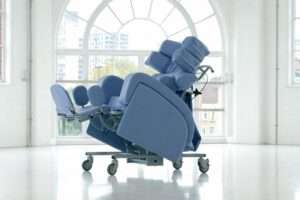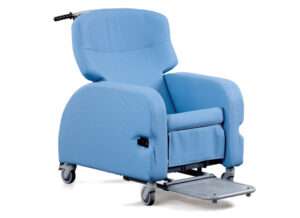 What are Riser Recliner Chairs?
Riser recliner chairs (otherwise known as rise recline or recliner chairs), are a more contemporary seating range designed for a wider market, to help those with poor mobility.
The main purpose of this chair is to help the user stand to their feet, and recline back in the chair when needed.
Common in domestic environments, they tend to be more contemporarily-styled with fabric upholstery, but we do supply hospital-grade versions like the Lento Mobile Riser Recliner.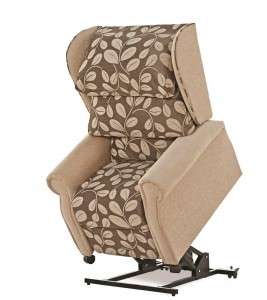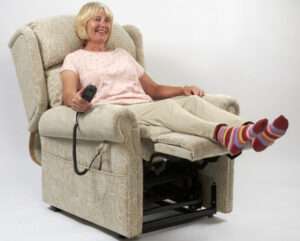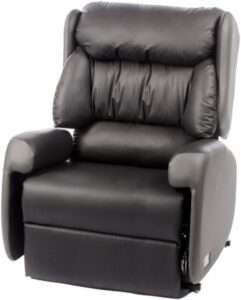 What are the Main Differences?
The main difference between the two types of chairs is the mobility needs of the user. The care chair is built to a high medical grade to support its users, because they cannot transfer unaided from the chair and need to be hoisted. As a result, they spend far more of the day in the chair, so the chair needs to be specified to provide this level of postural support.
Riser recliners are used to assist someone from a sitting to a standing position. The client may also use a standaid to help them get out of the chair, but they don't need to be hoisted as they don't have severe mobility issues like someone who would use a care chair.
It can be said therefore that the key determinant between the two types of chairs is whether there is a hoisting requirement.
The other main differences between the two types of seating are as follows:
| | | |
| --- | --- | --- |
| | | |
| | For patients with more advanced physical needs | For patients with poor mobility who need assistance standing |
| | Some seat dimensions can be adjusted if the client's needs change over time | Comes in standard sizing, or can be made-to-measure |
| | Higher pressure relief like gel or alternating air is built into the seat. Usually upholstered in 4-way stretch material like dartex to enhance pressure relief. | Higher-spec options can be built into seat, but normally uses low to high risk foam cushions. |
| | Generally has a higher range of positioning features for the client's postural needs, such as head supports, extended legrests, and multi-adjustable backrests | Different backrest styles can be specified depending on postural needs, and additional accessories like lateral supports are available |
| | Care chairs are portable so have a raised base on castors that can be wheeled around | Riser recliners can be mounted on castors, but are usually on glides or feet. |
Different Chairs, Different Users
Riser recliners will typically be used by elderly clients in nursing homes or their own homes who are experiencing declining mobility, and need assistance getting in and out of their chair, as well as tilt-in-space positioning to take the pressure off their lower limbs.
Care chairs tend to be used by patients with long-term conditions like stroke, MND or other neurological disorders. The seat sides tend to be slightly higher and more supportive, and tilt-in-space comes as standard to redistribute pressure, and may include incremental tilt to gradually change the patient's position over time. Head supports and footplates give head-to-toe postural support, helping them feel as comfortable as possible and allowing staff to attend to their daily needs.
The two types of chairs are usually pretty distinct from one another. However, with such a wide range of chairs on the market, sometimes the main features can overlap. For example, some riser recliners will have larger castors and can be used with a hoist. Also, some care chairs can have a rise function to lift the patient out of the chair. Generally speaking though, there is a clear distinction between a riser recliner and a care chair.
Summary
The key difference between care chairs and riser recliners is the level of postural support they provide. Care chair users have limited mobility so need hoisting in and out of the chair, whereas riser recliner users are able to use the chair to assist them to their feet.
To find out more about our range of riser recliners and care chairs, please contact our seating team: