Electric Lift Chair – Use As a Standing Aid
The adjustable Lento Chair is designed with a standing assist feature that helps elderly individuals get up and down with ease. This feature is especially useful for someone who suffer who suffer from:
Arthritis
Osteoporosis
Weakened muscles
General limited mobility
The electric lift standing assist feature uses a motor to lift the seat of the chair and help the a person sitting in the recliner get to a standing position.
This makes it much easier for an elderly or reduced mobility person to get in and out of the chair without putting too much strain on their joints or muscles.
The standing assist feature is also a great way to reduce the risk of falls, which can be a serious concern for elderly individuals.
Removable Armrests | Make Lateral Patient Transfers Easier
For elderly individuals who require lateral patient transfers, the adjustable Lento Chair's removable armrests provide an easy solution. This feature allows caregivers to help move individuals from a bed, wheelchair, or other sitting surface into the Lento Chair with ease.
The armrests are also removable, making it easier for hoisting, side transfers and other moving and handling care tasks.
This is particularly important for individuals who may require daily assistance with transferring in and out of the chair.
The removable components also make it easier to strip, clean and maintain the chair.
Pressure Care Management
The adjustable Lento Chair offers multiple levels of pressure care integration in its seat cushion, which is an essential feature for anyone who spends long periods of time sitting down.
Pressure ulcers can be a significant issue for elderly individuals, and the Lento Chair's pressure care integration helps to prevent these painful sores from developing.
The pressure care seat cushion is made from high-density foam and is designed to distribute pressure evenly across the surface of the cushion. This provides excellent support and comfort for individuals with limited mobility.
Supportive Orthopaedic Design
As we age, our posture can become increasingly compromised, leading to pain and discomfort. The adjustable Lento Chair is designed to provide excellent postural support, which can help to alleviate pain and improve overall comfort.
The chair features a high backrest, adjustable headrest, and lumbar support, all of which work together to provide the right amount of support for the user.
By providing the right amount of support, the widely adjustable Lento Chair can help elderly individuals maintain a healthy and comfortable sitting position, reducing the risk of further complications.
Tilt In Space Benefits
A tilt-in-space chair is an adjustable chair that allows the user to recline while maintaining a consistent angle between the seat and backrest.
This technology enables the user to redistribute their weight, promoting comfort and pressure relief, and can be beneficial for the elderly or users with mobility or postural challenges.
Tilt-in-space chairs like the Lento Chair are designed to help users maintain good posture and reduce the risk of pressure sores or injuries.
Distributing the user's weight evenly across the seat and backrest can help prevent discomfort and pain, and also promote better circulation.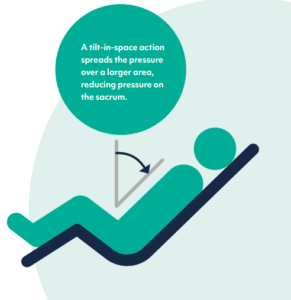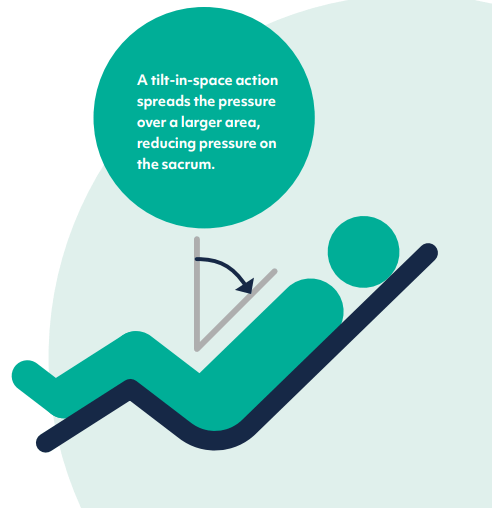 One of the biggest advantages of adjustable tilt-in-space chairs is their ability to accommodate different body types and needs.
For elderly or disabled users who may spend long periods of time in a chair, the ability to adjust the angle and position of the chair can be a game-changer.
This tilting chair technology can help elderly users prevent fatigue, discomfort, and even injuries caused by prolonged sitting.
Additional Features
In addition to the features mentioned above, the widely adjustable Lento Chair also includes several other features that make it an excellent choice for elderly individuals. These features include:
Bariatric options: The bariatric Lento riser recliner Chair has a weight capacity of up to 50 stone, making it an ideal choice for larger individuals.
Removable seat cushion: Unzip the seat cushion and add higher pressure injury management cushion.
Extra backrest cushions available: The seat cushion is designed with a waterfall backrest, which provides postural support and improves comfort.
Postural support cushions: The Lento adjustable disability recliners all feature postural support accessories, for additional patient support, comfort and safety.
Summary:
The Lento chairs are a range of medical grade riser recliners that can be used at home to care for elderly, disabled or otherwise low mobility people.
These mobility recliners are on wheels so they are easier to move into other rooms, and the supportive Lento Chairs come with a range of features that offer care and support for an elderly and disabled loved one, as well as help for carers.
Fast UK Wide Riser Recliner Delivery
If you're interested in purchasing any version of the adjustable Lento Chair, we offer fast delivery throughout the UK.
Order now and experience the difference the Lento tilt in space recliners can make with a full money back guarantee if you find it isn't right for you.