Traditionally, the phrase 'chair lift' may conjure images of the chair lifts that are seen in skiing resorts across the world – they take a person from one place to another. This is a handy concept to keep in mind because chair lifts for the home work in a similar fashion.
Rise and Recline Lift Chairs
A traditional chair lift will take a person from a low elevation to a higher one, a riser recliner armchair lifting chair raises a person with a motorized lifting mechanism to help individuals with mobility issues to stand up or sit down more easily.
This is especially useful at home for those with low mobility who may find it difficult to perform this rising action on their own.
The electric mechanism raises the chair at a gentle angle, allowing the person to stand up from a seated position without having to use their leg muscles as much. In contrast, a chair lift is a type of ski lift that transports people up a mountain for skiing or snowboarding purposes.
Recliner Lift Chair | Benefits
Comfort: Lift chairs are designed to offer the same comfort as a traditional armchair. They can also come with additional padding and lumbar support, which can provide greater comfort and help to alleviate pain and discomfort associated with sitting for extended periods.
Increased independence: The lifting mechanism of the chair helps individuals with mobility issues to stand up and sit down more easily, which can increase their independence and reduce their reliance on others for assistance.
Safety: The lifting mechanism of the chair can help to reduce the risk of falls and other accidents, which can be especially important for elderly or disabled individuals who may be at a higher risk of injury.
Versatility: Lift chairs come in a variety of styles and sizes, making them suitable for a range of users and living spaces. They can also be customized with various features such as heat and massage functions.
Convenience: With the touch of a button, individuals can adjust the position of the chair to their desired angle, making it easier to find a comfortable position for reading, watching TV, or napping.
Specialist Lift Chair
A specialist lift chair refers to the type of specialized chair designed for individuals who require extra care and assistance with sitting, standing, and mobility. They feature all the same features as an electric reclining chair lift and boast a range of specialist care options.
Also known as care chairs, these lift chairs typically have features such as adjustable seat height, backrest angle, and footrests, as well as supportive features such as headrests, lateral supports, and lap belts. They are commonly used in healthcare facilities, nursing or care homes, and private residences to assist low individuals with physical disabilities or mobility impairments.
Specialist Lift Chair Benefits | Pressure Injury Management
Specialist lift chairs are designed to accommodate people who may be sat in them for prolonged periods of time, as a result, they can be designed with varying levels of pressure ulcer care built in.
These pressure relief chairs or pressure care chairs are designed to reduce the risk of developing pressure ulcers by providing pressure relief to vulnerable areas of the body, such as the buttocks and back.
They typically feature pressure-relieving materials such as memory foam or gel cushions, as well as adjustable seat and backrest angles to allow for frequent repositioning and weight redistribution. Some pressure relief chairs also have additional features such as lateral supports and adjustable armrests to provide added stability and comfort.
These chairs are commonly used in healthcare facilities and for home care to provide additional pressure relief and support for individuals who are at risk of developing pressure ulcers.
Raizer Lift Chair
The Raizer lift chair is a truly original design created to solve the problem of lifting non-injured fallen people from the floor.
The Raizer lift chair picks up a non-injured fallen person from the floor in under 5 minutes using an original chair lift design that is either motorised or operated with a smooth turn handle on the lift chair seat unit.
The Raizer 2 lift chair is fully electric and has a handy remote control to control the chair lift process, while the Raizer M lift chair is manually operated with a smooth turn handle on the side of the lift chair seat unit.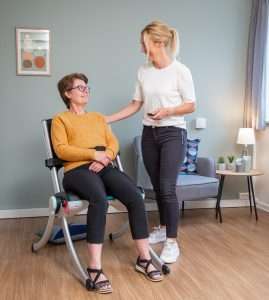 How Does a Raizer Lift Chair Work?
The Raizer M lift chair works by turning a handle that slides into the side of the seating unit. The Raizer 2 lift chair works with an electric lifting mechanism either controlled by a remote or buttons on the seating unit. This will lift the fallen person to a sitting position in under 5 minutes.
Available in two versions, the Raizer 2 lift chair and the manually operated Raizer M lift chair.
Lay out the Raizer lift chair parts around the fallen person while they are on their back.
Quickly assemble the Raizer lift chair by sliding in the legs into the seat unit – don't worry about putting the wrong parts in the wrong place…the Raizer lift chair legs are interchangeable!

You will hear a noise and see green lights that confirm when a piece is in correctly.
You will hear another noise to confirm the whole Raizer lift chair is ready to lift.

Begin the lift process and bring the fallen person to a sitting position.
How Much is the Raizer Lift Chair?
The Raizer Lifting Chair costs £1795 for the manual version, and £3671 for the fully electric Raizer 2 lift chair with VAT exemption.
The price of the Raizer lift chair can vary depending on the version of the lift chair and the quantity of lift chairs you would like to purchase. Contact our team via online chat or call us today to further discuss Raizer lift chair prices.
The cost of the Raizer lift chair may also be reduced if you are eligible for UK VAT Relief. You can buy the Raizer M Manual lifting chair online then simply complete our £0 Vat declaration form at checkout and your discount will be automatically applied. See rules of eligibility.
Vivid.care supply specialist rehabilitative seating and healthcare equipment across to hospitals, care homes and private residences across the UK.
Call our team today to discuss your options for buying a riser recliner or Raizer lift chair.