When it comes to selecting the best beds for disabled adults, there are several factors to consider. Some important features to look for include accessibility, adjustability, comfort, and safety. Here are some of the best bed options for disabled adults:
Adjustable Beds
Adjustable beds can be raised or lowered to make it easier for disabled adults to get in and out of bed. These operate with a handset and can also be adjusted to different angles to take pressure off areas of the body and help the patient adopt a sitting posture.
The Opera bed range includes profiling beds with adjustable head and leg sections. Other features include Trendelenburg action, dual action, split side rails, and different mattress options. The Opera range has contemporary styling and comes in different wood and fabric choices to match home surroundings.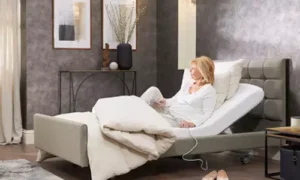 Hospital Beds
Hospital beds are more configurable and designed to be easily cleaned for good infection control. They are often equipped with features like side rails, adjustable height, and adjustable head and foot positions.
They have removable side rails and height adjustment for easy access to the patient and performing CPR. Designed for practicality and ease of use, they have castors and centralised braking systems to help move them around the ward.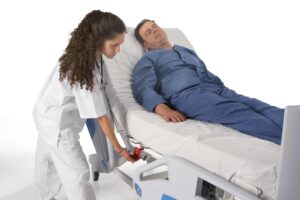 Turning beds
Turning beds are great for disabled patients as the whole mattress section rotates into a sitting position so the user can move off the bed.
They usually have side rails for extra patient safety and height adjustment to find the best position to stand up from.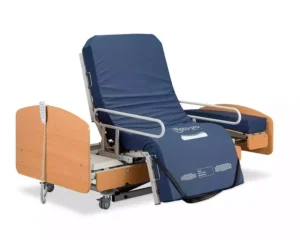 Bariatric Beds
Bariatric beds are designed for heavier individuals with weight limits typically between 200 and 500kg. They feature like extra-wide frames and reinforced mattresses to provide more strength and stability. Key features such as side rails, head and footboard and castors are heavy-duty and built from stronger materials.
They also feature extra positioning options like auto-regression where the backrest and knee brake incline to create a sitting position, to help with weight distribution.
Split side rails will normally be a safety feature to allow the bed to profile into the different positions with the side rails still in place.
The Interlude 500 bariatric bed has a safe working load of 500kg.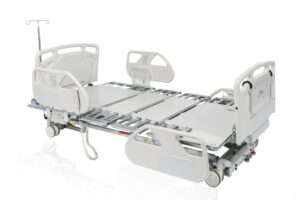 Low Beds
Low beds are positioned very close to the floor, to help users who are prone to sliding or falling out of bed. You can even get floor beds with the underside of the mattress positioned only 71mm from the floor. These come with the same profiling action and features as a standard care bed. As well as ensuring safety for the patient they be raised to full height to facilitate care tasks.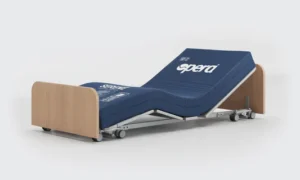 Factors to Consider when Choosing a Bed
Accessibility
If you are looking for the best accessibility options, consider turning beds that help you get in and out of bed. Height adjustment is a key feature so you can access the bed at the right level and carers can adjust to the right height as required. If the user is hoisted, the height adjustment will facilitate the height and floor clearance needed to operate the hoist.
Adjustability
As already discussed, height adjustment is a key feature but an occupational therapist should be able to help assess if other adjustability is required. Mattresses can be profiled and positioned at different angles to accommodate different care needs. Trendelenburg action positions the client at a slightly negative angle so the legs are higher than the head, which helps with circulation problems.
Comfort
Different mattress options are available to choose from, the Opera range has coolgel, memory foam or alternating air throughout its range for different levels of pressure risk.
Safety
Split side rails and braked castors offer extra safety and security for the patient. Low beds provide additional safety for patients who are at risk of falling out of bed.
Positioning and Support Aids
There are many additional support aids like grab rails and stand aids to help patients feel more secure when moving in and out of bed.
Summary
When selecting a bed for a disabled adult, it's important to consider their individual needs and preferences, as well as their level of mobility and independence. Working with a healthcare provider or occupational therapist can also be helpful in identifying the best bed options for specific disabilities and conditions.
We highly recommend the Opera bed range which covers all clinical requirements while maintaining a modern contemporary look.
Contact us for help and advice and to request our Opera beds brochure.