Earlier this year, we launched the new Lento rise and recline chair. Following its success, we are now pleased to announce that we are now releasing a new bariatric version of our riser recliner chair with an increased weight limit of 50 stone. We believe that this is the world's first fully adjustable bariatric rise and recline chair!
Our sister company Innova Care Concepts helped us launch the Lento bariatric rise and recline chair at the National Back Exchange conference last month, and it got a lot of attention from occupational therapists and moving and handling specialists alike.
We're now travelling all over the country delivering demonstrations at hospitals to show just how easy it is to make the Lento a bespoke solution for any patient.
Our technical sales advisor, Steve Coomber, had this to say:
"When we decided to launch the Lento Bariatric care chair at the National Back Exchange event recently, I couldn't have imagined the buzz that it would create amongst the healthcare specialists that attended.
"The chair was mobbed! The functionality and comfort were universally approved, and the demand that we have seen from follow-up conversations has been fantastic. We're all so pleased to have produced another world-first in the industry!"
With NHS waiting times and hospital stays on the rise following the Covid-19 pandemic, we have developed the Lento bariatric rise and recline chair to help serve many patients' needs and speed up discharge times.
The Lento seating system is entirely adjustable with no need for tools. You can adjust the seat height, depth, and width along with other parts of the chair for made-to-measure comfort and support!
Having a chair that fits the patient is imperative in aiding rehabilitation and recovery. The Lento's flexibility will help save cost and can be used with multiple patients with no need to buy different bespoke chairs. Plus-sized patients' needs can be catered to with this new model.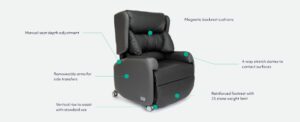 Tristan Hulbert, our managing director, said:
"We knew when we designed the Lento range that it would be a real asset to hospital and multi-user environments. Now that the NHS is catching up after the pandemic, we knew that they would need more adjustable seating that they could use between patients – including plus-sized patients. If we can help make life easier for the NHS in any way, then we're happy to do so."
We designed the Lento bariatric rise and recline chair with hospitals in mind. It's easy to strip down for cleaning and has interchangeable parts, meaning that maintenance and repair works can be carried out with no hassle and minimal wait-time.
Lento Bariatric for Hospitals:
The Lento Bariatric Recliner chair is also available in a hospital spec version, which is designed to minimise any chance of cross-infection by removing Velcro and other hard-to-clean areas.
Want to find out more about the Lento bariatric rise and recline chair? Contact our team, our seating specialist would be happy to provide more information on exactly how the Lento could be right for you.
Arrange an in-person demonstration where you can also test the Lento bariatric rise and recline chair for yourself.
Enquire about the Lento Bariatric Rise & Recline chair
If you're looking for more advice, or conversation to find out if our bariatric rise & recline chair would meet your requirements, please get in touch: