Undergoing a mammogram (breast screening) can be an emotional experience for women, so it is important for mammography staff to make the whole process as comfortable as possible, to relieve stress and anxiety for the patient.
Superintendent and assistant radiographers working in the mammography team are highly trained professionals, and help the patient feel at ease and gain their confidence in order to capture accurate, high-quality images.
This job is a demanding one and requires a unique skillset; this article looks at what types of seating can be used to assist the process to make life easier for mammographer and patient.
Why is Seating so Important in Mammography Wards?
Seating is an essential piece of equipment in mammography rooms. It is essential for the patient because it helps keeps them still and supports them through what can be quite an overwhelming procedure. Some women may be prone to fainting, which seating can help guard against.
Disabled patients will need suitable seating to support them during the screening process and help them to transfer easily from their normal wheelchair.
Seating also has a direct impact on staff efficiency. If the patient is standing, it may be difficult to adjust the screening equipment to the right position and require a lot of physical effort to constantly readjust to the height of each patient. Plus, if the patient is standing up it is harder to steady their position and get a clear screening image.
The type of chair used plays a big part in the level of physical workload for the screening operator. Public Health England released a publication in 2018 titled 'Breast screening mammography: ergonomics good practice', highlighting the importance of good manual handling for mammographers.
NHS Drive for Breast Screening
The NHS have been running a nationwide Breast Screening Programme (BSP) to encourage more of the population to check regularly and catch early signs of breast cancer.
This is completely optional offer for woman to take up, however those who do take up the offer may be quite daunted by it, and it is the mammographer's job to make the process run as smoothly and as comfortably as possible.
Challenges Faced by Mammographers
Mammography is a challenging role, referred to by some in the healthcare world as "the science of imaging, and the art of positioning". Mammography screening poses several challenges to staff and equipment operators:
Getting clear images. Unlike standard x-rays of bone and ligaments that are more clearly defined on x-ray images, breast tissue does not show up clearly, making it harder to get a clear picture of any suspected growth or tissue impairment.
Physical strain. Adjusting the equipment to the correct height and position, and supporting the patient's chest and arms can all place great strain on the carer, particularly if they are having to lean downwards. This type of repetitive strain can cause work-related musculoskeletal disorders (WRMSD) and lead to staff injury leave.
Patient cooperation. In order to get the most accurate imaging as possible, the patient will need to be seated still and comfortably, and positioned correctly on the apparatus.
Different Types of Chairs in Mammography Wards
These are the common types of chairs you will see in mammography wards around hospitals.
Low or fixed height swivel chairs, requiring two staff to operate.
Wheeled chairs without brakes and with fixed armrests, making it harder to keep patient steady and position them from the side.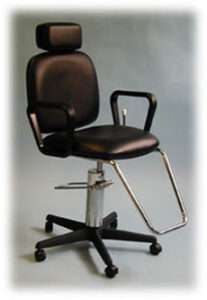 Wheeled chairs with adjustable height and armrests.
Larger imaging chairs, which weigh more and are harder to move around
Manual or electric wheelchairs, unsuitable because of low height, no side access, and controls need to be turned off during screening which makes the chair too difficult to manoeuvre.
Different Mammography Chairs and How They Compare
VELA mammography chair
The VELA mammography chair has been highly endorsed for the ergonomic benefits it brings to staff and patients. A mammographer at Nottingham University Hospitals Trust reported a transformation in her health after previously being signed off sick due to the physical toll the job was taking on her body. Multiple benefits were recounted, including the back support to help the patient lean forward, application of foot brakes, back and forwards adjustment within the chair, ergonomic seat angle, folding armrests for easier side access, and good cushioning to support breast compression.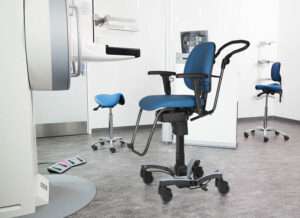 Patient examination chair 
An ergonomic chair with electric height adjustment developed in collaboration with healthcare units and manufactured in Sweden.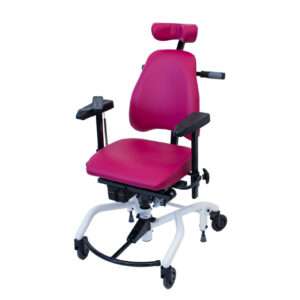 Wolverson mammography chair
A mobile examination chair to transport and position patients, with lockable wheels and direction control, weighing 95kg.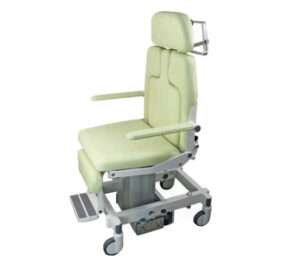 Cardiff chair
Purpose-built mammography chair by Knight Imaging for breast imaging, biopsy and stereotactic procedures, designed for less mobile patients.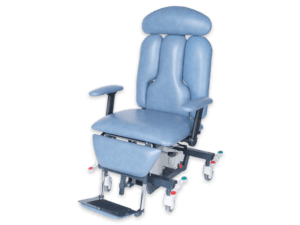 Conclusion
Seating is a core facet of any effective mammography unit, to reduce strain and improve workflow. With the recent increase in elective health programmes like screening tests, now is the time for mammography wards to make sure they are properly equipped.
Contact us to get help with your mammography screening.