What is the difference between a hospital ward bedside chair and a riser recliner chair, and what are they both used for? Before we get into the minutiae of where each one is used, it is important to define what we mean by each.
This article will help you understand the benefits of each chair and where each one works best.
What is a Hospital Ward Bedside Chair?
To state the painfully obvious, these are the type of chairs you will see in hospital wards up and down the country. Basic in design, and usually upholstered in vinyl with a high backrest, they are used in patient waiting rooms and at hospital bedsides. Their simple design, with a metal frame and padded seat and backrest, makes them easy to clean with heavy use, and the vinyl is more resistant to wear and tear. The design of the chair helps keep the patient upright and maintain a good hip/knee angle, helping to get patients mobile again after being bedbound.
Other terms used to describe this chair might be hospital ward chair, hospital bedside chair, high backed chair, or patient chair.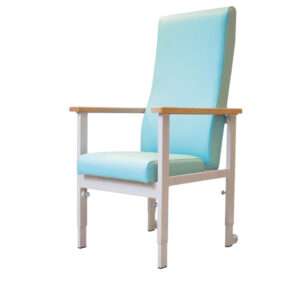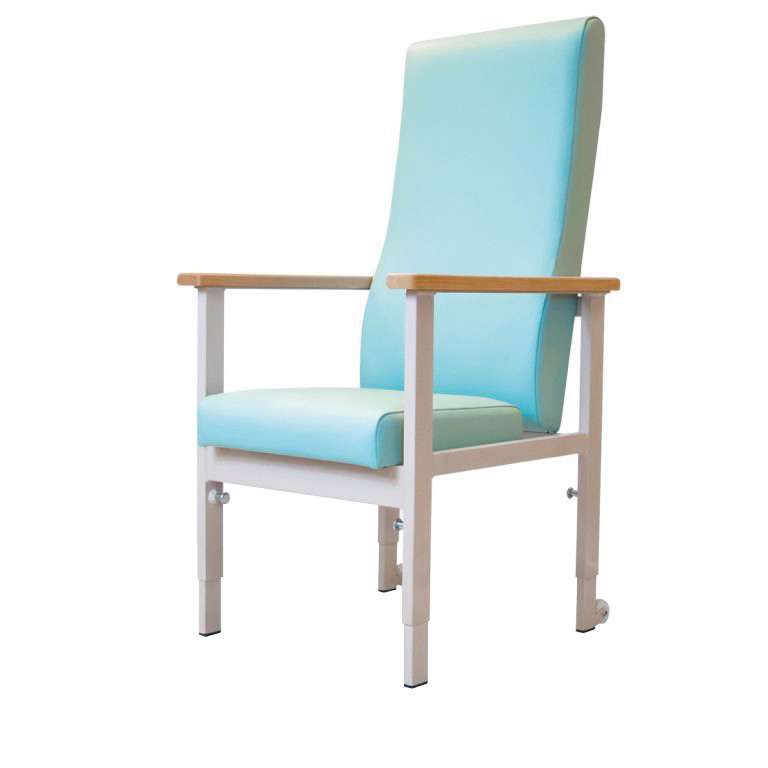 What is a Riser Recliner Chair?
This is essentially an assistive chair that helps the user stand up and sit down, helping them with any mobility or balance issues they may have.
It is a fairly broad seating category, covering a range of manual or motorised actions, and different tilt and rise functions.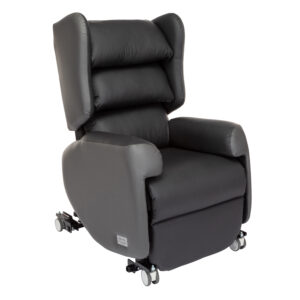 What are the Main Differences Between a Hospital Ward Bedside Chair and a Riser Recliner?
Riser recliners have tilt and rise functions to change the position of user and lift them out of the chair. This is because of the motorised legrest, backrest options and tilt-in-space facility. However, hospital ward bedside chairs are static, and have limited adjustability.
Riser recliners are made to a higher specification than ward chairs, with a more complex frame structure and electric motors. They also have higher levels of padding and upholstery. Hospital ward bedside chairs are made to a more elementary design, with a basic steel frame and simpler construction.
Riser recliners are used for people with higher clinical and pressure relief needs. Hospital ward bedside chairs are very common in general wards, but riser recliners are more useful for rehabilitation wards where recovery times are longer.
Riser recliners are built for people with less mobility who are seated for longer lengths of time, with the right dimensions and materials for good pressure relief and postural support. Hospital ward bedside chairs are practical for a good sitting position but not suitable for those who are unable to maintain an upright posture, as the seat is not shaped or cushioned for longer sitting periods.
What are Hospital Ward Bedside Chairs used for?
Hospital ward bedside chairs are used as a universal seating solution throughout a variety of hospital settings.
They are used in patient waiting areas as a one-size-fits-all chair, providing suitable seating for patients to wait and see a healthcare professional.
They are also used in examination rooms to seat patients during consultations or examinations. In these scenarios they may have additional features like height adjustment and armrests.
For patients recovering in a hospital ward, they are used as bedside chairs to keep patients comfortable and supported as they recover from operative treatment and regain their mobility.
What are Riser Recliner Chairs Used for?
Riser recliners are used to help patients rehabilitate who have less mobility. Their recline function and different positioning options help keep the patient comfortable for longer periods of sitting. The rise function helps the patient get to their feet in a safe and supported way, gradually helping them sit-to-stand as their mobility progresses.
These are particularly useful in Elderly & Medicine wards where older patients will typically have less mobility.
What Environments They are Best for and How to Choose
Hospital ward bedside chairs are most suited to bedside seating in patient wards, and for people who are in hospital for shorter periods of times. Bariatric versions are available to accommodate plus-sized patients.
Rise recliners are useful for patients who have a longer recovery period, or have pre-existing health or mobility issues. They are also very beneficial for oncology patients undergoing treatment and infusion therapies, helping to maximise their comfort throughout the treatment process.The Lento Mobile with its portering ability helps increase mobility of the patient, by moving them around the ward or transferring between different wards and social areas.
Summary
There is a clear distinction between hospital ward bedside chairs and riser recliners, and the environments they are used for.
Hospital ward bedside chairs are easier to clean, and some like our High Backed Bedside chair have anti-microbial surfaces for infection control.
Riser recliners have greater positioning options and the ability specialise more to different patient needs. In terms of infection control requirements, there have been significant advancements, with the use of magnetic cushions and easily removeable parts for deep cleaning.
For more information on different hospital ward bedside chairs and riser recliners, please contact our seating team.