Riser Recliner Armchairs for Bariatric Patients | 50 Stone | With Wheels | Extra Wide
As a specialist healthcare seating supplier, we understand the unique needs of bariatric patients and the importance of providing them with proper support and comfort.
When Vivid Care created the standard Lento riser recliner, over 50 years specialist seating knowledge and research with healthcare professionals went into creating an adjustable recliner chair that catered to a wide range of complex needs and has been a massive success with private individuals, care homes and healthcare professionals across the UK.
However, we regularly received requests for the same much loved features of the Lento in a bariatric riser recliner with a large weight limit to support heavier people.
So that's exactly what we did, we aimed to transfer all the features people and healthcare professionals love about the Lento into an adjustable bariatric riser recliner to accommodate heavier people.
Finding the right riser recliner for heavy person can be challenging for a number of reasons, requirements can range from:
Ensuring an extra wide seat
Finding a riser recliner with an extra large weight limit
Specialist options such as pressure wound prevention and management
A chair on wheels for added social benefits
Durable and long lasting materials
Eventually, we designed two versions of a bariatric riser recliner with wheels, both chairs have the same features, but crucially, they are built to accommodate different weight limits.
Extra Wide & Extra Large Seating Area
From the beginning, we aimed to create a bariatric riser recliner with all the features of a standard electric recliner chair, that was also able to provide specialised care to the changing needs of bariatric patients.
Which is why the Lento bariatric riser recliners are built with an extra wide seating area.
Find Your Fit | Adjustable Seat Width
To more effectively care for larger people, we found that hospitals, care homes, and private individuals wanted and needed a wide recliner chair; but one that also had extra adjustability if the weight of a bariatric person changes over time.
We designed the Lento 40 stone bariatric riser recliner with adjustable seat width to accommodate
The best riser recliner for a heavy person must be supportive, built with robust materials, and have an extra wide seating area to accommodate a bariatric person.
Eventually, we designed two bariatric riser recliners to support heavy people with two different weight limits.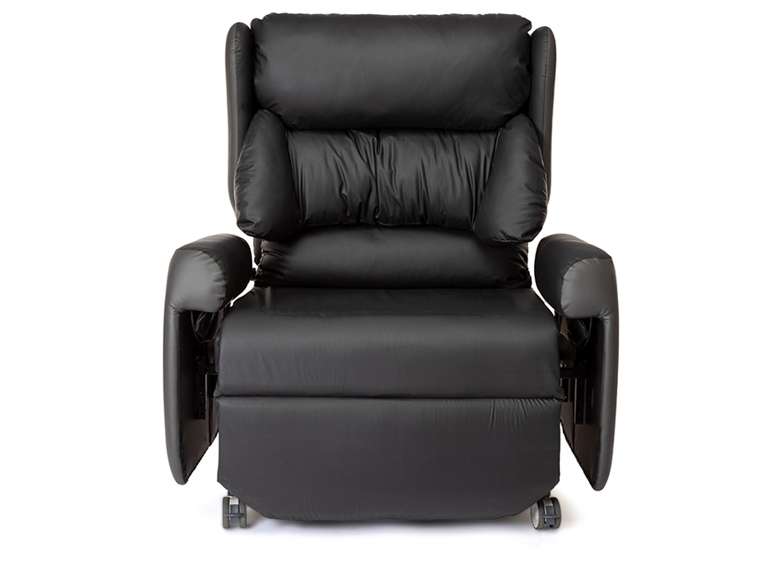 40 Stone Riser Recliner:
Built to provide extra support in sitting and standing to overweight and obese people, our 40 stone riser recliner has an extra strong four-motor design . Here we run through all out 150kg plus armchair recliners.
50 Stone Riser Recliner:
Our 50 stone riser recliner chair is able to support over twice the weight of a standard riser recliner.
With the ever changing needs of overweight or a bariatric people, the adjustability option to create an extra wide seat is a helpful one. This wide ranging adjustability becomes especially useful when caring for multiple patients
Dual Motor Riser Recliners | The Benefits
Standard riser recliners are usually designed to support up to a maximum weight of 20 stone (127 kg), past this weight limit, the average riser recliner motor can begin to struggle to perform all its supportive electric movements.
Dual motor riser recliners are the standard option when looking for a comfortable and supportive seating option for a heavier person.
The two motors provide more power and support, they are controlled by a simply electric handset attached of the side of the chair. They offer a number of benefits over a single motor recliners, including:
More adjustable positions:
Dual motor recliners allow you to adjust the backrest and footrest independently, giving you a wider range of seating positions to choose from. This can be helpful for people with different needs, such as those who want to recline for relaxation or sleep, or those who need to keep their feet elevated for circulation.
Standing Aid & Falls Prevention Benefits | Enhanced Mobility & Independence
Dual motor riser recliners go beyond regular recliners by incorporating an additional feature: the ability to rise and tilt forward.
This functionality is particularly beneficial for individuals with limited mobility, as it assists them in effortlessly transitioning from a seated position to a standing one.
By utilising the motorised lifting mechanism, users can reduce strain on their joints and muscles, thereby promoting greater independence and reducing the risk of falls.
This feature makes dual motor riser recliners a valuable addition to any home, especially for the elderly or those recovering from surgery or injury.
Improved Circulation & Pain Relief:
Sitting in the same position for extended periods can lead to discomfort and poor circulation. Dual motor riser recliners tackle this issue by allowing you to adjust the angle of both the backrest and footrest.
Elevating your feet above heart level promotes better blood flow and alleviates pressure on your lower limbs, reducing the risk of swelling and numbness.
Additionally, this positioning can help relieve joint and muscle pain, making these recliners an excellent choice for individuals with arthritis or chronic pain conditions.
Increased comfort: The two motors in a dual motor recliner work together to provide a more comfortable seating experience.
The backrest motor can be used to adjust the angle of the backrest, while the footrest motor can be used to raise or lower the footrest.
This allows you to find the perfect position to relieve pressure on your back, neck, and other areas.
Ease of use: Dual motor recliners are typically easier to use than single motor recliners. The controls are usually located on a remote control, so you can easily adjust the chair without having to get up. This can be helpful for people with limited mobility or those who have difficulty bending over.
Unlike traditional recliners, which typically offer limited positions, dual motor models provide independent control over the backrest and footrest.
This means you can easily adjust each component to find your perfect sitting or reclining position, whether you want to watch TV, read a book, or simply unwind after a long day.
The ability to personalise your seating experience ensures maximum comfort and relaxation.
dual motor riser recliner chairs near me
What is the best lift chair for a heavy person?
What is a bariatric recliner?
Is there a weight limit on recliner chairs?
Recliner chair for a heavy person | UK Wide Delivery
Large recliner chair for a heavy person up to 50 stone
Extra wide recliner chair
bariatric chairs for home
dual motor
four motor
orthopaedic