Finding the perfect profiling bed for one person is remarkably simpler than finding a double profiling bed. Finding a bed that offers support, comfort, and excellent positioning to both people at once is a bit trickier because, quite frankly, the range of beds available is much smaller.
We've already touched on the benefits of a profiling bed in a previous blog post, but let's look at what features should be included in double profiling beds for couples.
Split Mattress Platform
The most important thing to include on a good double profiling bed is a split mattress platform, also referred to as a combination bed. This means that the platform is split down the middle, offering independent movements and positioning and both sides of the bed.
This means that a couple can both position themselves accordingly in the same bed – they don't both have to be in one position.
A combination profiling bed can still look like a traditional, everyday bed. The Signature Comfort Dual Electric Profiling Bed is an excellent option for couples who are looking to determine their own positioning without ruining the aesthetics of their bedroom.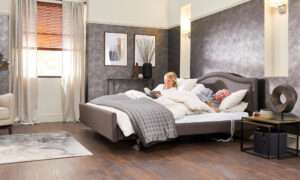 Of course, there is also the option of having one side static mattress platform on these beds if you would prefer, but we do find that double profiling beds are more popular with our clients.
Backrest & Knee Brake
As with a single profiling bed, having an adjustable backrest and knee brake is essential. This gives you the ability to sit up and reposition yourself.
This is a great feature for individuals with breathing problems or difficulties, as it is easier to breathe when sat up rather than laid down.
The knee brake can also be repositioned to prevent the individual from sliding down the bed with the backrest is up. Having the knee brake up can also help to promote better circulation around the lower half of the legs.
Height Adjustment
Obviously, as with any profiling bed, height adjustment is key. This gives you the option to change the height of the bed, making it easier to get in and out of from a standing position.
Height adjustment also provides extra flexibility and support for caregivers who might need to tend to the individuals in the bed.
We think that height adjustment is a key feature of any double profiling bed because it also gives you flexible positioning to make changing your bed a bit easier. Changing a traditional double bed can be a challenge if you're doing it by yourself, so imagine how much easier it would be if you could lift the mattress platform up.
Indeed, any double profiling bed should have height adjustability.
The key to a good double profiling bed is having a combination platform. All Vivid Care profiling beds provide this as standard. Over the years, we've solved some particularly complex requests to ensure our clients get exactly what they need from their equipment.
We also stock fixed height divan beds with profiling features if desired.
Summary
The features mentioned above are the staple elements of a good quality profiling bed. They can also be further adapted to suit more complex needs if necessary. For example, we once crafted two single profiling beds that could be clipped together and had synchronised height adjustment, but the beds could be separated if the caregiver needed to access both sides of the user.
If you're looking for something more specialised or a little different from the models mentioned, please contact us!