Due to the high use of patient seating in hospitals, regular cleaning is essential to prevent the spread of infection and keep the chair in good condition.
Most hospital chairs are made from hard-wearing fabric to withstand regular cleaning and protect the chair from ingress of fluid and contaminants.
Infection control standards in hospitals determine what cleaning materials should be used for seating. Typically, detergent mixed with water or detergent wipes are used. Strong detergents or chlorine-based solutions should be avoided and only used sparingly. Infection control is a huge subject, read our in-depth article on infection control to learn more.
Jump straight to…
How To Clean A Riser Recliner Chair
Wear gloves and a face mask to protect against harmful bacteria
Remove any loose debris from the surface of the chair using a dry cloth or vacuum cleaner
Use a detergent-based solution and apply to the chair using a cloth or air spray. Systematically wipe down all surfaces of the chair, rising the cloth regularly and replenishing the cleaning solution if the chair is heavily soiled.
Allow the cleaning solution to sit on the chair for at least 5 minutes to maximise its effect
Use a clean cloth to wipe down the chair and remove the cleaning solution
Rinse the close in warm water and wring it out well, before wiping down the chair to remove any remaining residue
Allow the chair to dry completely before using it again
Cleaning Tips For Riser Recliners
Move the chair into its rise and recline positions to access underneath the chair and hidden surfaces
Clean the handset and cord thoroughly
Side pockets can trap crumbs and bacteria, be sure to wipe inside the pockets and remove any loose debris
How To Clean Vinyl Chairs
Most hospital seating will be upholstered in vinyl, at least on the outer surfaces, as is it hard-wearing and resistant to knocks and scratches.
Most faux leathers on hospital seating are water-resistant and have a smooth surface that is easy to wipe clean. Here are some essential dos and don'ts for cleaning fabric chairs:
Dos:
Use microfibre cloths for light routine cleaning, and dry off with a clean absorbent cloth
Avoid using bleach, but in extreme circumstances where there is heavy soiling, a 10% bleach solution may be used.
When cleaning solutions are used, ensure any remaining residue is removed with a clean cloth before the chair is used again
Don'ts:
Don't steam clean
Don't machine wash or tumble dry fabrics
Don't dry clean
Don't immerse fully in water
Don't use chemical cleaners like solvents or alcohol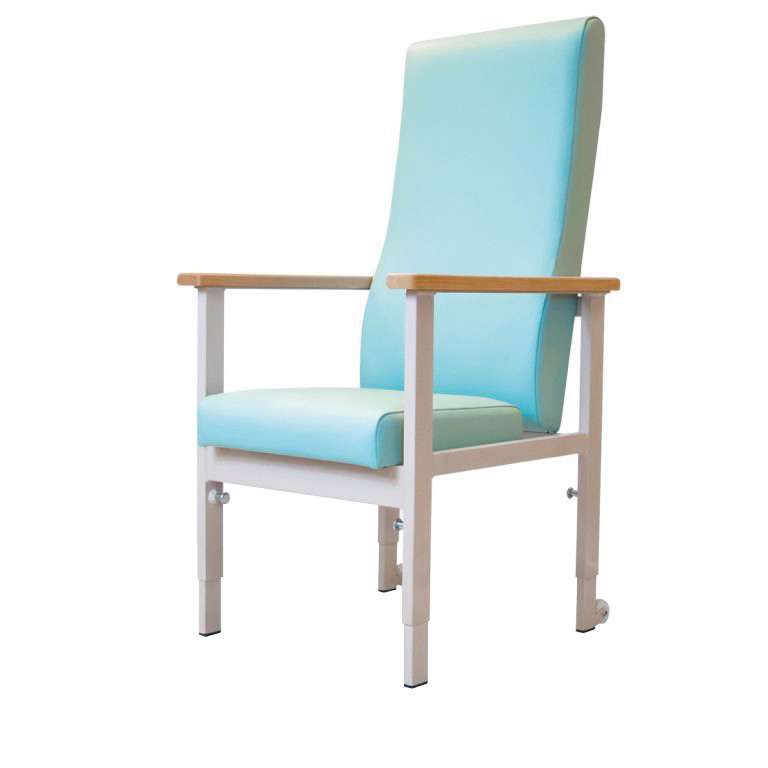 How To Clean Lento Hospital Chairs
The Lento chair range integrates several design features to improve infection control in hospitals. One major benefit of the Lento range is the modular design that allows the chair to be stripped down for deep cleaning.
Lento Chair Range – Infection Control Features
Lento Care Chair
The Lento care chair and its smaller sibling, the Little Lento, are designed to cover the broadest cross-section of patients within the hospital seating, providing postural support and pressure relief for those with limited mobility.
The outer surface of the chair is vinyl with a soft dartex to the inner contact surfaces of the chair. Both are smooth, resistant materials and easy to wipe down. Chlorine-based seating solutions can be used on these surfaces if required.
The width-adjustable arms can be removed easily to allow deep cleaning in the more concealed areas of the chair
The backrest cushions, seat wrap and footrest cover remove easily with magnetic fastenings. These remove the need for Velcro which collects dirt and debris, and provides a smooth, flat chair base that can be deep-cleaned without hidden seams or recesses.
The zipped covers on the legrest blocker, padded footrest and wings can be removed for further cleaning
Lento Riser Recliners
The Lento Riser Recliner range incorporate the bariatric versions, and the Lento Mobile Riser Recliner, which has all the rehabilitation benefits of a riser recliner chair as well as being fully portable, so great for hospital wards.
The magnetic backrest provides a smooth flat surface that is easy to clean, and removes the need for Velcro which traps dirt and debris
The arm sections slide off for easy cleaning
The removeable gel seat cover and cushions expose the seat base for deep cleaning
The magnetic handset is easy to wipe clean
Summary
Good infection control is paramount in patient healthcare, and an important factor to consider when purchasing hospital seating is how good it is for infection control.
Cleaning and maintenance are essential to keep your chair in good working order and prevent the spread of infection. If you would like cleaning instructions for any of the chairs in our range, or want to learn more about infection control in general, please contact us for more information.