Over a number of years we have sourced a unique range of chairs including exclusive imports from abroad. Our seating specialists assess the client's needs, as our chairs can be tailor-made to the individual or the environment in terms of seat sizing, pressure relief, fabrics, aesthetics, and postural support.
At Yorkshire Care Equipment, we appreciate that comfort is paramount. Our extensive range of rise & recline chairs means that you can get a product that is absolutely perfect for you, but our bespoke service doesn't stop there.
Riser recliner chairs can be adapted to suit different levels of comfort needs, offering more or less backrest support depending on the user:
Waterfall Back: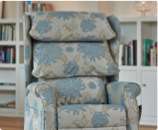 One of our most popular backs, the waterfall is very soft yet very supportive, as the cushions wrap around you. The cushions can be moved individually up and down, and the amount of wadding can be adjusted in each area. This backrest is often a good choice for those with scoliosis.
Waterfall Lateral Back: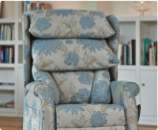 The Waterfall Lateral Backrest features
 the same soft Dacron filled cushions as
 the normal waterfall back, but the bottom cushion has side sections offering more lateral support. This cushion can be swapped around with the middle cushion should more trunk support be necessary.
Soft Back: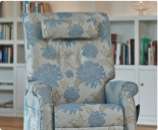 This back provides good lumbar support offering a better sitting position, encouraging a correct pelvis position. It keeps better shape than the waterfall back as it is filled with foam not wadding. Wings are available on the soft back on request.
Firm Back: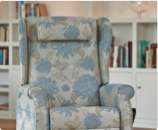 Similar to soft back but more supportive, the firm back gives good positioning for back sufferers. This back always has wings and can have special lateral supports fitted, similar to those used in a care chair.
Lateral Back: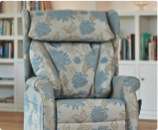 The lateral back offers good side support for those with trunk instability. They are often soft filled to allow for scoliosis and kyphosis. The lateral wings have a zip so the amount of wadding can be adjusted to suit the user.
'T' Back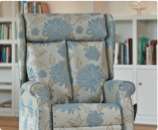 The T back has one soft horizontal pillow at the top of the back and two soft vertical pillows situated underneath which can be positioned to accommodate the user, as they are secured with Velcro. All pillows are accessible so that fibre may be added or moved if required.
Chairs can be tailor made to adapt to the specific needs of every user, with their safety and comfort in mind. Click here to view our vast range of lift & recline chairs.
For more information, contact the team at Yorkshire Care Equipment now on 01423 799960 or contact us here.