As children grow and change it can be difficult to find a chair that matches their needs. Every child is different, some prefer outdoor pursuits, some like indoor activities and others prefer more social interaction with peers. At Vivid.Care we are passionate about improving quality of life, and we know how important it is to give children who are rehabilitating or living with special needs the ability to do the things they enjoy. This is why choosing the right specialist seating for children (known as paediatric seating in the healthcare world) is so important.
Jump straight to…
Why Adjustability is Key
Whatever a child's seating needs are, whether they are recovering from treatment or have a longer-term disability, adjustability is a key theme that runs throughout paediatric seating.
An adjustable chair can grow with the child, and prevent postural issues arising, something that is particularly important to avoid during developing years. Our Little Lento chair can be adjusted to fit a child as young as three all the way up to someone who is 5ft 2in tall.
Aside from ergonomics, the economic benefit is an important one as the chair doesn't have to be replaced every few years for a bigger one. This is a key benefit for hospitals, NHS loan stores and private purchasers who may have restricted budgets.
Other Important Features
Having covered the key point of adjustability, there are some other important features that need to be considered when choosing paediatric seating. The other four of the five 'A's are:
Aesthetics
The appearance of the chair is important so the child doesn't feel too conspicuous and can blend into different social environments, or alternatively stand out as their personality dictates. Style-conscious children can have chairs personalised with their favourite themes and colours.
Accessories
Accessories such as head supports, trunk supports, depth adjusters and footrest blockers are all important so the chair can be tailored to the child's specific needs. Head and shoulder positioning is an important area, as it is imperative not to position the head forward as this can contribute to curvature of spine.
Adaptability
The chair needs to be able to adapt to different situations. For example, adjusting the head support for lying back, having enough trunk support for sitting upright and engaging in daily activities, and height and armrest adjustment for different height work surfaces.
Accessibility
The chair needs to be able to access different environments, whether it be the classroom, kitchen, bathroom, games room, or family room.
Choosing the Right Seating for your Child
We feel the following chairs are particularly good examples of paediatric seating, as they encompass a wide range of the features described above.
Vela Activity Chair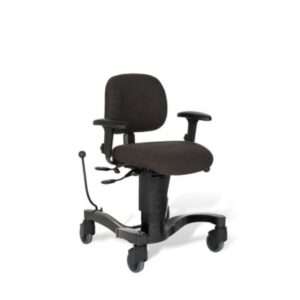 The Vela activity chair is a fantastic chair that enables children with special needs to go about their daily lives with ease.
Perfect for the home and classroom, its unique ergonomic design allows it to grow with the user and be fully adjusted to suit their medical needs. It can be adapted with a range of extra accessories such as thigh guides and lateral supports to give more positional support to those who need it.
It can be easily raised and lowered for different work surfaces with electric height adjustment. The Vela activity chair's levered handbrake and excellent manoeuvrability give the child the independence to move around as required.
Little Lento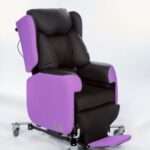 The Little Lento chair is the youngest member in our family of Lentos, and in the true family tradition, is the most adjustable care chair for children. Adjusting the dimensions of the chair is quick and easy, no special training or tools are required. The seat depth ranges from 14in to 18in and the seat width from 12in to 18in. A 2in depth adjuster pad can reduce the seat depth even further.
Not only is it hugely adjustable, but the level of comfort is second-to-none, and there's a huge list of accessories available. The headrest can be easily adapted by adding or removing wadding.
What's more, it is a good-looking chair that is used in hospitals and fits in in a child's bedroom, available in a wide range of funky colours.
To conclude, your choice of chair depends on the child's needs but one thing we cannot emphasise enough is adjustability. Whether you are using the chair for a fixed or indefinite period of time, you need the highest level of adjustability possible so the child can grow with the chair, adjust their position easily, move between different environments and align the chair to their medical and physical needs.
While this article is about care chairs, children living with special needs will also require wheelchairs, which we will cover in a future article.
For further details on our paediatric seating range and advice on specialist seating contact our team: