Specifying hospital ward chairs within such demanding and varied environments is a real challenge.
The needs and requirements for chairs in a hospital vary across wards and patients. How do you achieve the optimum flexibility and value for the significant cost of providing patient friendly and ward specific seating?
Do you consider sourcing different types and sizes of chair for all the variables the hospital chair challenge throws at you or are there more flexible options available?
The hospital chair needs for oncology wards to paediatrics and to general wards are dependent on the patient's needs. They differ on an individual basis and are to be taken into account just as much as the hospital wide drive for seating standardisation and infection control.

Jump straight to…
Adjustable hospital chairs – no one size fits all
Addressing the issue of one size of hospital chair only fits one size of patient comfortably. There are now ranges of fully adjustable hospital chairs. They reduce the requirement to buy multiple versions of similar chairs, improve the seating provision for the patient due to their fully adjustable design and reduce the redundancy of seating stock as the chairs can be adjusted to the next patients requirements.
There are options on backrest styles to choose from. The straight backrest provides ergonomic support along the spine, whereas the lateral backrest provides more structure to help the patient maintain a healthy midline position. Many of these features sound technical and they are but they all result in added comfort and care for the patient and a better investment for the hospital.
And yes, there are more adjustable features: tilt-in-space backrest recline depth, adjustable width 15-22", soft pillow head cushion or profiled head cushion.  And finally extended thoracic wings, depth adjuster pad, foam or cool gel cushion with varying pressure relief and a 2 or 4 point belt complete the options.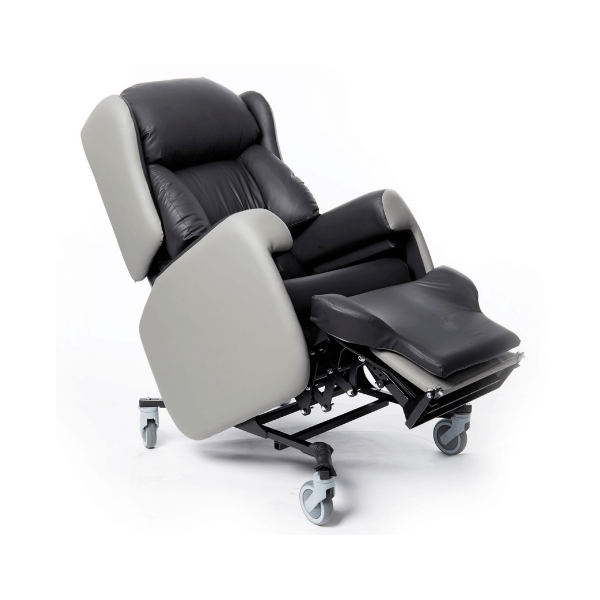 The Lento Care Chair, adjustable to fit 80% of the population. Read more

Infection control friendly features
Specifying an infection control friendly range of hospital chairs is an imperative. And there are some great options available. Current candidates offer features such as clasps rather than Velcro minimise areas where bacteria can grow. Removable cushions and backrests enable them to be swapped should they become damaged or contaminated.
As many substantial and adjustable chairs are motorised ensuring that the handset is fully sealed and flush with the surface of the chair. Simplicity of design is important. It reduces maintenance issues and ideas such as oversized castors make it easy to move around between wards. This not only assists with mobility but also reduces the amount of transfer to and from the chair.

Hospital chairs smart ideas for life on the ward
A hospital ward can get very busy and crowded. Equipment can move from ward to ward and wing to wing. Having a highly durable hospital chairs is a must. When a chair is needed it is needed and must be fully functional every hour of the day or night.
A breakaway cable reduces damage to the charger when a plugged-in chair is wheeled away for a patient in need. A combination of an effectively engineered metal frame, Dartex® and vinyl for easy cleaning contribute to limiting worries about wear and tear while still addressing flexibility, comfort and infection control.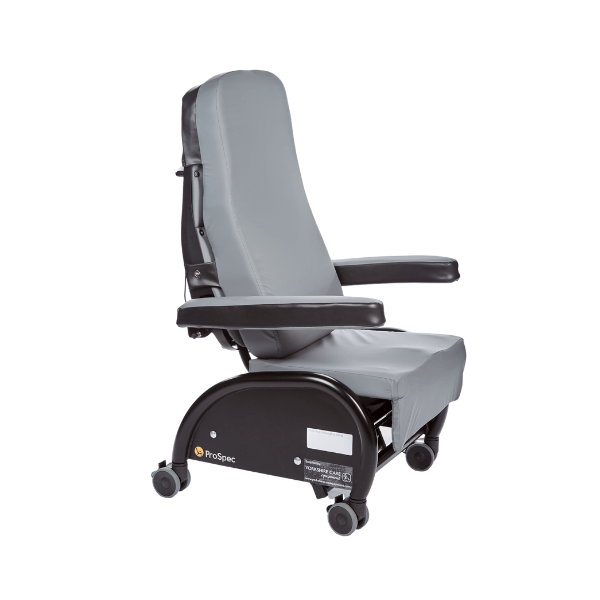 ProSpec Hospital Chair, developed with teams at Aintree Hospital & Royal Victoria. Read more

Bariatric specific chairs
As a nation we are getting heavier. Bariatric care is becoming more and more important. It's often difficult to find a bariatric rise and recline chair that is suitable for hospital use that does not sacrifice comfort. It is more important than ever to make sure the taller or larger client is accommodated when it comes to waiting areas and elsewhere in medical environments. A Bariatric Rise and Recline Chair designed for hospital use has a very specific range of features particularly important for the care and comfort of the patient.
A 50 stone weight limit, adjustable seat width up to 32" and seat depth adjustment to 22". Bariatric patients naturally vary in height as well as weight so height adjustment: 18-28" is needed and back height adjustment between 30"-34".
Tilt, leg, back and rise actions all require motorised control and gel pressure relief and waterfall lateral backrest add to the comfort of the patient.
Seating built for durability is essential where a weight limit of 50 stone is concerned yet adjustable, comfortable, and durable bariatric rise and recline chairs are available.
Lento Bariatric Rise and Recline Chair, for users up to 50kg. Read more

Paediatric chairs to fit children
Hospital chairs carefully designed for paediatric patients are available.  Patient comfort and the flexibility and clinical benefits of a chair specifically designed for paediatric care (or adults under 5ft 2in) enhance the hospital stay and recuperation of young people versus the alternative of a full-size adult chair.
Designed to enhance quality of life built-in features to cater for pressure care, respiratory, nutritional, elimination and social needs are factored in. Clearly, dimensions such as seat depth, height and width are adjustable. Returning to the one size doesn't fit all issue a customisable paediatric chair is an asset to young people of varying ages and heights.
In an environment where a chair is dedicated to one user it is common for a child to outgrow a conventional children's hospital chair. The flexibility of a chair that can be resized quickly without the requirement for tools by a single carer allows the chair to grow with the patient over a significant period. As in its fully adjustable big brother the flexible features are extensive and offer significant benefits to the user. Side transfers made easier with removable armrests. A locking tilt-in-space feature offers comfort and relieves pressure. Full body support and maintaining good posture are addressed with an adjustable footplate and extendable leg rest, all important aspects for children of any age.
The Little Lento Children's Chair. For people up to 5'2″ tall. Read more

Manufacturing – made locally to last
Manufacturing standards are all important. Seating isn't seating when it is off the ward requiring maintenance. The green agenda also demands suppliers of all equipment to the NHS have green targets to achieve. At Yorkshire Care Equipment we take great care in the selection of our manufacturing partners for seating and hospital chairs.
From start to finish all our hospital chairs are manufactured by teams that are Guild of Master Craftsmen and BHTA approved working to the demanding standards required of membership. These manufacturing partners process and assemble our products within a radius of 500 metres in the same UK location from the highest specification components including:
Ultima Vinyl – selected for its M.R.S.A infection resistant properties
Dartex® – moisture vapour permeability for patients seated for prolonged periods to keep sensitive skin cool and dry for longer
Steel frame – from locally manufactured steel providing a substantial base structure
We know there are proven benefits to patients getting out of bed as soon as is realistic and for a good period of time, even post operative. The benefits of being upright and seated include reducing the risk of deep vein thrombosis, increased lung expansion and reduced pressure points.
The availability of the correct hospital chairs that support these aims and also provide a predictably high standard of flexibility and comfort can only encourage the patient to get out of bed and be seated. In turn this contributes to their recovery and earlier discharge from hospital than otherwise would be the case.
Consistency of quality, flexibility and durability across a range of hospital chairs maintained on a service contract by the provider can prove to be a valuable resource.
If you would like to discuss your seating requirements, please get in touch: