Living with limited mobility can impair the quality of life for someone who is elderly or disabled.
When outside the home a person can use a wheelchair, mobility scooters walkers, rollators and other walking/mobility aids to help with difficulties in getting around.
But for a lot of disabled or elderly people, difficulties in mobility do not stop when at home.
Being unable to complete daily tasks without reaching out to carers or family and friends can make a person with reduced mobility feel as if they have lost independence.
Having access to a disability chair at home means that a disabled or elderly person can:
Move from room to room if the chair has wheels.
Effortlessly reach previously difficult places if the chair has an electric chair lift.
Ensure stability with a powerful central braking system
Get ergonomic posture and back support
If you or a loved on are looking for a supportive disability chair with wheels for use around the home, then it important to know the features that you should keeping ay eye out for to offer the best support.
So, let's dive in and look at the best/key features to look for when buying a disability chairs for use around the home.
Mobility Chair for the Home:
With a mobility chair, an elderly or reduced mobility person can maintain a degree of independence by not requiring carer(s) or friends/family to help them with basic home tasks.
Standing for long periods of time, extending to reach high shelves, or simply moving around from room to room can all take their toll on a person with reduced mobility as these home tasks can become very taxing and energy draining.
However, a person using the correct disability chair for their needs will find these daily tasks around the home less difficult.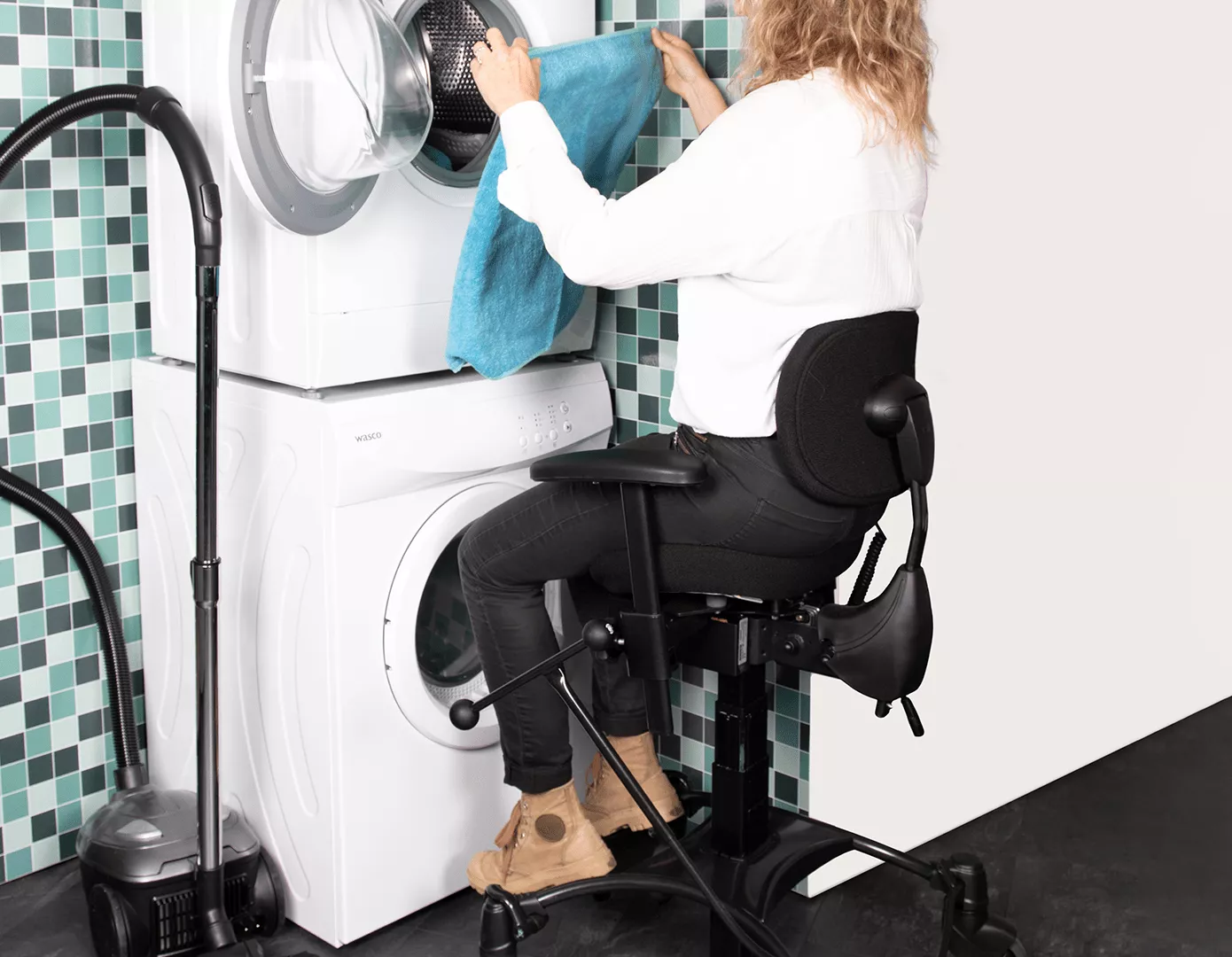 What Chairs are Good for Elderly or People With Limited Mobility?
Depending on what you want, riser recliner chairs are ideal for sitting in while relaxing, they recline, can feature tilt-in-space and can even have medical grade materials and cushions to stop pressure ulcers from developing.
Their sit to stand feature can help someone who has difficulty standing up or sitting down due to reduced mobility and balance problems e.g. arthritis, balance pain, Parkinson's among others.
However, if you would like the ability to move around your home while seated in a comfortable and supportive chair, then a mobility chair is the ideal solution for you.
As a supplier of mobility equipment for over 50 years, we took on an extensive search for the right mobility chair for reduced mobility people to use at home.
We found the VELA mobility chair provided the most varied benefits for reduced mobility people. This mobility assisting chair has a range of features designed to make at home life easier people with disabilities.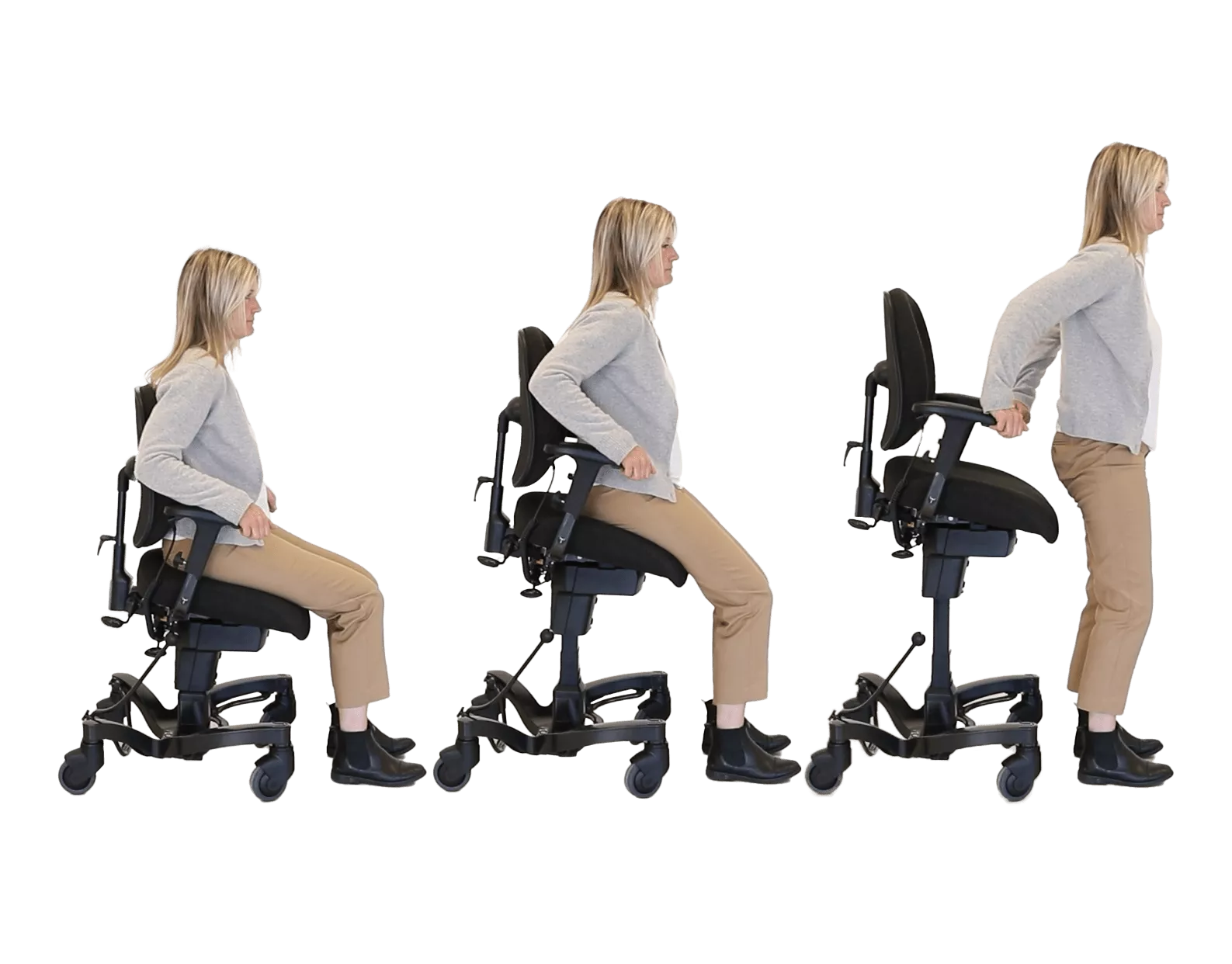 Electric Sit to Stand Chair: 
The electric sit to stand feature on the VELA mobility chair allows low mobility people to stand up and complete daily tasks with ease.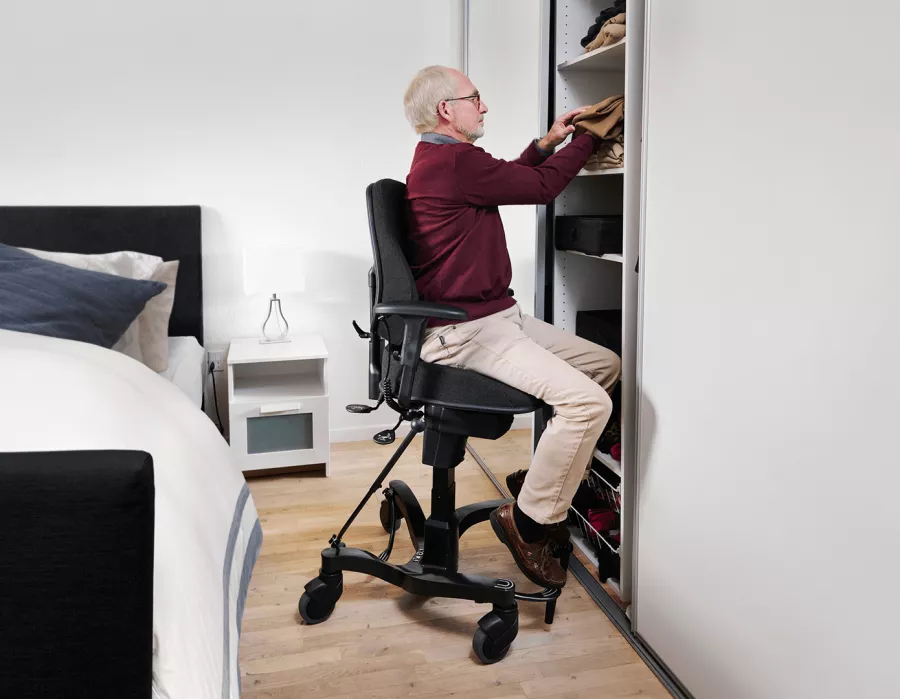 Mobility & Stability:
Stability is incredibly important for anyone who relies on mobility equipment to help with some tasks, so the VELA disability chair is designed with a powerful central braking system that ensures whoever is using the mobility chair gets reliable stability for different activities.
And the smooth-running wheels make you mobile, so you can easily move around at home while sitting down.
Look for a Disability Chair with Wheels:
Living with reduced mobility makes just getting around the house that much more taxing over time because of the energy being used.
The ideal mobility chair will rest on wheels that allow for a range of effortless movement so that you can 'walk' the chair to where you need to be.
Postural Support & Ergonomic Design:
When shopping for a disability chair that increases your independence around the home, the best independence chair will come with an ergonomic design and features that that provide excellent lumbar (lower back) support.
As well as independence around the home, the best chairs created for disabled people to use at home will engineered for optimal postural support.
They will come with contoured backrests, lumbar support, and ergonomic seat designs to encourage proper alignment of the spine.
Change the back angle of the VELA disability chair VELA to find the most comfortable & supportive position.
Focus on Accessibility:
A crucial factor is aiding disability with mobility equipment is the accessibility of that equipment . Put simply, this is how easy or difficult it will be to get into your new mobility chair.
Low mobility people can sometimes have trouble getting in and out of a chair in what you could call the 'regular way', instead it is sometimes easier to transfer from one place to another.
For example, a person can transfer from bed to a mobility chair as below, the armrests of the VELA mobility chair flip up which allows for easier side transfers in and out of the chair.
User friendly Controls:
The most important thing to keep in mind here is that controls should be easy to understand and be easily accessible.
For everyday use, it is important that your disability chair has prominent controls for the features that help you complete tasks in your home.
The VELA chair has been designed with easily accessible buttons under the armrest that control the gas powered electric lift chair feature.
Summary:
Selecting the right chair for reduced mobility or elderly users is an important decision that can significantly improve daily life and well-being.
By understanding your needs, opting for ergonomic design, and considering assistive features, you can find the perfect chair for yourself or your loved one.
Remember to prioritise mobility, control, stability comfort, support, and accessibility to ensure a seamless user experience.