The Problem: Mixed Seating
Having an unplanned approach to seating is a systemic issue in many healthcare environments.
Inefficiencies occur when organisations source a wide range of individual chairs as seating needs arise. This ad-hoc approach to buying specialist seating is a default strategy for many Integrated Care Boards and Community Loan Stores, but has costly implications.
Chairs sourced for a particular issue become redundant, the inventory list grows longer and becomes decentralised, resulting in higher wastage, duplication and monetary spend.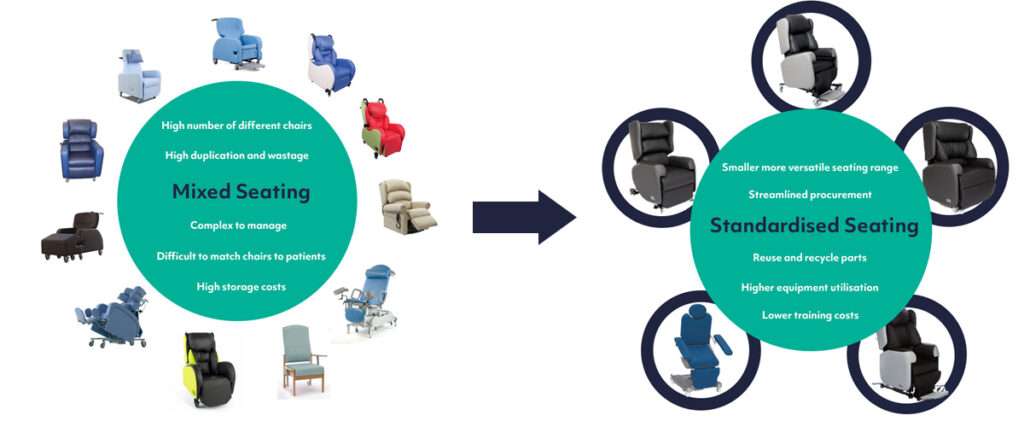 The Solution: Seating Standardisation
The solution to the mixed seating dilemma lies in a simplified seating programme that consists of just a few different chairs encompassing all patient seating requirements within that care environment.
The ideal candidate for this package is our Lento range of hospital chairs, which caters to a maximum range of patient needs and sizes.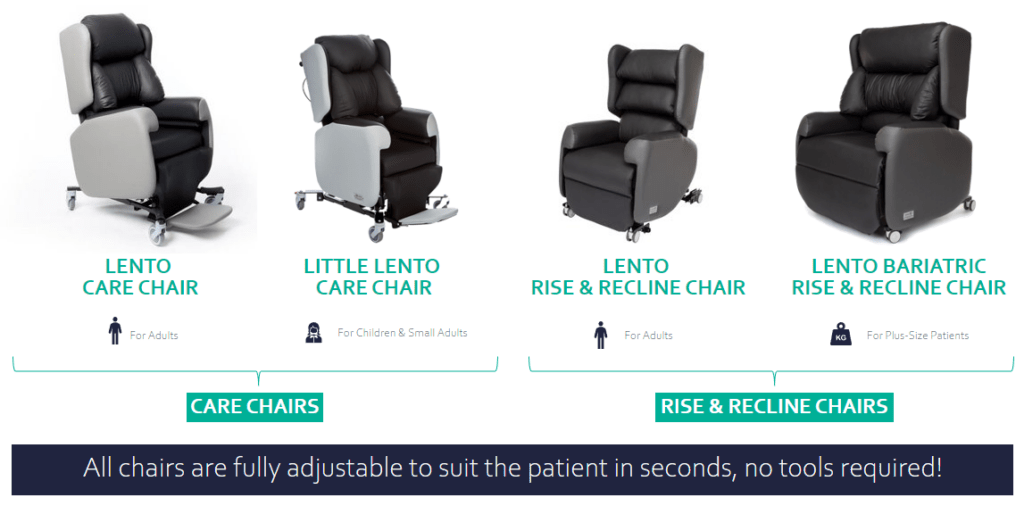 This tailored, more selective approach to specialist seating not only removes inefficiencies, but builds a seating programme centred around the patient that results in better clinical outcomes. This feedback has come through loud and clear from hospital trusts who have embraced our approach:
"Time saved on chasing information"
"Staff have access to appropriate chair for patient as soon as they arrive on the ward"
"Easy to tailor the chair to the patients' individual needs"
"Robust construction for easy cleaning and durability"
"Very high pressure relief in seat and leg rest reduces the risk of skin damage"
Implementation
From our experience in implementing seating standardisation, we have formulated an 8-step approach that guides the client right through from initial consultation to aftersales support.
Deep Dive Session. We hold an onsite meeting to discover your needs, desired outcomes and give an overview of our 8-step process.
Chair Trial. Based on our initial findings we conduct a 2-week trial of suitable seating and obtain staff feedback.
Audit of Current Seating. We conduct out a full audit of your current seating, compiling detailed records of each chair and its applications.
Results Analysis. The data collected from our investigations is analysed and evaluated, to formulate your bespoke seating plan.
Proposal. We present our recommendations with the supporting data, and can also provide justifications and risk assessments to assist your internal procurement process.
Delivery. Once the final proposal is decided and approved we commence delivery to your desired locations, including storage, call-off, location tracking and disposal services.
Staff Training. We can provide product training on site or remotely to maximise your return on investment, additional CPD packages are also available.
Ongoing Support. Our ongoing package of support includes engineer backup, service contracts, dedicated account manager, product storage, training and data portals.
Find out more about the seating standardisation process here.
Benefits Across The Board
The benefits realised by Seating Standardisation extend beyond the hospital ward to procurement and maintenance teams.
Benefits for Patients
Chair can be adjusted and customised easily without tools
Guaranteed levels of comfort with seat sizing adjustment
Faster location and delivery of chair to ward
Patient-centred seating with wide range of features
Options and accessories to tailor to individual needs
Modular parts can be easily removed for cleaning
Benefits for Care Staff
Designed for single-user operation and ease of use
Interchangeable parts ensure continuity of care
Can be used throughout different wards
Higher familiarisation with smaller range of chairs
Centralised seating plan
Less training required
Benefits for Procurement Teams
Recycled components improves sustainability
Fewer types of chair needed saving cost
Simplified supply chain
Higher asset efficiency and return on investment
Lower training costs
Lower storage costs
Benefits for Maintenance Teams
Minimal equipment downtime
Stocked parts available for immediate despatch
Made In Britain to a high quality standard
Fewer chairs therefore less storage space required
Seating standardisation is an approach that can be integrated across all care settings where seating is used and at any level, from individual wards right up to regional level.
Whatever your type of healthcare organisation, there is always the opportunity to step up the level of your care provision and achieve economies of scale in the process.
Specific benefits relating to community loan stores and hospitals include:
Benefits for Community Loan Stores
Standardised parts ensuring quick repair and replacement by loan store staff
Easy identification and tagging of equipment
Better inventory management
Consistent formatting of part number, codes and serial numbers
Bulk stock and parts concessions
Benefits for Hospitals
Simplicity and ease of use for permanent or agency staff
No formal training required
Centralised seating database not reliant on staff knowledge
Faster more streamlined procurement process with single supplier
Easier monitoring of stock levels and engineer availability with our aftersales contracts
Seating has a wide range of clinical applications so is not tied to a specific ward
Summary
Got any questions or want to find out more? Our Partnerships team would love to discuss how we can help you with seating standardisation, whatever your scale of project.
Contact us to arrange a meeting or seating demonstration today.