As part of our growing partnership with VELA Medical, we are proud to offer the electrically controlled Bariatric+ Hospital Patient Chair with braked wheels.
Building on our 50 years of experience in specialist patient seating for rehabilitation and recovery, this relationship sees Vivid Care now offer a diversified range of healthcare seating options for patients.
This range of chairs meets the stringent criteria requirements for acute healthcare environments like hospitals and medical clinics.
Since first partnering with VELA medical, our hospital seating range has expanded to include:
Current Bariatric Patient Seating Options
Options of bariatric hospital patient chairs currently available are either:
Patient seating options have large enough weight capacities but aren't portable.
Portable chairs that don't meet strict hospital infection control standards.
Hospital infection control friendly chairs that don't offer large weight limit.
A New Hospital Patient Seating Option:
This ergonomic hospital chair on wheels is created for the care and support of obese patients. It offers a perfect blend of all the options available to care for overweight individuals.
Bariatric patient chair on wheels for maximum portability
Large weight limit (300kg)
Extra wide seating area
Meets stringent hospital infection control standards
This wheeled bariatric hospital patient chair aims to meet all those criteria, all while keeping a modern look that is also supremely practical in function for healthcare staff.
Avoiding Staff Muscular Injuries During Transfers:
Speaking of supremely practical for staff, this bariatric patient chair also rests on a strong, reinforced, multi-directional wheel base.  Currently, when an obese patient is admitted to hospital, it can require multiple staff members to transfer them to their hospital bed or waiting area.
Access to a bariatric patient chair with wheels can allow a single hospital worker to meet an obese patient and wheel them to their destination, freeing up other staff to care for patients.
The ultra-reliable handbrake on the side of the chair controls the wheel platform which can lock all the wheels at the same time to offer complete stability and confidence to bariatric patients and the staff caring for them.
Hospital Patient Chair on Wheels
Hospital chairs on wheels are incredibly practical and helpful for both patients and hospital staff, this promoted independence but also contributes to their overall a patient's well-being & safety.
Benefits for Patients:
Bariatric patients with limited mobility can "walk" the chair forward with the easy-running wheels that can be braked with a single, large handbrake to the side of the chair.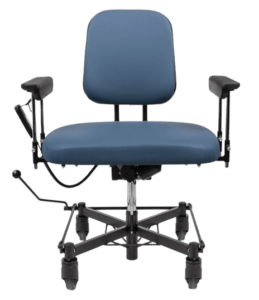 Benefits for Staff:
For staff, as mentioned above, wheeled bariatric chairs streamline patient care. Nurses and caregivers can effortlessly transfer patients between rooms and wards, reducing the physical strain associated with moving heavy patients.
This braking option on the wheel platform provides stability to the chair and adds reliability for both the bariatric patient and hospital staff that may be transferring them between wards.
Wheeled bariatric patients chairs play can play a huge role in enhancing patient experience and staff efficiency in hospital environments.
Electric & Manual Options:
Two options are available that consider budget and operation preferences, these wheeled bariatric patient chairs come with manual and electric options available.
The electric Bariatric+ Hospital Patient Chair is controlled by an easy to operate handset that is wired to the chair.
The manual version of the Bariatric Hospital Patient Chair has multiple levers underneath the seat to control the adjustable backrest and seat height.
Increase Independence for Patients
Obese patients using this bariatric hospital chair can expect to have more mobility options than with other hospital patient chairs.
The hospital chair rests on wheels which make it possible to use the chair as a mobility aid to take an obese patient to their destination, whether this is the toilet, their dressing area, or simply to socialise.
This greatly increases an obese patient's independence and can create the confident feeling that can help aid faster rehabilitation and enable faster hospital discharge.
Large Weight Limit – 300kg
Built to support obese patients who have been admitted into hospital environments, this patient chair is made from reinforced, heavy-duty materials that will support bariatric hospital patients up to 300kg (47 stone).
Extra Wide Seating Area:
This bariatric chair is designed with an extra wide seating area that maximises space to accommodate a range of bariatric hospital patients.
Summary
Healthcare providers can enhance the level of care provided to obese patients by investing in heavyweight medical furniture finished with a modern design.
These ergonomic chairs for obese patients will support obese patients (up to 300 kg) and reduce physical strain that some healthcare staff currently take on. Investing in obesity friendly hospital chairs on wheels can also free up staff members during transfers.
Obese patients with limited mobility can also "walk" the chair to their short haul destination and secure the reliable handbrake when at their destination.
Hospital Chair Features:
Bariatric hospital patient chair on wheels
Extra wide seat
300 kg weight limit (47.2 stone)
Adjustable seat height
Electric and manual versions available
Padded contact areas for added patient comfort
These features allow you to create obesity friendly hospital seating to accommodate a wider range of patients in your hospital and clinic.
For more information, our experienced staff members will explore your buying options with you.