Wheelchairs with off-road capability, or all-terrain wheelchairs as they are known, are a great option for wheelchair users who want to get out into the great outdoors and increase their independence. Some people have gone all over the world in all-terrain wheelchairs, from beaches to deserts and glaciers! The capabilities of these chairs are incredible, and we have taken the opportunity to review some of the most tried and tested chairs on the market.
What do you Need in an All-Terrain Wheelchair?
If you are looking for a wheelchair you can use on tracks and off-road terrain, there are some basic features you need to look out for as standard:
Good Battery Range
Size and range of battery are a key consideration, no-one wants to get stuck out on the moors with no power! Consult your retailer for the manufacturer's recommended range, and don't forget to follow the charging instructions to keep your batteries in good condition and maximise their lifespan.
Durability of Build
Going over hard, uneven ground will subject the chair's frame to a lot of stress and strain, so your chair needs the build quality to stand up to this. Outer coverings and components will also suffer plenty of knocks and scrapes, so need to be made from strong materials to withstand this.
In addition to these main factors there are plenty of other features to consider:
Tyre tread
Type and tread of tyre will play a big part in the wheelchair's handling capabilities and grip on wet uneven surfaces. Look for winter tread patterns and avoid tyres too small or smooth, as your drive power will be restricted.
Ease of use
Nearly all powerchairs operate by a joystick on the front of the armrest, which can be quite sensitive to touch and can take some time to get used to.
Comfort
Higher-spec wheelchairs have a range of adjustments that can be made to get the seat sizing and positioning correct. Ensure you are happy with your sitting posture and the seat is well padded to give you plenty of comfort and support when travelling over rough ground.
The key factor is the feel of the ride itself so ensure you try out the chair in a suitable location before completing the purchase. Decent-sized tyres and good suspension should take the edge off most lumps and bumps, to give you a sufficiently comfortable ride.
Drivetrain
The drivetrain varies depending on the model of chair and can be front, rear, mid-wheel drive, or even all-wheel drive. This will affect the handling, turning circle, and overall ride and feel of the chair, so is another key factor to consider.
Turning circle
A tighter turning circle will be of great benefit in confined spaces, particularly if using indoors. The size of the turning radius will be governed by the position of the drive wheels and size of the chair.
Brakes
As with all powerchairs the brakes are automatic, and activate when the drive is disengaged. Due to the weight of these chairs, brakes will need to be well-engineered to hold the heavy chair on slopes and tilts, and prevent excessive roll when the drive is activated and released.
Reviews of Different Chairs
With such a wide range of powerchairs on the market it is very difficult to nominate which one is 'best', as generally a chair will perform well in a particular area so will suit a certain user over against another. There are some good all-rounders out there, however, as you are about to find out!
Trekinetic GTE
The Trekinetic range have become very popular in recent years due to their unique, freestyle looks.
The GTE model is the motorised version and ultra-lightweight due to its carbon frame.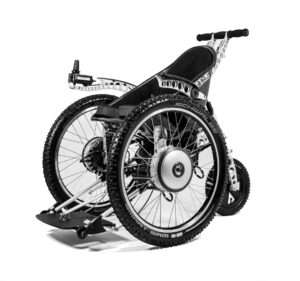 Magic 360
The Magic360 is a really versatile and capable all-rounder. Suitable for indoor use with its small wheel base, it also offers excellent handling ability when traversing outdoor trails due to its 6-wheel base and low centre of gravity.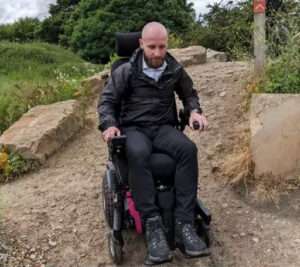 Permobil M3 Corpus
Permobil have built a reputation for truly customisable chairs, that can be specially adapted with a long list of different accessories and options to choose from.
The Permobil M3 Corpus has some great inbuilt technology such as advanced suspension and ActiveReach.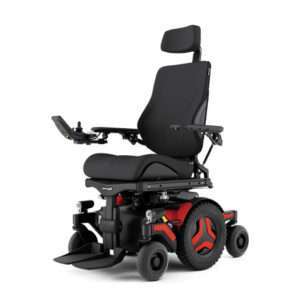 Magic Mobility Extreme X8
And out-and-out offroad chair, the X8 is built for extremes! Definitely one for the adventurous offroader who wants to push the boundaries. It's hefty build and monster tyres will stand up to anything you throw at it.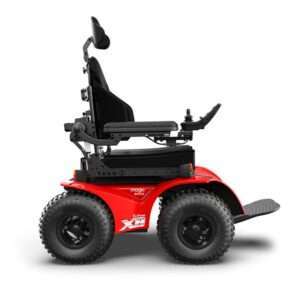 Magic Mobility Frontier V4
More of a genteel offroader, this rear-wheel drive model is comfortable with everyday offroad scenarios on trails, fields and routes more travelled. Not as hungry as the Extreme X8, but nonetheless a very capable chair that will take you further afield.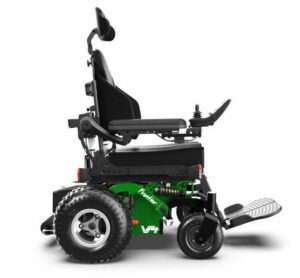 Mountain trikes
Similar in build to the Trekinetic chair, these offroad trikes are very popular with MS sufferers who have enough upper body strength and want to venture into the outdoors and keep active. The two front levers are propelled with the arms, powering the large front tyres, with the benefit of electric power assist and steering built into the levers.
The small directional wheel at the back turns with the steering assist, acting a bit like a rudder. These chairs are great fun to ride, provide resistance training to build upper body strength, and add a whole new perspective to wheelchair offroading!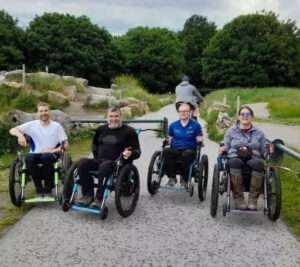 Summary
However adventurous you want to be outdoors, there are lots of different chairs available to suit whatever level of offroad capability you need. There is a lot of advanced technology built into outdoor wheelchairs these days, giving you all the modern comforts you need at the touch of a button.
Why not get in touch with one of our powerchair specialists to find the right all-terrain wheelchair for you?