We carry out lots of wheelchair assessments. The most important part of these assessments is speaking to people about what they need from their wheelchair to make everyday life easier. A comment we hear regularly from our clients is that they like to keep fit and want to be able to get out and about independently.
The problem is, they're struggling with old clunky wheelchairs that don't fit well or give them the manoeuvrability they need to stay active. Fortunately, there are plenty of wheelchairs that are specially designed for active users and even playing sports!
With so many options, it can be difficult to know exactly which style or model is right for you. We've put together this guide to choosing the best wheelchairs for sport and active users to help make the process easier.
The key features you want in an active user wheelchair
Active user wheelchairs are totally self-propelled. Self-propelled simply means that you push yourself instead of being pushed by someone else or having built-in electric controls.
They are well suited to individuals with good trunk and upper body strength who live an active lifestyle and want to push themselves rather than relying on friends, family or carers to get around.
Here are the 4 key features you should be looking for in any model of active user wheelchair:
Lightweight frame – if you're going to propel yourself, you don't want your wheelchair's frame to be adding lots of extra weight. So, look for lightweight materials like aluminium, titanium or carbon fibre when choosing a frame
Compact frame – Active user wheelchairs will typically have a smaller frame than attendant-controlled manual wheelchairs. This helps enhance manoeuvrability so it's easier to move around and navigate tight spaces unaided.
Large rear wheels – The back wheels on an active user wheelchair need to be big enough that you can reach them easily to push yourself forward. Bigger wheels also help you to propel yourself faster whilst using less effort because they convert energy into forward movement more efficiently.
Low backrest – You need to be able to move your arms and shoulders freely to self-propel. So, avoid high backrests that will restrict your upper body movement.
Learn more about who can use active user wheelchairs and how they differ from standard manual wheelchairs in this guide.
Recommended Active User Wheelchairs
Now you know which features you're looking for, here are three of the best active user wheelchairs which tick all the boxes. We regularly recommend these models to our clients during assessments.
Best for Beginners
If you're new to self-propelling, it can take some getting used to. Each wheelchair user has their own preference for their seating setup. As you gain experience using an active user wheelchair, the right seating setup for you may change.
So, for beginners, we typically recommend the Kuschall Compact as the best active user wheelchair option. This wheelchair offers higher levels of configurability and support than most other active user models.
You can adjust backrest height and angle, seat depth, width and height, and knee-to-heel length easily to suit your changing seating setup needs.
Best Folding Active User Wheelchair
Active user wheelchairs are often made from a one-piece frame that is completely rigid. This is because many people find a rigid frame easier to handle and manoeuvre.
But if you are specifically looking for a folding active user wheelchair, then the Xenon range is a great choice!
This stylish range offers three foldable options. The folding mechanism is easy to operate one-handed and sits discretely under the seat to maintain the open look and feel of the frame.
A foldable wheelchair has the advantage of becoming more compact for easy storage and transportation.
Best All-Rounder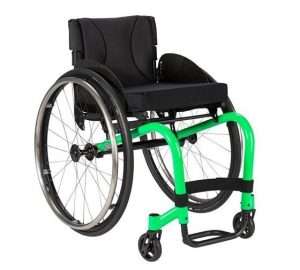 The Kuschall K-Series is our most popular active user wheelchair.
This versatile wheelchair is almost always on our list of recommendations. It is robust, strong, high-performance and aesthetically pleasing.
The innovative design allows you to change the seat position and centre of gravity whilst keeping the frame position the same. It works well for highly active users and suits the majority of use cases.
Can you use active user wheelchairs for sports?
Whether or not an active user wheelchair is suitable for sport really depends on two things – which sport it is and how frequently it will be used.
For example, lots of athletes use modified active user wheelchairs for racing.
However, if you want to play more contact sports like basketball or football regularly, we recommend getting a separate wheelchair to your everyday one.
Using your active user wheelchair to play high-intensity sport risks damage that could leave you waiting on repairs and unable to get around.
Best Wheelchair for Sport
The Multisport is a great alternative if you're keen to play lots of sport!
As the name suggests, this wheelchair is robust enough to handle a range of sports – from wheelchair rugby to football.
A detachable bumper protects your wheelchair from damage. Plus, there's a 15° wheel camber to stabilise you even in the most strenuous games.
Accessories & Powered Add-Ons
To really get the most out of their wheelchair, active users may also want to consider different accessories and powered add-ons. These can give you extra functionality or just make your wheelchair easier to use.
There's a huge range of accessories available. Here are some of the most popular:
Mountain bike wheels – If you're a fan of the great outdoors, mountain bike wheels will help you to handle uneven terrains with ease.
E-motion – This clever accessory integrates electric motors into the wheel hubs to give you an extra boost when using your wheelchair over long distances or up steep hills.
Smart Drive – If you want some extra assistance, without modifying your rear wheels, a Smart Drive device could be right for you. This sleek add-on attaches to the back of your chair to give electric power when you need it.
Get a Wheelchair Assessment
The best setup to meet your individual needs will almost always require a combination of accessories. So, to get the right active user wheelchair for you, we always recommend getting a wheelchair assessment from an experienced specialist. They will be able to discuss your needs and how you plan you use your wheelchair. Then they will recommend the best options for you.
The friendly team at our Harrogate showroom are trained to help their clients to find the right wheelchair to make everyday life easier and achieve their goals. To arrange your no-obligation assessment, pop in and see us, call 01423 799960 or fill out the form below and we will get in touch.