Physiotherapy is a key activity to restore physical health following illness or injury. Guided physiotherapy programmes are essential to rehabilitate patients to full physical health. There are many ways to improve the effectiveness of physiotherapy, from one-on-one personal training to employing new equipment and technologies, which we explore in this article.
What is the Purpose of Physiotherapy in Rehabilitation?
The purpose of rehabilitation is to restore someone to a previous level of health, and to help them live their life in the fullest way possible.
There are 5 main goals of any effective rehabilitation programme:
Help stop the loss of function
Slow down any loss of function
Restore or improve function
Compensate for lost function
Maintain current function
Physiotherapy is the physical exercise component of the rehabilitation plan, to help strengthen muscle tone through physical exercise and movement.
What are the Different Types of Physiotherapy Treatment?
Physiotherapy has a variety of applications and is used for a wide range of reasons. The level of physiotherapy used will vary depending on the age and previous physical condition of the patient. Here are some of the main categories of physiotherapy.
Sports physiotherapy – sportspeople who have sustained injuries need to return to the fitness level required to participate in the sport again. It can involve advanced techniques like laser therapy and ice stimulation to help return athletes to peak levels of performance.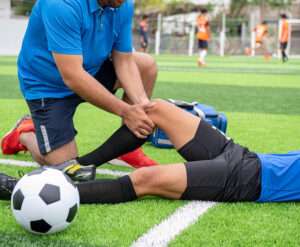 Geriatric physiotherapy – focuses on falls prevention and reducing symptoms from age-related conditions like arthritis and Parkinsons. The key focus of geriatric physiotherapy is to help older patients maintain their level of independence and mobility.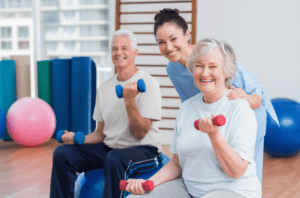 Orthopaedic physiotherapy – this deals with the body's musculoskeletal system, which includes the bones, muscles, ligaments and tendons. A bit like a massage, techniques involve hands-on manipulation of joints and soft tissues. New developments in this area have been the use of virtual reality and robotics, to provide biofeedback and functional simulations.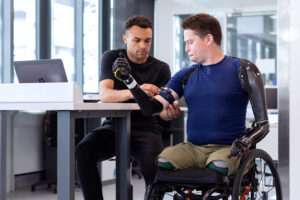 Paediatric physiotherapy – this involves working with children and their families to restore a child's functional mobility. Play-based therapy is a key approach, using games and toys to stimulate children. Aquatic therapy is a popular treatment for disabled children, using the buoyancy of water to alleviate muscle pain.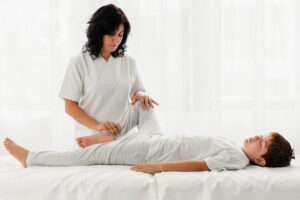 Neurological physiotherapy – patients with conditions that affect the central nervous system, such as spinal cord injury or Multiple Sclerosis, need neurological physiotherapy to improve their coordination and overall physical function.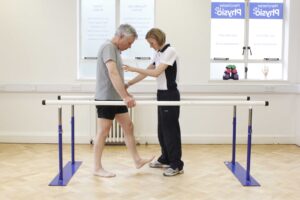 Cardiovascular Physiotherapy – focuses on treating and managing heart-related conditions, and improving cardiovascular fitness. This is done through aerobic exercise, strength training and making healthier lifestyle choices.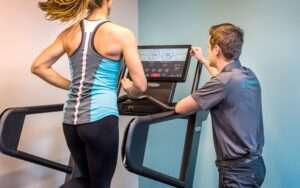 When is Physiotherapy Needed?
Physiotherapy is a key component in the rehabilitation plan after injury or major surgery. Sometimes it forms a small but essential part of recovery, for example with neuro rehabilitation, using physical activity to help the brain relearn old motor skills and movements.
Joint Replacement/Surgery
Following an operation, step-training is central to the physio program to rebuild strength and mobility. The StairTrainer revolutionises this process with height-adjustable steps, that can be tailored to the right height for each person at every stage of their recovery programme.
Long Periods of Immobility
Being bed-bound following a long illness or hospital treatment can cause loss of muscle tone and mobility issues. Gradual physical therapy and exercises help the patient to regain full mobility.
Fall
If a patient is hospitalised due to a fall, as well as rehabilitating from their injuries, they may have lost their confidence, which guided physiotherapy will help to restore. The StairTrainer helps patients recover from a fall with graded step training, and the surrounding safety rail and turning platform all help to increase their stability and confidence.
Accident
People recovering from road or sporting accidents need extensive one-on-one physio to heal from injuries and regain their physical strength. Loss of function in limbs or other areas needs extensive physio with other areas of the body to compensate for this.
Brain injury
Patients suffering from TBI (traumatic brain injury) or a neurological disorder need extensive neuro rehabilitation to relearn old processes. The neuro rehab team includes a cross section of neuro psychologists, speech therapists, occupational therapists and physiotherapists.
How Does Physiotherapy Equipment Help With Effective Rehabilitation?
Regardless of the treatment environment and volume of patients, equipment will play a key role in delivering an effective rehabilitation programme. The type of equipment used will depend on the rehabilitation facility or patient setting, as covered in this section.
In Hospitals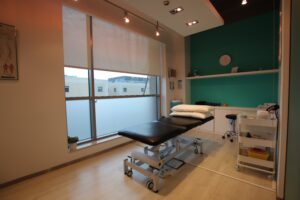 For individuals who have been hospitalised due to acutely debilitating conditions, such as a stroke or heart attack, physiotherapy plays an essential role in supporting the recovery process. Patients who have earlier physiotherapy interventions tend to have better overall outcomes, leading to a shorter stay in hospital.
In acute care, physiotherapists work with patients to prevent further physical decline and maintain their current level of function. This can involve exercises to improve breathing, circulation, and muscle strength. Patients may also receive training on how to safely move themselves around and prevent falls.
The Rehabilitation Chair is design to mobilise patients in critical care as early as possible. The armrests flip back for safe lateral transfers and different positioning options help sit-to-stand, supporting patients up to a weight limit of 200kg.
Rehabilitation physiotherapy involves more intensive exercises and therapies to help patients regain their strength, mobility, and independence. This can include exercises to improve balance and coordination, as well as specialized treatments such as hydrotherapy or electrotherapy.
The VELA Activity Chair is ideal for hospital gyms, as it gives the patient extra stability when undergoing physio with an anti-tip bar and wheel brake. The ergonomic design helps position the patient for all kinds of arm and leg exercises.
Physio Centres and Gyms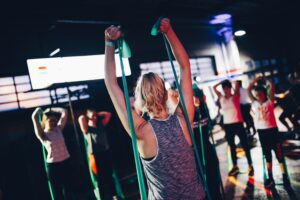 Physio centres and gyms are generally used by sportspeople and those looking to increase their general levels of strength and fitness. Physio centres are useful for those with a specific injury who need personalised treatment to improve their strength and treat the injury at the same time.
Physio centres have highly trained professional staff, with an in-depth understanding of how to recover from a particular injury or condition.
In addition to their expertise, physiotherapists in physio centres have access to a wide range of tools and equipment that can help someone achieve their goals. Whether this is working on balance, building strength in a specific area, or improving flexibility, they are able to provide the necessary support.
An example of this is someone who has torn their ACL during sport. Step-training is an integral part of the recovery process and the StairTrainer provides a complete solution for this, with a step height that varies from 2.5 to 19cm and built in safety features to assist the patient.
Physiotherapy services in the community have become increasingly popular in recent years, reducing the burden on hospitals and other healthcare facilities, and allowing patients to receive care in their own homes.
This service is delivered by community OTs and physios who work for the local council, and work with individuals who require rehabilitation after surgery or have a chronic condition that limits their mobility. Through appropriate exercises, hands-on therapy, and educational support, physiotherapists aim to restore optimal functional capacity and maximize independence.
The right seating and mobility aids can make rehabilitation more effective for patients receiving community care. The Sara Stedy is a unique standaid helping infirm patients get in and out of a chair, and is compatible with the Lento Mobile Riser Recliner chair, a portable riser recliner that promotes independent living.
Conclusion
Equipment plays a key part in the delivery of a physiotherapy programme, helping build resistance, core strength, and provide assisted seating to help increase mobility.
Depending on the type of physiotherapy or rehabilitation environment, there is specialist equipment available to assist the process.
If you would like to find out more about what equipment can help your physiotherapy service, please contact us to find out more.