When choosing a supplier to provide equipment for your healthcare facilities (hospital/care home/hospice), you need the assurance that the equipment not only does its job but enhances patient wellbeing, improves clinical outcomes and makes life easier for staff delivering patient care.
We have selected a list of criteria that we feel are the top 6 priorities to consider when selecting an equipment provider.
1. Does the Equipment Meet Infection Control Requirements?
Different environments have different levels of infection control standards to ensure patient and staff safety. With patient equipment being a key source of cross-contamination, it is critical to use equipment that will minimise the risk of harmful infection. Hospitals typically have the most stringent requirements, given the volume of patient traffic and high number of potential infection sources.
Infection control teams are employed to manage infection control on a day to day basis. Equipment needs to be designed with infection control in mind and be easy to clean. Our article gives advice on cleaning a hospital chair and you can also read our internal review on some of our chairs to see how they measure up to infection control standards.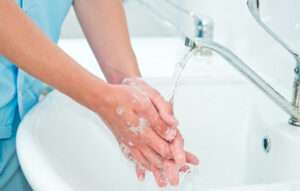 2. Does the Equipment Accommodate Emergency Situations?
Some chairs are designed to accommodate emergency situations, like lie-flat functionality for performing CPR. The Rehabilitation chair is designed for acute care environments, with CPR positioning, Tredelenburg, and a strong anti-tilt frame.
Being able to easily transport the chair and transfer patients between wards is an important factor, such as with the Lento Mobile Riser Recliner, and Mobile Day Surgery chair that can transfer patients straight from emergency departments into surgery.
The Raizer lifting chair is a mobile lifting chair that can be deployed in seconds to lift a fallen patient, and packs away into a carry case for easy transportation.
3. Does the Equipment Contribute Well to Interior Design?
There is a lot to be said for good aesthetics in providing a calming and supportive environment.
Thoughtful arrangement of furniture like hubs and seating areas is particularly beneficial in dementia care environments, to make patients feel more at home and socially accommodated. Providing variations in furniture layout and tying common themes together with colours and fabrics can help dementia patients distinguish between different areas.
Recent innovations like the Integralift, an enclosed patient hoist, help equipment blend in more sympathetically with interior décor, with a range of different wood finishes.
Patient wellbeing can be enhanced with architectural features like larger windows and skylights, creating more natural light, and integrating biophilic design which helps patients feel connected with nature and assists natural healing.
Biophilia has been shown to improve cognitive function and reduce stress. A 1984 scientific study found that patients with a view of nature from their windows recovered more quickly than and needed less pain medication that those that did not.
4. How Does the Equipment Enhance Patient Comfort?
Enhancing quality of life is central to our mission, and all the equipment we provide is designed with patient comfort and wellbeing at the forefront.
Providing a range of positioning options and pressure relief is core to our seating range, as demonstrated with the Lento range and Rehabilitation chair.
Our Infusion Therapy chair maximises comfort for patients while they undergo gruelling dialysis or chemotherapy treatments, making them feel restful and supported.
5. How Easy is the Equipment to Maintain?
Maintenance is essential to keep equipment in good working order. Our equipment is built from modular, standardised parts for easy cleaning, and upholstered in dartex material that is easy to clean and vinyl that is tough and durable, reducing the chance of damage to the fabric in a busy hospital environment.
Read our maintenance tips on common faults with riser recliners and care chairs, and how to fix them.
Also, make sure your equipment supplier provides a backup service for maintaining your equipment, and engineer assistance if parts break or go wrong.
6. How Does the Equipment Function Overall?
It is important to consider the overall functionality of equipment purchased, and how easy it is for carers to operate.
Our seating standardisation philosophy simplifies the seating process, by providing easy to use modular parts that can be easily interchanged between chairs to increase efficiency and reduce equipment downtime.
Conclusion
The key priorities to consider when finding a supplier for your healthcare equipment needs are patient comfort and care, infection prevention, ease of maintenance and overall functionality.