Bathrooms might seem like a difficult environment to make accessible or wheelchair-friendly, but it doesn't have to be so complicated.  Bathroom adaptations are a popular way to make the home more accessible.
We have an accessible bathroom specialist in-house which has enabled us to design and install many wetrooms over the years. After the sizing of the wetroom, flooring is one of the topics we get asked about most. Clients often have questions on how to keep it safe whilst keeping it stylish and homely.
This guide covers how to choose the best flooring for your wetroom!
Features to look for in wetroom flooring
Whatever style of flooring you choose, there are three key features you should include to make the wetroom as accessible as possible:
1)      Waterproof
In a bathroom, carpet and other porous flooring are not recommended.
They soak up the water and risk high humidity and dampness. In turn, this can increase risks for a whole range of illnesses, including coughing and breathing difficulties.
However, hard waterproof flooring, such as tiles and vinyl, do work well for wetrooms.
There are tight seams between the planks, or even no seams at all if you use a single sheet of vinyl! This makes it difficult for moisture to work its way downward and cause damp. Unlike with carpets, you can also add extra waterproof coatings to hard flooring – ensuring they really are watertight.
Waterproof flooring is also easy to clean because it doesn't soak up water, making it easy to wipe and dry.  This is especially important for an older person, or couple, living alone without someone to help with cleaning.
2)      Durable
The bathroom gets used every day. So, it is important that the flooring you choose is something that lasts.
You don't want to replace your flooring every couple of years. You need something that can stand the various knocks that can happen during each visit.
This is especially important for wheelchair and shower chair users. Not all flooring will cope well with having wheels repeatedly rolled over it. You need a material that's strong enough to not wear down.
3)      Non-Slip
In our experience, this is the most important factor for wetroom flooring.
Water gets onto the floor after showers/baths, which can quickly make bathrooms a very dangerous place.
In 2019,  Yorkshire Ambulance Service (YAS) reported that they receive, on average, 236 emergency calls every day to help people who have fallen. Across the UK, falls are the single largest cause of emergency hospital admissions in people aged 65 and over.
So, it is very important that the flooring doesn't become slippery when wet.
Luckily, you can get special non-slip flooring. Some appear smooth but have an anti-slip coating. Others use texture to give additional grip.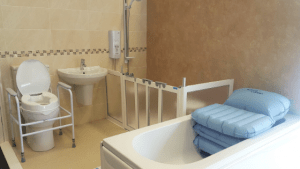 What are my wetroom flooring options?
Usually, wetrooms have tile or vinyl flooring. Here are the pros and cons of each:
Tile
Tiles are a hard-wearing material are used to form wall and floor coverings.  Floor tiles are durable and will resist impacts.
Lots of people like tiles for bathrooms because they're so durable and easy to clean. They also come in many different textures and styles – you can even get tiles that look like very high-end in realistic wood!
Finally, they can even be heated. The tiles will radiate heat evenly and retain it, even after the heating is turned off. Cold weather has been linked to worsening symptoms for conditions like arthritis. So, many older people appreciate under floor heating in the winter months!
However, there are a few downsides when using tiles.
In between the tiles, grout is laid as a filler between each piece. This makes them harder to clean because dirt builds up in the crevices.
Also, if someone does fall, tiles are very hard. There's a greater risk of injury than with softer flooring.
Finally, the non-slip options can be very expensive. We've covered the importance of non-slip. So, if you're on a budget, tiles may not be the best choice.
Vinyl
Vinyl flooring comes in continuous flexible sheets, and is completely impermeable to water, as there are no breaks in the surface.
Sometimes, people are reluctant to use vinyl because they view it as cheap and clinical looking. They worry that there aren't enough design options to get the look they want.
However, nowadays there's a huge range of vinyl options! You're no longer stuck with 'hospital style' flooring in a few dull shades. There's some really luxury finishes, like marble effect vinyl.
Generally, vinyl isn't as hard-wearing as tiles, but it's still pretty practical.
Other benefits of vinyl include:
Quick and straight-forward installation
Very easy to clean
Affordable non-slip options
Summary
In conclusion, choosing the right wetroom flooring is key for keeping people living independently.
So, for accessible and safe wetrooms, you want durable, waterproof, non-slip flooring. For someone who is still fairly mobile and generally uses the bathroom alone, we recommend non-slip vinyl. It offers the best balance of practicality and fall prevention, whilst still being fairly
For help choosing your flooring and perfecting your overall wetroom design, please get in touch.
Our accessible bathroom consultant can come out to your home, take measurements, and learn more about your circumstances and any difficulties you're having. This is a free, no-obligation service to help you get a better understanding of the size and style of wetroom that will work best for you.
Error: Contact form not found.