Supporting Someone With Symptoms of MND – How Specialist Seating Can Help
A Message from Vivid Care:
Over 50 years, we have carefully refined our process of supplying the correct specialist seating system and have worked with a range of private individuals and healthcare organisations. Our adjustable specialist seating solutions are created to keep users well supported over time and maintain skin integrity.
Our qualified seating assessors and occupational therapists are passionate about improving quality of life and finding solution that will keep you or a loved ones comfortable and well supported over time.
Book a free, no-obligation seating assessment wherever you feel most comfortable.
Jump straight to…
What is Motor Neuron Disease?
Motor Neuron Disease (MND) is an umbrella term for a range of different neurodegenerative diseases and conditions that disrupt communication between the brain and muscles leading to muscle weakening over time.
Also known as ALS (Amyotrophic Lateral Sclerosis), the condition eventually becomes terminal and is most likely to affect adults over the age of 50. There are around 5000 people living with MND in the UK all of whom use a variety of techniques that can help reduce the impact of on their daily life.
Managing the symptoms of MND can be challenging, but one way to improve quality of life is through the use of specialist seating that offers a person with MND the continued and varied support required as their condition progresses.
In this blog post, we will explore a few features you'll need in chairs for people with Motor Neuron Disease and provide our seating recommendation.
Supporting Changing Needs with a MND Chair:
As the condition progresses, individuals with MND may experience muscle weakness, respiratory insufficiency, and difficulty with speaking, swallowing, and walking. Proper seating is essential to promote comfort, reduce pain, and prevent complications such as pressure sores.
As MND progresses, more support will be required, so choose a chair that allows the addition of postural supports and accessories over time.
We have supplied lots of specialist seating solutions to private individuals and healthcare environments, and over the years, and the first thing to note when you're specifying chairs for people with MND is that it's almost always better to prescribe a care chair rather than a riser recliner.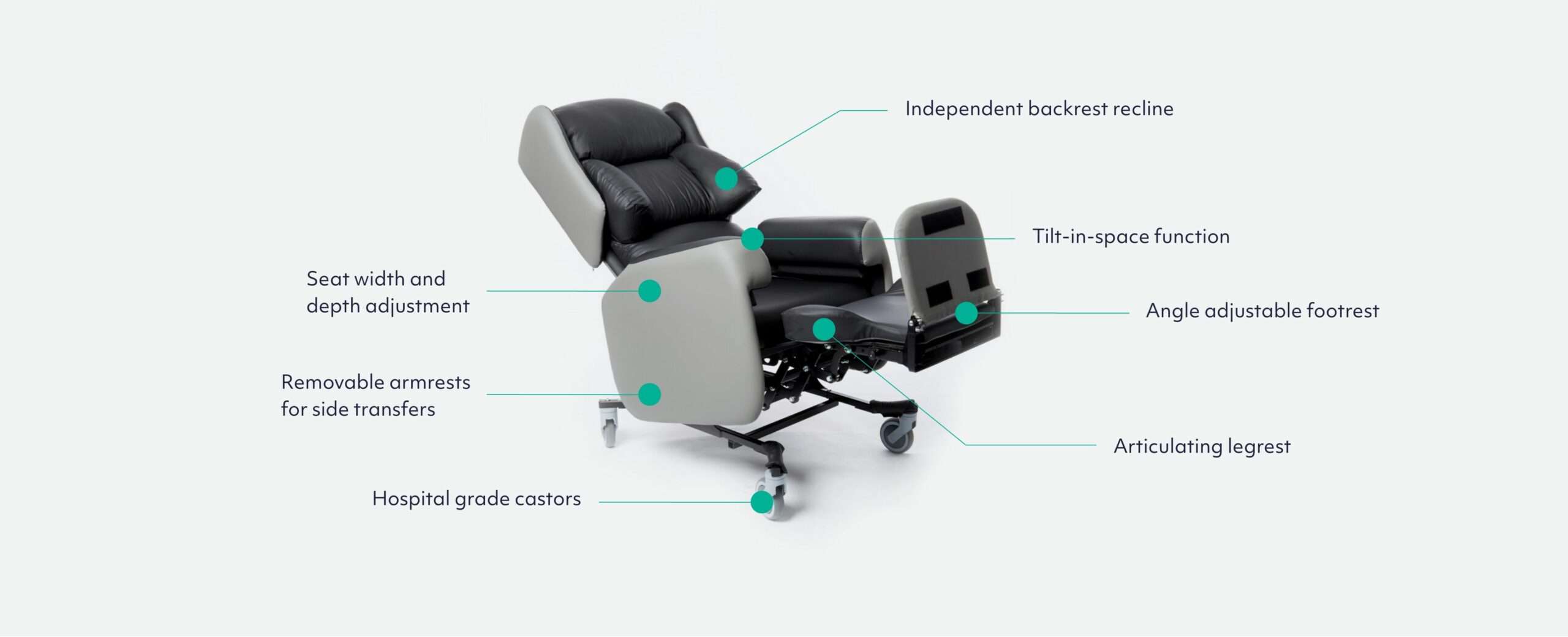 This is because care chairs are better equipped to suit a person with MND changing needs over time as the disease progresses and typically, riser recliners will only offer temporary comfort and support.
Specialist Seating for MND | The Importance of Pressure Relief Chairs:
One essential factor to consider when choosing a specialist chair for MND patients is the quality of pressure care options available. Pressure sores can develop when pressure on the skin and underlying tissues is not relieved, these pressure sores can be painful and even life-threatening if left untreated.
Pressure injuries are a significant concern for individuals with motor neuron disease (MND) and other conditions that lead to prolonged periods of sitting or lying down. These injuries can result in pain, reduced mobility, and even life-threatening infections. In fact, pressure injuries are a prevalent issue in healthcare settings, in the UK, over 700 000 patients are affected by pressure ulcers each year, it is estimated that dealing with pressure ulcers costs the National Health Service (NHS) more than 3.8 million every day.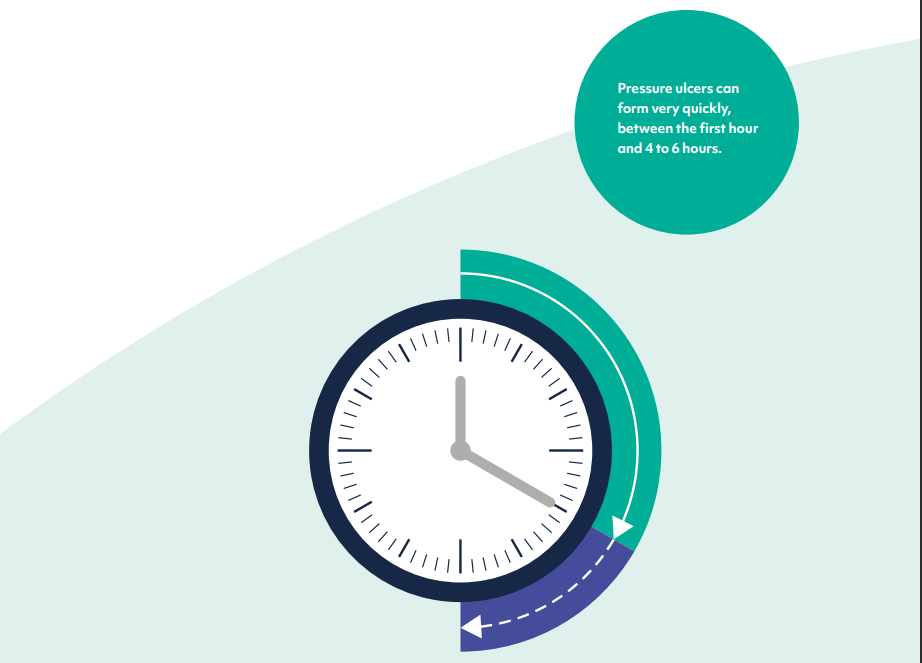 Specialist seating manufacturers use high-quality pressure care options, such as special fabrics, foams, and alternating air pressures that can play a vital role in preventing pressure sores from developing. These options help distribute pressure evenly across the body, reducing the risk of tissue damage and promoting blood flow.
Specialist seating with pressure care options should be carefully selected based on an individual's unique needs, taking into account their level of mobility, weight, and other medical conditions. An occupational therapist or trained seating assessor can help determine the appropriate pressure care option for the individual.
Alternating Air Pressure Relief Cushions:
Alternating air pressure systems can also be incorporated into specialist chairs to provide dynamic pressure relief, which changes the pressure points on the body. These systems consist of multiple air cells that inflate and deflate in a cyclical pattern, allowing the individual to shift their weight and redistribute pressure across the body.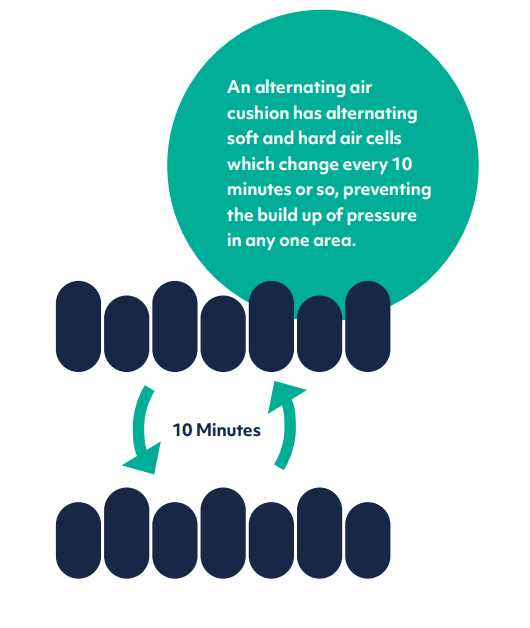 Getting Chair Measurements Correct:
Getting the correct measurements for a specialist chair is crucial for ensuring optimal support, comfort, and safety for individuals with motor neuron disease (MND). An ill-fitting chair can cause discomfort, pain, and pressure injuries, and even contribute to the progression of the condition.
To get the correct measurements for a specialist chair, it's essential to consider factors such as the individual's weight, height, level of mobility, and other medical conditions. Measuring the individual in both sitting and standing positions can help ensure a precise fit, as well as accounting for any changes in posture or body shape that may occur over time.
Additionally, the chair's specifications should be considered, such as the seat depth, width, and height, as well as the backrest height and angle. These specifications can affect the individual's posture, pressure distribution, and comfort level.
Working with an occupational therapist or trained seating assessor can help ensure that the chair measurements and specifications are tailored to the individual's unique needs. These professionals can also provide guidance on adjustments to the chair as the individual's condition progresses, ensuring ongoing comfort and support.
An occupational therapist or trained seating assessor can help determine the appropriate pressure relief option, whether it be a tilt-in-space chair or another type of pressure relief chair.
Tilt In Space:
As we have seen, pressure relief is an essential consideration when selecting specialist seating for individuals with motor neuron disease (MND) who spend prolonged periods sitting in a chair. Without proper pressure relief in a chair, they may develop pressure sores, which can be painful, debilitating, and even life-threatening. That's where tilt-in-space chairs come in.
Tilt-in-space chairs are an effective solution for supporting MND patients as they redistribute weight and reduce pressure on specific parts of the body, helping to prevent pressure sores.
Tilt-in-space (TiS) chairs are beneficial for individuals with MND because they redistribute weight and reduce pressure on specific areas of the body. By tilting the chair back, the angle changes, and weight is shifted to a different part of the body, reducing the risk of developing pressure sores. This redistribution of weight can also help improve posture, reduce discomfort and pain, and increase overall comfort while sitting.
Proper chair measurements and specifications are critical for achieving the most effective pressure relief. The right fit can make all the difference in avoiding the development of pressure sores. It's important to work with an occupational therapist or trained seating assessor to determine the appropriate pressure relief option for you.
There are two main types of movement you can expect to find in a MND chair.
Back Angle Recliner Chairs (BAR) – The seat-to-back angle adjusts to open up the hip angle.
Tilt in Space (TiS) – Shift the seated person's body backwards into a tilted position while the seat-to-back angle stays the same.
TiS distributes weight as needed and this type of chair can be adjusted to accommodate different body positions, making it an excellent choice for people with MND who may experience discomfort or pain when sitting for extended periods.
Tilt-in-space can prevent fatigue, support the head, shoulders, and trunk, and can prevent the patient sliding out of the chair. We created the Lento Care Chair & Lento Mobile to be highly customisable for a range of conditions. Both chairs with a tilt in space option as well as an independent back angle recline and can support 20+ stone users.
Out tilt in space chairs can be adjusted to a range of positions, and its unique design helps to redistribute pressure to reduce the risk of developing pressure sores.
Elevating Legrests
When you are looking to provide support to someone with MDN, its advisable to choose a chair with an elevating legrest that is one single unit. This means that the seat and the legrest section are on a continuous piece that will provide support from the top of the thigh right down to the heel.
This will be integral as the client's condition progresses and they require more support from their chair. For example, we designed the Lento Mobile chair to be a good option for this situation with its continuous legrest feature.
Postural Support Cushion Options:
In terms of positioning, the ideal chair to support a MND sufferer needs to offer a lot of flexibility and support in a variety of configurations.
People with MND tend to benefit from a care chair that has built-in tilt-in-space. By tilting the chair back, they can rest assured that their body is being supported and it allows them to maintain eye contact and conversation if they can no longer keep their head lifted.
Including an extra back angle option will also help massively as the client's condition deteriorates. As MND progresses, it can affect the function of the lungs and make it particularly difficult to breathe.
The backrest recline will open up the chair so that the person's upper body can be positioned at different angles to aid with ventilation and swallowing. This will also give the client a better visual field so that they can communicate and socialise with others.
To help keep their chest supported and open for respiration, you'll need to consider extra arm supports. Ensuring that the client has adequate arm support will stop them from crossing their arms or hunching forwards, which could restrict their breathing.
Backrest support
You'll also want to include a lateral backrest support in chairs for people with MND. With the client's physical strength deteriorating, you need to ensure that their posture and positioning is maintained as well as possible at various stages of the disease.
So if a person with MND is presenting low tone and reduced strength, including lateral support in your backrest will help them to maintain a midline position when seated for long periods of time.
The Lento is created to support someone with MND and features a range of positioning options and accessory options including a lateral backrest. The highly adjustable seating also means that you can change the chair as needs change to will provide the correct support over time.
Communication
Unlike care chairs for other conditions, you may need to consider the addition of communication devices in the future. MND can cause you to lose the ability to move your mouth and speak, so your client might need to communicate a little differently in the future.
Including some anchor points in your chair will mean that your client can rest assured that they will be able to communicate over time. Some clients use tablets and computers, whereas others use eye movements and buttons by the side of their head – so make sure you consider these things in your assessment.
Other things to bear in mind
With your client's mobility decreasing, they will be spending more time sitting down. With that in mind, including good, comfortable pressure relief in the chair is a must.
You should also include castors on the chair so that your client can be moved around with ease. This will help them to maintain mobility and quality of life.
With the client sat for long periods of time, they could end up getting very warm and even uncomfortable in the chair. For this, it is recommend that a breathable, wipe clean fabric to cover the chair.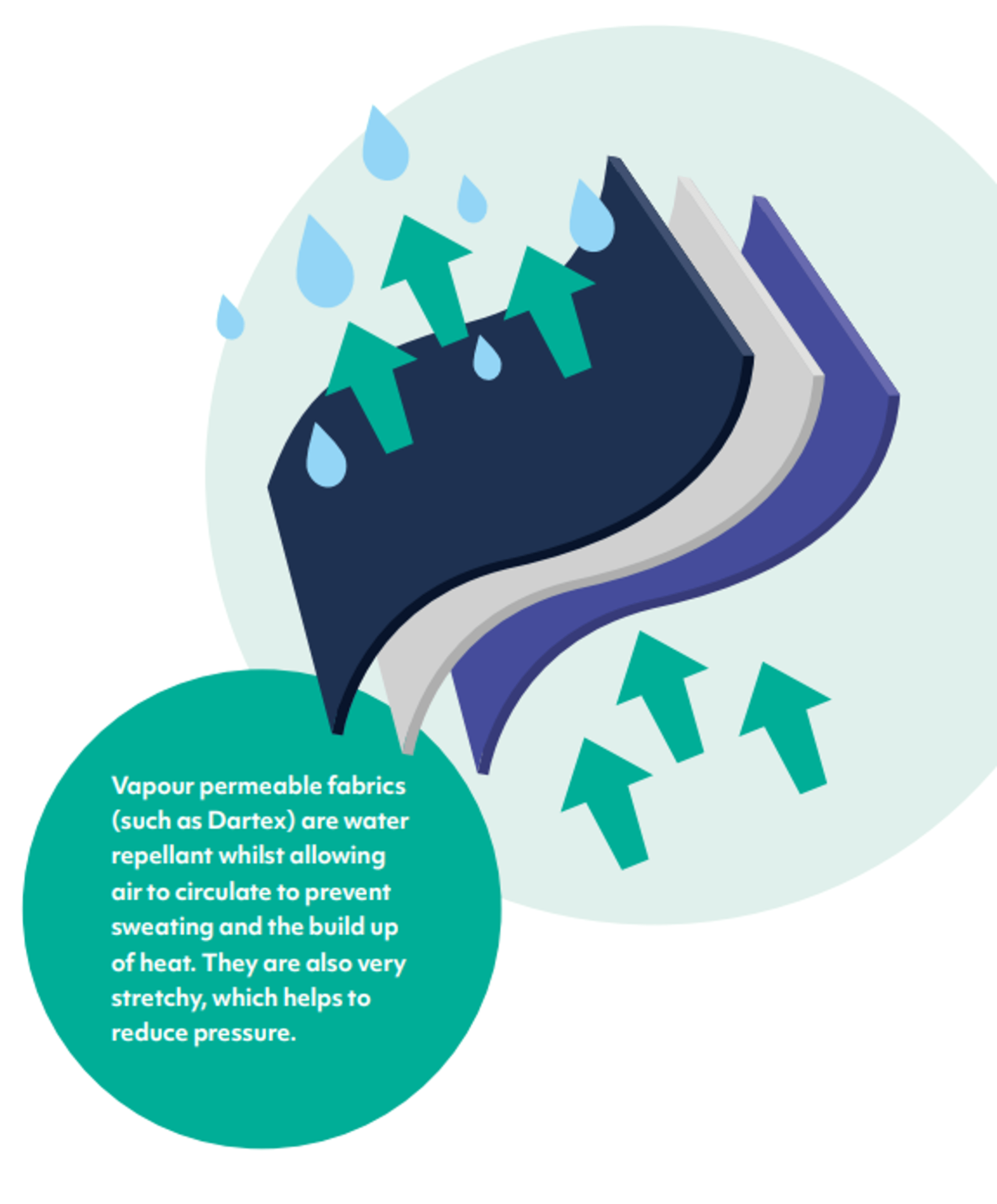 Summary
If you or a loved one is living with motor neuron disease (MND), finding the right seating can be a critical part of managing the condition. As MND progresses, you may require specialist seating that provides the necessary support and comfort to minimise discomfort and reduce the risk of pressure sores.
One of the key considerations when buying specialist seating for MND is the ability to tilt in space. This can help to redistribute pressure and prevent the development of pressure sores, which can be a significant concern for those with MND. A continuous footrest can also be important for prolonged periods spent sitting, helping to maintain circulation and reduce the risk of swelling or discomfort.
Current and future needs – As the condition progresses, the person's needs may change. It is important to choose an adjustable chair that can meet the person's changing needs of someone with MND.
Lifestyle – You may want a portable chair for someone with low mobility that can be wheeled into different rooms and allow socialising.
Ease of use – How easy or difficult the chair is to use is highly important
Pressure Relief
Budget – Highly adjustable specialist seating systems hairs can range in price from a few hundred dollars to several thousand dollars. It is important to choose a chair that fits the person's budget.
These are the key things to look for in specialist seating for people with MND to keep them comfortable and supported as their needs change over time. Ultimately, a specialist seating system that can be adjusted to suit changing needs over time is the ideal solution o providing long-lasting optimum support.
Book a Seating Assessment with Vivid Care:
We believe that the right specialist seating solution, when measured and specified properly, can make a real difference to a low mobility or elderly person's quality of life.
Your comfort is also very important to us, that's why we offer at home seating assessments to ensure that you receive the perfect seating solution for your needs from our occupational therapists and trained seating assessors