Falls are a leading cause of injuries and hospitalisations in older people (65+). Six people in this age group fall every minute. A hip fracture is one of the most dangerous injuries you can suffer during a fall. The NHS treats around 80,000 patients for hip fractures every year – falls cause 90% of them! This costs around £25,000 per patient and accounts for over 1.8 million hospital bed days.
Sadly, the hip fracture mortality rate for the over 65s is high. 25% will die within 12 months. A further 50% will never recover their pre-injury independence – many older people move into residential care homes when recovering from a hip fracture.
These eye-opening statistics are why we've invested so much in falls awareness over the years. We've run training events, collaborated with falls response teams and ambulance services, and developed an exclusive range of fall assistance equipment. Our team are passionate about preventing falls and reducing the injuries and distress caused when a fall does occur.
That's why we are thrilled to announce that Vivid.Care are now the exclusive UK distributor for Hip'Guard!
What is Hip'Guard?
Hip'Guard is the first fall protection device of its kind. It is a wearable belt that clips around the body – just above the hips.
With built-in motion sensors, Hip'Guard uses a motion analysis algorithm, automatic fall detection, and airbag technology to protect the wearer from hip fractures during a fall.
See it in action:
We revealed Hip'Guard at a live launch event. Our very own Sales Director, George Hulbert, demoed the innovative device in front of 500 healthcare professionals (virtually, of course).
Ahead of the launch, George said:
"We are thrilled to be bringing Hip'Guard to market as the exclusive UK distributor. Statistics show how significant falls and hip fractures are for our ageing population. 90% of hip fractures are caused by falls. After a hip fracture, 2 in 4 older people will never recover their independence and, sadly, 1 in 4 will die within a year.

Our team are always looking for new solutions that can change care for the better. Hip'Guard ticks that box for us. It has been proven to reduce the force of impact from a fall by over 85% – which significantly reduces the risk of hip fractures. But it's also a product that is comfortable and practical for our customers to use. The belt is discreet, lightweight, and comes in multiple sizes. At our core, we're all about enhancing quality of life. So, any wearable technology we launched had to prioritise maintaining users' confidence and independence."
If you want to watch the demo back for yourself, there's a recording on our YouTube channel. (You can skip to 53:13 to just watch the demo).
We are delighted with the positive feedback so far! One attendee commented:
"Really good information and the belt looks interesting. Great information to prevent falls injuries in the elderly."
How does it work?
From the user's perspective, Hip'Guard works automatically! Once you put it on, that's it. The belt starts analysing your movement. Then, if you fall, it responds in 0.2 seconds and has the protective airbag inflated 0.8 seconds later.

Technical Explanation
But to get technical here's the technology behind Hip'Guard…
Hip'Guard clips around the body like any standard belt. With built-in motion sensors, the belt uses a validated algorithm to analyse the wearer's movements over 1,000 times per second.
When a fall occurs, the algorithm automatically detects the falling motion in 0.2 seconds. It then takes under 0.8 seconds for the concealed airbag to inflate. By the time the fallen person hits the floor, their hip is fully cushioned.
The airbags have a specifically designed horseshoe shape. This protects the femoral neck by isolating it and spreading the force of the impact around the bone rather than onto it. The result is a high level of shock absorption which reduces the risk of hip fractures.
Is it safe?
Yes! Hip'Guard has been extensively tested and complies with the highest safety standards.
Although the airbags look similar to car airbags, a few important changes have been made so they are safe to wear:
Cool inflation: Unlike with car airbags, there is no heat released on inflation. The hip airbag remains cool and comfortable.
Expands outwards: A major worry people have with car airbags is that the airbag inflation itself will injure them. Because the Hip'Guard airbag expands away from the body (rather than towards it) there's no risk of this kind of injury.
Non-slip: To further increase comfort, non-slip material covers the belt and the airbag. So there is no uncomfortable rubbing or twisting to worry about.
Independently tested and proven to reduce fall impact enough to prevent fractures
Researchers at Virginia Tech found that airbag hip protectors reduced fall impact by 85%, keeping the force of impact below the 3100 N threshold recognised to cause hip fractures.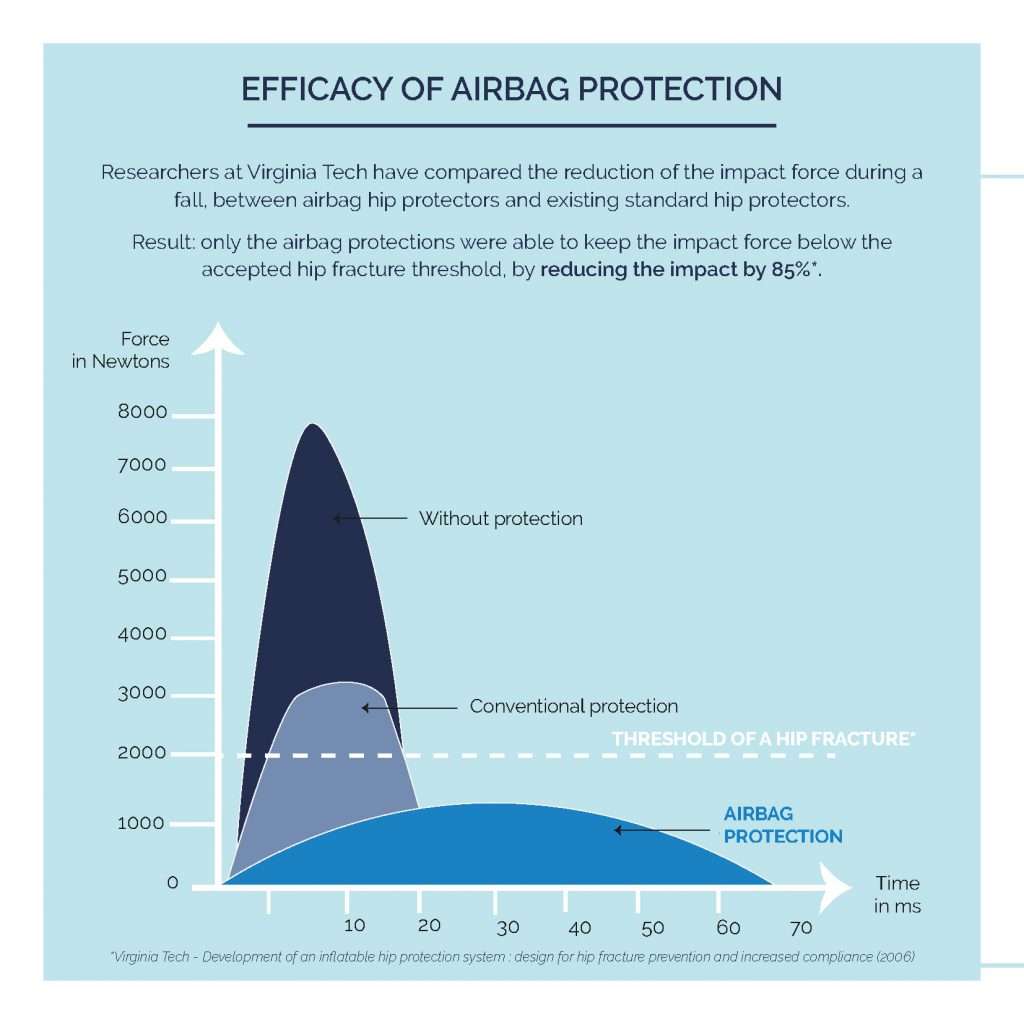 How can I try Hip'Guard?
If you're local, Hip'Guard airbag belts are in stock at our Harrogate showroom. They are also available to buy online nationwide. We can deliver in 2 – 4 days anywhere in the UK.
Book a video demo
We can also arrange a free video demo – just get in touch.