This article will leave you in no doubt as to just what an amazing piece of falls lifting equipment the Raizer is.
Don't just hear it from ourselves, these are the first-hand observations from a frontline Ambulance Technician who was so impressed by the Raizer he based a whole academic assignment around it, completely unprompted by any third-party organisation.
Please read on, this article speaks for itself.
Actions to improve organisational effectiveness in the emergency and urgent care settings
Suggested improvements in organisational effectiveness
My suggestion for improving effectiveness throughout the organisation is an operational one, however I believe it would have a wider impact, in terms of financial expenditure long-term, a reduction in man hours lost due to accidental injury, and improvements in overall patient care and reduced time on scene. This suggestion is one I also believe to be very simple to implement, as it is something which the SAS as an organisation has access to.
Falls can happen anywhere, at any time, and for a wide variety of reasons. Even in places which are considered as "safe" and well-staffed, such as hospitals and nursing homes, the number of falls is on the rise. In fact, in the year 2021-2022, a total of 27,767 falls were recorded as part of the Scottish NHS Healthcare Improvement Scotland scheme (Rise in hospital falls and bed sores since pandemic – BBC News ). However, many of these patients had pre-existing conditions or were infirm or had mobility issues, and as such, many of the recorded falls could, or possibly should, have been expected.
However, in the year 2019, the SAS responded to a massive 62,651 emergency calls for patients who had fallen, with 60,299 of these falls happening at ground level nco-scottish-ambulance-care-journet-after-a-fall.pdf (carers.org) . These numbers are growing annually. Some of these patients are elderly, and slight built, while others are bariatric. Some have cognitive impairments as well, making the job of getting these patients up off the floor, regardless of any sustained injuries, more problematic for the attending clinicians. However, regardless of the patient's circumstances or their physical stature and weight, getting these patients up, regardless of the circumstances involved, presents a risk to the attending crew in terms of their own physical wellbeing.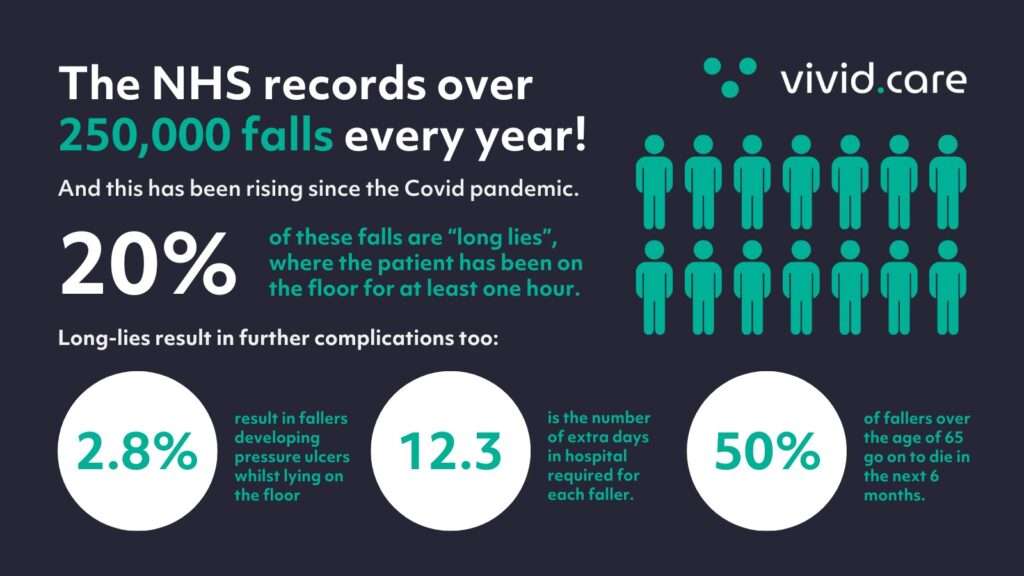 In recent years, many staff members have been injured at work, resulting in lost manpower, resources being single-manned, and staff requiring hospital treatment, GP consultations and physio referrals for treatment and ongoing recovery. In some cases, people I have personally spoke to have said they have never regained full mobility, and still have pain to this day.
Now, I am not saying that crews are not supported in carrying out their duties on these jobs, far from it. Crews can, in the first instance, request an additional crew to assist in the lift. Equipment wise, there are lifting aids available to all frontline crews, namely the Mangar Elk. However, the Elk is notoriously unreliable, and takes time to assemble. The battery chargers are well known for failing to charge the units properly, and even when they do, the batteries, depending on their age, are prone to running out when under use – leaving the crew with the dilemma of requesting an additional charged unit from another vehicle, or simply using another crew as back up and then physically manhandling the patient up off the ground.
And even when the Elk performs as it should, it is unsteady, and causes anxiety and concern for patients and crews alike.
So, is there an alternative? Yes, there is, and this is the basis of my suggestion for operational improvement.
Around 2021, I was fortunate enough to be on station at Motherwell when a team from Vivid.Care were showcasing their new lifting aid, the Raizer II.  The Raizer is an emergency lifting chair, which can be operated by a single clinician. In addition to this, it has a maximum lifting weight of 150kg or just over 23.6 stone. It takes less than a minute to lift a patient once activated (20-30 seconds approximately) and is pretty much self-contained, without the hoses or wires which can present a hazard for attending crews when using the Elk. Also, patients feel more supported by the unit, which has a back support, and a strap which adds further security and confidence in both the patient and the clinician. It can, when required, also assist patients up onto their feet (depending on their size and height). The battery that powers it is 12v, so could easily be charged within the vehicle. It is supported by audio and visual indicators and has a built-in battery charge indicator.
Seen in use that day, lifting a fully grown adult male from the floor into a seated position, and then onto his feet, the benefits of this piece of kit were clear to see.
The currently used Mangar Elk lifting cushion costs, on average, around £1300-£1500 plus VAT. This is compared to the price of an operational Raizer, which comes in at £3997 for a single unit (before discounts or reduction for the purchase of multiple units). This is obviously a significant price difference on the surface; however, I believe there are significant reasons why this cost can and should be offset. Around 2021, 20 units were purchased by the SAS, and distributed throughout the various regions. However, to date, only the North has made use of these resources, and with positive feedback towards the procuring of further units. In addition to these 20 units within SAS, the following services have all utilised the Raizer with positive results – Yorkshire (who have 100 units in operations at the moment), N. East, East Midlands, and the N. West. Some of these services have utilised the Raizer effectively within their PRU vehicles, negating the need for a further crew to attend a fall when no injury has been caused as a result of a fall, which in turn has reduced operational costs and demands in terms of service capacity and response. Fire & Rescue have also utilised the Raizer during first response actions with good success rates.
The Raizer is not just a "lifting cushion". It is a lifting "chair", and having seen it in action, I can confirm it is indeed a single clinician operator unit. It supports the patient throughout the lift in a way the Elk cannot, as it has added back support, and with the addition of accessories such as the head rest, provides a level of comfort and physical support that the Elk can never provide. It is operated by a remote control and with the addition of the optional head rest, requires no physical "hands on" by the clinicians attending throughout the lift, as opposed to the Elk, which provides no patient support, and requires a clinician to physically support and steady the patient throughout the lifting process. It also has no hoses or wires which could constitute a hazard from attending crews in terms of trips or the risk of entanglement. In addition, there is no chance of a hose "popping off" during use while under pressure, as has happened to me on a number of occasions.
Its component parts are also more robust – there is no "cushion" to be punctured or worn through use. The Elk, should the actual "cushion" part become damaged, torn or punctured, requires the whole unit to be replaced – there is no option to buy a replacement part. The same with the Elk hoses, should a connector become damaged, it will require a new unit if unserviceable. The Raizer however, is more robust, has solid components, and is less likely to fail as a result of damage or through wear and tear. In addition, these solid parts are easier to clean and disinfect and present less of a hazard in terms of IP&C (Infection Prevention & Control).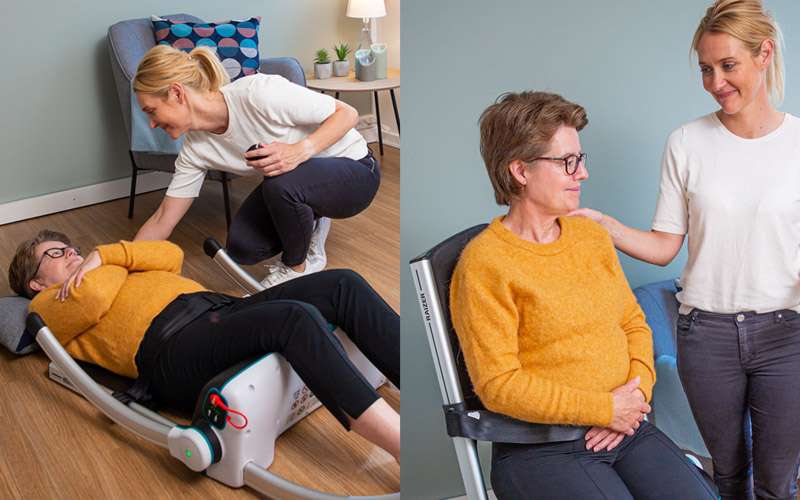 The other factor to consider is that the Raizer is capable of cutting down on the risk of Musculo-skeletal injuries presented to attending crews. This reduces the costs to the service in terms of lost man hours and sick pay, as well as the associated costs of physiotherapy referrals and hospital treatments. This in turn increases the number of resources available and helps stabilise organisational capacity. Often, when a clinician is injured at work, they book off, and the following shift their partner is single manned, meaning they are operationally impaired as a resource. This has a negative effect on the organisations response and capacity figures, which in turn puts additional pressure on the other crews, and patient waiting times increase as a result.
Operational response times are also affected by the attending crews time on scene. However, the Raizer's much faster operating and set up times reduce this considerably. While many falls patients are suitable to remain at home and do not require conveyance, the time spent setting up the Elk, and the time it takes to lift the patient, all adds to the time on scene. The ability to lift a patient from the ground into a stable seated position, then performing a secondary assessment before standing them up, is again something the Elk is not capable of without an additional crew member supporting the patient physically.
Summary
In summary, the Raizer reduces the risk of injury presented to crews while attending falls patients, it reduces time on scene due to its effectiveness and reduced set up/operating times, it reduces patient anxiety, provides more stability and support for our patients, it can cut down on the need for additional resources on scene, can be operated by a single clinician, is more robust and hard wearing, is more adaptable especially with the use of its accessories, is more IP&C friendly, and is more reliable than the Elk in operational use. It can be added to PRU or 3RU vehicles and operated successfully – and safely – by the same. Its battery is more efficient, providing up to 100 lifts on a single charge. It is more effective overall as a moving & handling resource, and due to its voice prompts and ease of use, can be operated by crews with little experience or prior knowledge, in a similar way to an AED. Instruction on its use can be completed in minutes due to its simplicity, negating the need for crews to be off the road for instruction in its use, and once demonstrated and used once it becomes far easier to use again in the future than the Elk.
The Raizer also comes with a comprehensive support and training package, as well as optional 3- or 5-year service contracts, and extended warranties. Support is also offered for organisations in respect of technical backup and risk assessments, and the company that supplies the Raizer also offers product trials for organisations wishing to try out the product prior to purchase, and these trials can be both short and long term.  Finally, the company offers two CPD accredited courses to support organisations and its staff, free of charge. This commitment to its partners and product users shows an exemplary confidence in both its product and its ongoing support to its customers.
In short, I believe the Raizer II to be an extremely worthwhile piece of equipment and consider its benefits to the organisation to be far reaching. It reduces the physical and emotional impact of falls, for both patient and responders, and I suggest the purchase and use of the Raizer II as being an improvement in organisational effectiveness.
Graham Wallace
VQ4 Student Ambulance Technician, SAS