In 2019, Yorkshire Ambulance Service (YAS) reported that they receive, on average, 236 emergency calls every day to help people who have fallen. Across the UK, falls are the single largest cause of emergency hospital admissions in people aged 65 and over.
Many people expect trips and slips outdoors to account for most falls, especially in winter when there's ice and snow. But evidence shows that many falls actually occur in the home. A fall at home can be caused by many things – a dizzy spell, tripping on a loose rug, or slipping on a wet bathroom floor.
A typical bathroom contains multiple trip and slip hazards. As well as wet flooring, there's a risk of losing balance getting in and out of the bath or shower. Plus, there's often not much to hold onto if you need some support moving around the room. This can be worrying if you have a relative or patient who is elderly or unsteady on their feet. Fortunately, there are some steps you can take to prevent falls in the bathroom.
Take a look at our 6 top recommendations to help avoid falls in the bathroom:
Look out for warning signs
Anyone can have a fall in the bathroom. But older people and individuals with limited mobility or poor balance are at an increased risk.
For people in these high-risk groups, it is helpful to look out for warning signs that can indicate they are more likely to have a fall. These signs may appear if the person is unwell, due to a cold or infection, or if they have a long-term health condition which has progressed over time.
Some common warning signs are:
Incontinence – if someone is rushing to the toilet, they are more likely to fall.
Loss of vision – If someone has blurred or reduced vision, they may not notice any hazards as easily.
Lower limb weakness – if someone is experiencing muscle weakness in their legs, they may be less able to support themselves on their own. Weakness reduces someone's ability to support their own weight. So, it is a particularly big risk factor for anyone who gets in and out of the bath unaided.
Problems with gait (movement & walking) – if someone is struggling to get out of their chair and walk forward unaided, they may be feeling unsteady on their feet. This is sometimes called the 'get up and go' test and is often used to assess the risk of falling.
If you notice a patient or relative developing any of these warning signs, you should speak to their GP for further advice. You may also want to arrange more visits and support for them at home if possible.
By spotting early on that someone may be more likely to fall, you can take extra steps to prevent it.
Here are some changes you can try that have been proven to effectively reduce the risk of falls in bathrooms:
Add Grab Rails
We highly recommend installing grab rails around the bathroom to prevent falls. This will give the individual more stability as they move around.
Not only do grab rails give them something to hold onto, but they increase their confidence by giving peace of mind that support is there if they need it.
Grab rails for baths and showers
If you're looking for a quick solution without the need for tools, suction grab rails can be a good option. They are specially designed for use in wet areas like showers and baths.
As they aren't permanently fixed in place, suction grab rails are also great for travel. You can simply detach them from the wall, take them with you and reattach in the new bathroom.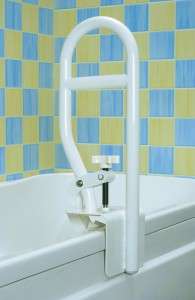 For extra support when getting in and out of the bath, consider a bathtub grab rail. They clamp directly onto the side of the bath. This provides a firm handle and extra stability right where you need it.
Grab rails for toilets
At first, it may not seem as obvious a fall risk as using the bath but getting on and off the toilet requires a lot of lower body strength.
To help prevent falls, we recommend installing a grab rail on either side of the toilet. This offers the individual support on both sides. If needed, they can even use the rails to support some of their weight to help them push back up to their feet.
This set up provides a more permanent and subtle alternative to a toilet surround safety frame.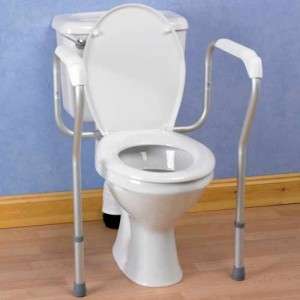 For a more space-saving solution, you can opt for a drop-down rail rather than a standard straight grab rail.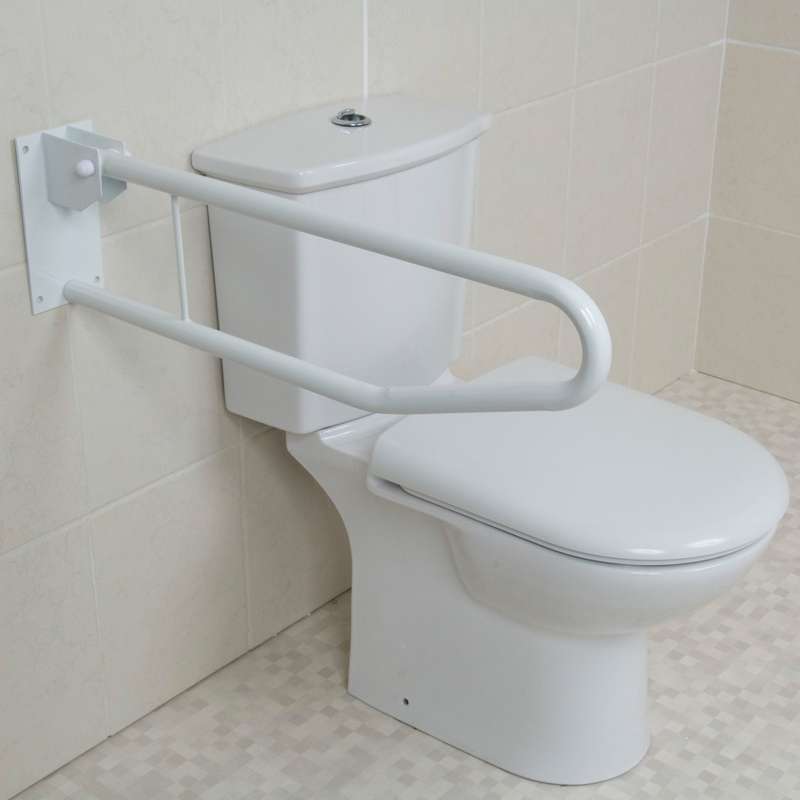 The rail is mounted onto the wall and rotates down to a 90° angle when needed. Once the user has finished, the rail can be folded up flush to the wall to free up space in a smaller bathroom.
Learn more about how to get on and off the toilet safely in our guide.
Get a non-slip bathmat
Simple but highly effective. If you haven't got a non-slip bathmat already, then we definitely suggest getting one. It is one of the cheapest, easiest ways to help prevent falls in the bathroom.
The high-grade rubber material and suckers provide a strong grip to avoid slipping on the wet surface of the bath.
Try a shower chair
For someone who becomes unsteady on their feet after standing for long periods, a shower chair can be a great tool for preventing falls.
A shower chair is essentially a simple waterproof wheelchair. They are specially designed for use in bathrooms.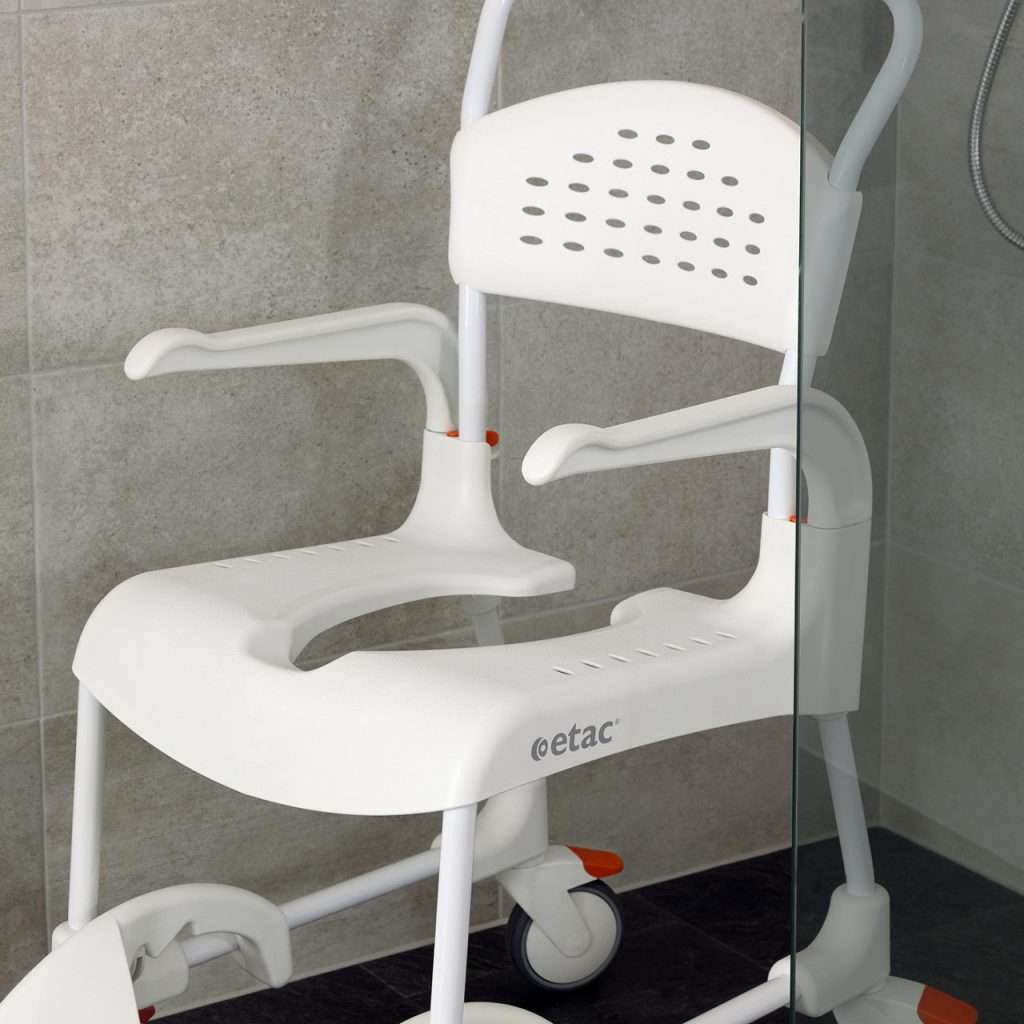 A horseshoe-shaped hole in the seat allows people to wash thoroughly whilst seated.
Despite the name, a shower chair can be used throughout the bathroom. The specially designed seat and chair height allow the shower chair to be positioned over the toilet if needed. This allows people without the ability to stand to comfortably use the toilet.
Consider a full bathroom adaptation
Tried all the bathroom aids above but are still concerned about falls? If the individual is still struggling, you may need to fully adapt the bathroom to suit their needs.
A bathroom adaptation increases accessibility and creates a safer, more practical environment for individuals at risk of falling. Here is some equipment you may want to include in a bathroom adaptation:
Walk-In Showers
A walk-in shower has level access, so you can literally walk straight in. There are no steps or steep slopes to navigate.
This makes a level access shower an excellent choice for people with poor balance or lower body weakness.
If you're already using a shower chair, a walk-in shower is also much easier for the individual or their carers. There's no need to lift the chair into the shower cubicle, you can simply push it straight in using the wheels.
Walk-In Bath
If you prefer a bath to a shower, no problem! You can also opt for a walk-in bath.
You access a walk-in bath using a side door, rather than climbing over the sides. This reduces the flexibility and stability needed to get safely in and out. The door is completely water-tight when closed and locked, so there's no risk of leaks.
Bath Hoists
An alternative to replacing the bath is to invest in a bath hoist. This is a waterproof hoist system that can be fitted to the side of a standard bath.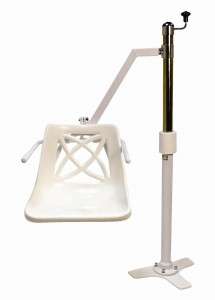 The mermaid hoist is available in both electric and manual options.
The person who needs assistance getting into the bath sits in the seat. Once they are comfortable and secure, the arm of the hoist can lift, rotate and lower them into the bath. After bathing, the hoist can be used to get them safely out. For carer ease and user comfort, the seat is lowered back onto a chair frame.
Be prepared if a fall does happen
Following the advice in this guide will go a long way in preventing falls in the bathroom. However, there will always be some risk of a fall. Being prepared for if someone does fall can help make the situation less scary and stressful for both the person who has fallen and their relative or carer.
Laying on the floor unable to get up is very distressing, even if the person is physically uninjured. In this scenario, most people's instinct would be to help the person up immediately. But attempting to lift someone back to their feet unaided risks injury to both them and you.
The Raizer Emergency Lifting Chair is specially designed to assist someone who has fallen. You simply build the chair around the person then use the controls to gently rise them back to their feet. The whole process takes under a minute and there's no dangerous manual lifting required.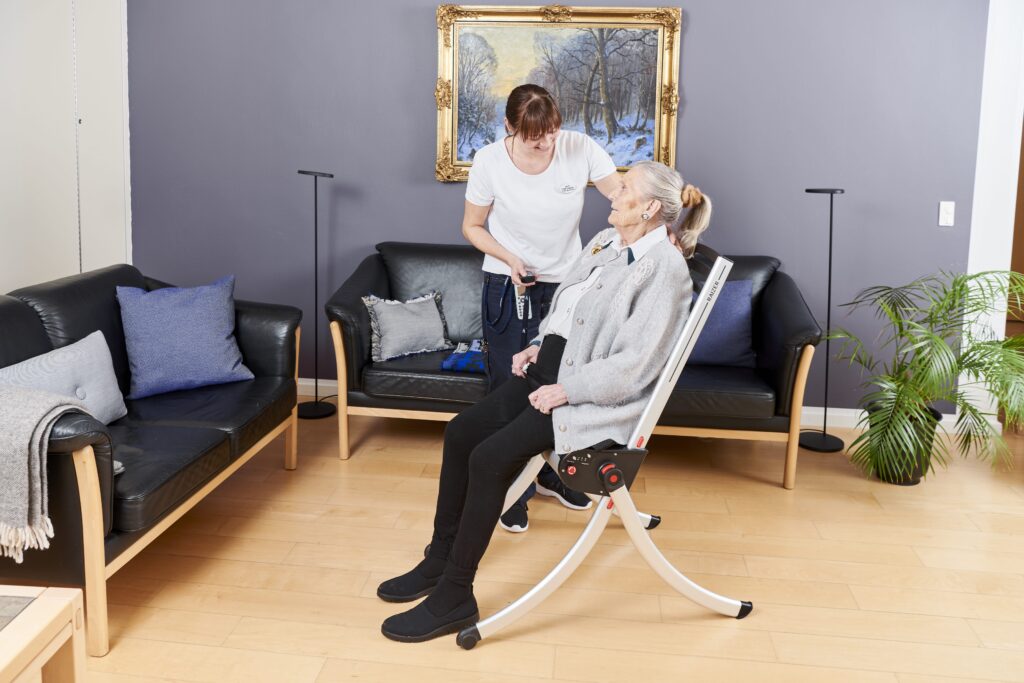 It only takes one person to operate the Raizer. By getting down to floor-level to build the chair, you are also able to reassure and comfort someone as you assist them.
This innovative lifting device provides dignity, speed, and support after a fall. That's why the Raizer is used by emergency services, falls teams, healthcare professionals and private individuals across the UK.
Summary
Falls are the largest cause of emergency hospital admissions in older people. There are many fall hazards around the home, particularly in the bathroom. Fortunately, there are steps you can take to reduce the risks. This guide explains how looking out for warning signs, adding bathroom aids like grab rails and bathmats, and adapting the bathroom to include specialist equipment can all help to prevent falls in the bathroom. We also cover the importance of being prepared if someone does have a fall. Having appropriate fall assist equipment to hand can make a stressful situation much easier to manage.
Interested? Book a free, no-obligation assessment using the form below.
Error: Contact form not found.