This month we were pleased to take part in the Walk to World Arthritis Day challenge, in support of Versus Arthritis.
About Versus Arthritis
Over 10 million people in the UK have arthritis. That's one in six people living with the pain, fatigue, and restricted movement it can cause, with many more remaining undiagnosed, untreated and unsupported.
The impact of arthritis can be huge, affecting the ability to work, care for family, move free from pain, and live independently. Far too little is done for a condition affecting so many across all ages, but Versus Arthritis want to change this.
Together with volunteers, fundraisers, healthcare professionals, politicians, policy makers and researchers, Versus Arthritis helps develop breakthrough treatments, supports those in need, and campaigns relentlessly for arthritis to be taken more seriously. They strive to ensure that everyone has access to the treatments and support they need to live the life they choose, with real hope of a cure in the future.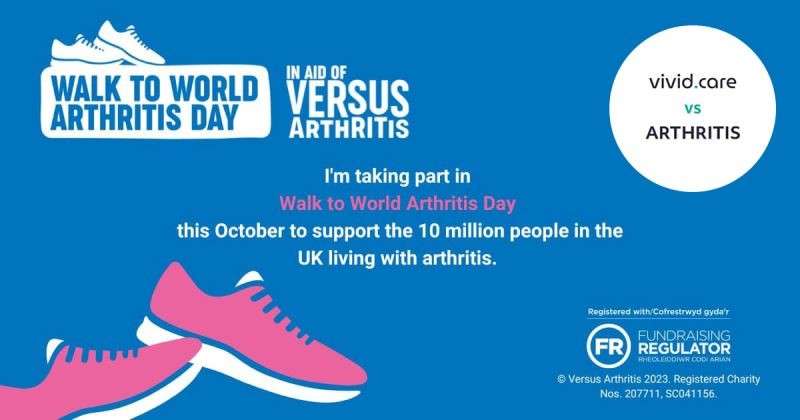 Our Support for Versus Arthritis
At Vivid.Care we encounter patients and customers every day who live with arthritis, and witness the impact it can have on their mobility and quality of life. Unfortunately, due to the prevalence of this condition it can sometimes be viewed as an inevitable part of ageing, which is a perception we want to change.
Arthritis patients face their daily challenges with courage, but there is so much more that can be done to relieve pain and improve their quality of life. That's why we chose to support Versus Arthritis for their October fundraising challenge, Walk to World Arthritis Day.
As a specialist seating supplier, we are well acquainted with the nature of this condition, and witness first-hand the difficulties it can cause, but we also know how far assistive seating can go in improving mobility and easing symptoms.
Our Lento chair range has a variety of features that can assist, from tilt-in-space and independent backrest recline, to waterfall cushions and soft dartex upholstery. This previous article explains in more detail how the features in our seating can assist patients with arthritis. Our knowledge and experience of this condition has shaped our seating programme over the years to produce the versatile seating range we have today.
By joining the Walk to World Arthritis Day challenge, we could practically demonstrate our commitment to this cause as a company, by putting our best foot forward in support of Versus Arthritis.

Up Hill, Down Dale
Starting on 1st October, each participant set a fundraising or walking goal to hit by World Arthritis Day, 12th October. Our target was 60,000 steps for each staff member on the challenge, which we are pleased to say we smashed!
As well as covering many country miles, we spread the message far and wide on social media, generating lots of support from people supporting and completing the challenge.
The challenge ended on the last day of the Care Show, which was a great opportunity for us to raise the profile of this challenge and encourage support from delegates.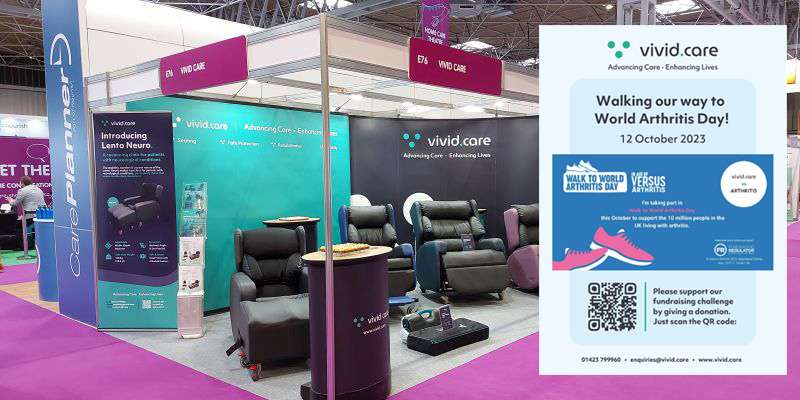 The fundraising deadline is not until the 31st October, so if you'd like to support by making a donation you can still do so here: Versus Arthritis – Vivid Care
Follow our feed to see all the commentary and updates from this inspiring event!