How To Get a Hospital Bed At Home In The UK.
This article will go over the options you have when looking to get a hospital bed at home. There are a range of reasons people may require a hospital style medical bed to provide care in their home including:
Upgrading a current bed.
Those recently discharged from hospital.
Community care
Respite care
Hospice care
Moving in/out of care homes.
In of these situations, there are 2 main ways to go about getting a medical bed for your home.
Each of these options has positive and negative elements and below, we'll go into what they are.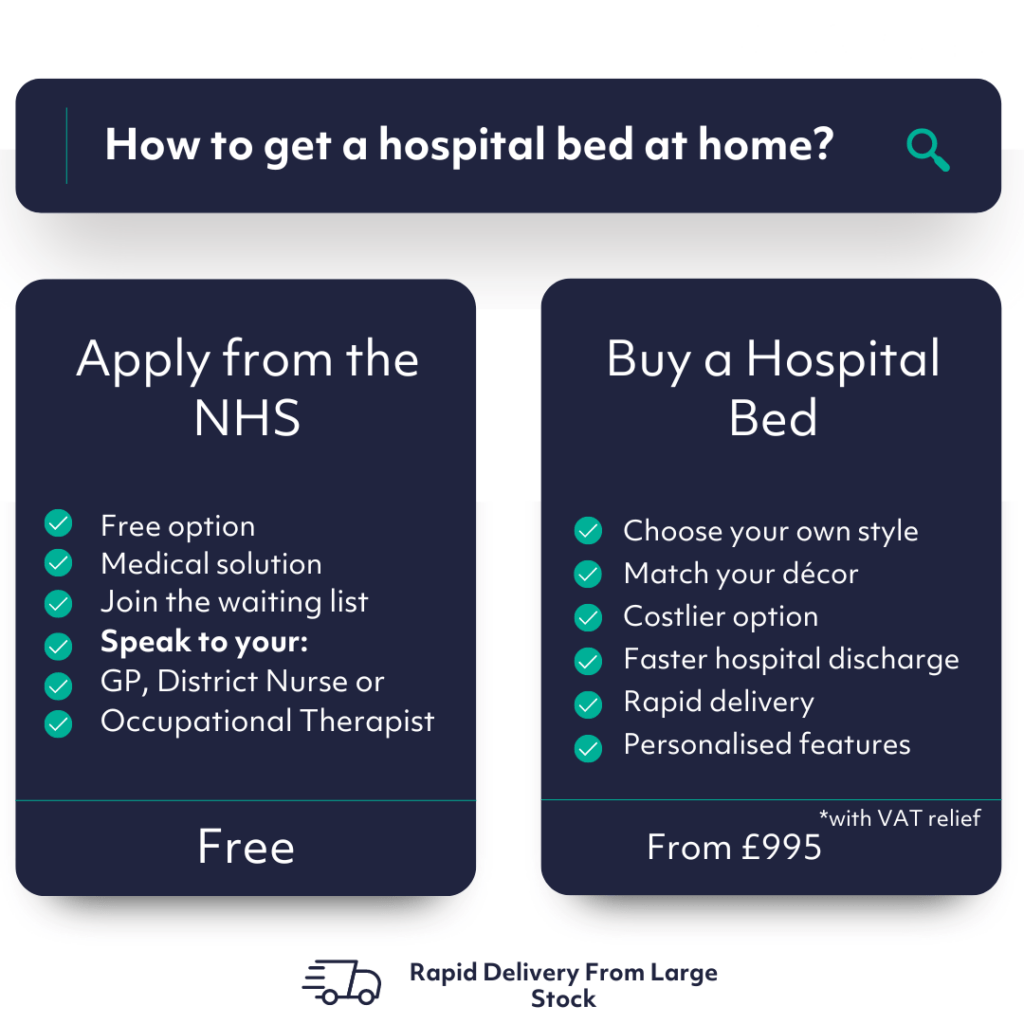 You can also get a free NHS hospital bed at home with the recommendation of a healthcare professional, we'll go over how to do that here as well.
Is a Medical Bed at Home Worth It?
In the UK, 1 in 3 hospital beds are occupied by a patient who is medically fit to discharge.
These patients remain in hospital beds even if they don't need to due to the ongoing the lack of appropriate care equipment when they are discharged to their home.
In any healthcare facility, it is important to ensure there is a good patient flow to ensure things run efficiently. This is especially the case in hospitals when patients are 'fit to discharge'.
The slow discharge of medically fit patients also makes it difficult for inpatients to get into the hospital unable to transfer patients and get back on the road. This is what led to the long queues of ambulances outside UK hospitals seen in summer 2022.
Lack of appropriate healthcare equipment in the community is one of the many reasons for the ongoing backlogs in NHS hospitals across the UK.
"The NHS has a shortage of hospital beds, with occupancy rates consistently exceeding safe levels." – British Medical Association.
"We have older and disabled [people] with complex needs, yet social care capacity has reduced, and we have 50,000 fewer paid carers," – Sarah McClinton, president of Association of Directors of Adult Social Services.
Hospital Bed | Features You Can Expect
Hospital beds contain many features you wouldn't usually expect to find on a bed in someone's home.
Modern hospital beds are very adaptable to patient needs; designed for safety and to facilitate medical treatment by the NHS and healthcare professionals, they act as a comfortable flat, level surface when sleeping, and provide supportive head or foot elevation with their electric profiling base.
Electric, adjustable beds can have a range of features to benefit users:
The ability to rotate and turn into a chair bed to provide moving and handling assistance for elderly, disabled, bariatric or otherwise low mobility users
However, there are occasions where hospital-style beds are required for home use.
People with long-term health conditions, recently discharged hospital patients, palliative care patients at home rather than in a hospice and individuals with low mobility can all require assistive equipment that provides more support and functionality than a standard bed.
How To Get A Hospital Style Bed At Home in the UK:
In the UK, anyone can buy a hospital-style bed to use at home. You don't need a prescription or a recommendation from a doctor.
However, hospital beds come in all kinds of sizes, makes, and models. There's no one set standard – different types of bed exist to suit different patient needs.
So, if you think you or a relative would benefit from having a hospital bed at home, we recommend speaking to a professional. They can make sure you get a bed that meets your care requirements.
There are two main ways to access professional advice on hospital beds for home:
1)     Speak to your GP, Community Nurse, or Occupational Therapist About A Care Bed.
If you, someone you care for or a loved one struggles with reduced mobility, then you may be eligible to have a bed provided by the NHS or local authority.
A community nurse may be able to help by arranging for the loan of an adjustable bed.
The cost will be covered from you and the bed will be free. This method may be preferable for anyone recently discharged from hospital but would require a hospital style bed to aid their support continued care and rehabilitation at home.
If you only need a hospital bed temporarily, a healthcare professional can arrange for one to be supplied from an NHS equipment loan store.
A potential downside to this free hospital bed from the NHS avenue is that you may have to wait a while to receive your bed. Going through the application processes can take a long time; you also won't get much of an input on the bed's appearance.
Hospital beds supplied through social care services are often bulkier and more clinical looking than hospital beds you can buy for yourself.
NHS Criteria For A Hospital Bed At Home
In the UK, if a carer is required to perform certain hygiene and care tasks, then arrangement of a hospital bed for the patient's home may be made,. The table below outlines some of the criteria needed to quality for an electric profiling bed at home.
Ask a community nurse for advice on the best way of making you comfortable.
2)     Speak To A Specialist Care Bed Supplier
For many people, buying a hospital bed direct from a healthcare supplier is the best way to support at-home care.
We recommend going directly to a supplier if:
You want a bed delivered quickly.
You want a choice on the look and design of the bed.
You don't have an occupational therapist.
You don't meet the requirements to get a bed through the NHS.
A good adjustable bed supplier will talk to you about your challenges and where you need support to recommend a profiling bed that meets your healthcare requirements. They may even be able to help you get funding from charities!
There are VAT relief options available for those with one or more ongoing disabilities, this VAT relief page explains the criteria for zero VAT eligibility on products intended for the care or management of a person's disability.
Get Expert Advice Today
At Vivid.Care, we have years of experience supplying hospital beds to private individuals and occupational therapists.
Our home style hospital beds and profiling mattresses can support and care for a wide range of people.
Our bariatric bed can support up to 40 stone and our turning bed is designed to help with the moving and handling of low mobility elderly or disabled patients in home care.
Contact us and our specialist advisors will be happy to discuss the options and find the right hospital bed for your home.
Features To Look For In A Hospital Bed For Home Care
If you're going to apply for a bed through the NHS or your local authority, then you don't need to worry about the features. They will make sure the chosen hospital bed has everything you need.
However, if you're going to buy your own bed, here are a few tips to help you feel more confident before you go to a supplier.
Whichever type of hospital bed you choose, there are some features which are must-haves for home care beds:
Profiling Function
Most people who require a specialist bed at home have to spend a lot of time in bed.
A profiling bed can be adjusted and repositioned to provide better support and comfort. This helps to prevent friction and pressure ulcers as they don't have to lie in the same position all day.
The backrest can even be lifted to allow someone to sit up properly without having to be transferred into a chair.
You can learn more about how profiling works in our Guide to Profiling Beds.
User-Friendly Controls
Whether the user will operate the bed themselves, or they require help from a carer, any hospital bed used in a home setting must have simple, easy to use controls.
Most suppliers will provide some training when they deliver and set up your bed. They should also have a user manual you can refer to if you have any problems.
But you really want equipment that will be used on every day to feel intuitive! Look out for:
Large, well-spaced buttons.
Clear, simple labels for different functions.
Easily accessible emergency stop button.
Other Features To Consider
The following features are included on most hospital beds in a clinical care setting, but won't necessarily be needed in a home setting.
Before choosing a hospital-style bed, you should consider whether these features will support home care for the user. If they aren't required, then you may be better choosing a more traditional style care bed which looks and feels more homely.
Height Adjustment
Hospital-style beds are height-adjustable. On a hospital ward, this is very beneficial as it allows different members of staff to adjust the bed to a height that suits them when giving treatment. This reduces their risk of back strain and other injuries.
In a home setting, this can still be extremely beneficial for carers. However, if the same person always provides bedside care they may not feel they need adjustability.
Height-adjustable beds are also great for anyone who self-transfers from their bed to a chair. The bed can be set to the correct height to make this as easy as possible.
If someone is at risk of falling, a height-adjustable bed can also be lowered during the night. This minimises the risk of injury whilst allowing the bed to be returned to a standard height during the day.  A person can see around the room and interact more easily if their bed isn't permanently lowered.
So, there are clear benefits to height-adjustable beds for home use, but they won't apply for everyone. If you decide you don't need height-adjustment, a divan style profiling bed may be a better option.
Bed Rails
Bed rails or side rails are widely used in hospitals and care homes to protect people at risk of falling out of bed.
When choosing a hospital bed to use at home, people often worry that siderails are too restrictive or that the user might hurt themselves.
It is true that there are some risks associated with using siderails. However, when used properly siderails are a safe option.
You should always consider alternative fall safety measures first. For example, lowering the bed to minimise injury. Plus you should think about any additional precautions you can take to enhance safety. For example, adding bed bumpers provides padding which helps prevent injury or entrapment.
Siderails should be avoided for anyone who is at risk of trying to climb over.
This is often a problem for people with dementia. Adding siderails can make them feel enclosed, causing distress and confusion which leads to them trying to get up and potentially hurting themselves.
If you're ever unsure whether siderails are appropriate for someone, please contact a healthcare professional who can help you to perform a risk assessment.
Top 3 Hospital Beds for Homes
Best Budget Hospital Bed For Home
Best Turning Bed for Help Standing Up
Most Stylish Hospital Bed For Home
Request A Care Bed Quote Today or complete the form below.