What is a Raizer Chair?
The Raizer chair is mobile lifting device designed to help someone get up from the floor after they have fallen.
A smarter falls recovery solution, the Raizer works as a standing assist device and is faster and more stable than traditional equipment to lift someone off the floor after a fall.
This falls recovery device is a quick and dignified way to transfer loved one or patient who has fallen to a sitting or standing position with only one carer needed.
The Raizer is a truly single-handed solution to lifting a fallen person from the floor.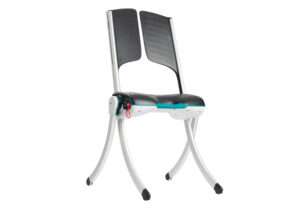 What Falls Recovery Equipment is Currently Used?
Currently equipment used to lift someone off the floor includes; ceiling and mobile hoists with slings, inflatable lifting cushions, lift trollies, step ladder devices or hydraulic/mechanical human floor lift devices.
These lifting aids all have individual drawbacks, from poor portability to a slow lifting process. Some lifting equipment may also require body strength from the person who is being lifted or multiple carers to operate the device.
How Is Raizer Different From Other Lifting Equipment?
The Raizer chair removes these barriers and is a highly mobile lifting aid that will help elderly, disabled or low mobility fallers stand up in just a few minutes.
The Raizer Lifting Chair is more stable than an inflatable lifting device, more portable than a traditional mechanised floor lift and is quicker than a hoist and sling method of lifting a fallen person from the floor.
The Raizer also requires no physical input from the person being picked up from the floor during the lift process. The Raizer 2 can be controlled by remote and operated by just one carer or a loved one if in a home environment.
Choose between two versions of the Raizer Chair.
The Raizer 2 – A fully electric lifting chair that comes with an easy to use remote.
The Raizer M – A more cost-effective manual solution to falls recovery at home.
How does the Raizer 2 Lifting Chair Work?
With the fallen person on their back – slide the seat unit their knees, close to their posterior.
Click the backrest & legs pieces into place – you will hear a sound & hear a green light confirm correct assembly.
Use the remote control to gently lift the chair (use handle for chair lift with the Raizer M)
The easy-to-use handle clicks into either side of the Raizer M seat.
This will enable the user to stand up safely once in an upright position. The intuitive design of the Raizer means assembly is easy and quick.
All leg pieces are the same and slot into the device interchangeably, so you don't have to worry about finding the exact right piece.
The Raizer 2 has seven parts | The Raizer M has eight parts.
1 seat, which holds the mechanism.
Two backrest pieces
Four legs
How Many Times Can I Use the Raizer 2 On A Single Charge?
The Raizer 2 is designed to perform approximately 80 lifts on a single charge. This estimate is based on a fallen user of an average weight.
What is the Weight Limit for the Raizer?
Both versions of the Raizer lifting chairs support users up to 150kg (23.6 stone).
Can I Use the Raizer Lifting Chair in My Own Home?
Yes, the Raizer is an ideal piece of falls recovery equipment for your home. This chair lift offers on the spot support should you or a loved one should experience a fall.
A Raizer Lifting Chair in the home means that the falls recovery can be carried out quickly by anyone else in your home.
Is the Raizer Lifting Chair Suitable for Care Homes?
The Raizer lifting chair is created with single handed care in mind. A single carer can safely lift an elderly or disabled user after a fall without the need for hoists or emergency services.
The chair can be assembled in under a minute and a fallen person can be raised to a sitting or standing position in seconds.
Where Else Can the Raizer Lifting Chair Be Used?
Hospitals
Schools
Stadiums
Community centres
Falls response teams
Assisted living facilities
Ambulances & rescue services
Raizer Chair | Portable Falls Recovery Equipment – Anywhere You Need It
The Raizer is a truly mobile piece of single-handed care equipment for elderly and low mobility people who have suffered a non-injurious fall.
The Raizer also allows for easy carrying and increased portability thanks to its convenient carry bags.
You can easily put the Raizer carry bags in a cupboard at home or in a car boot if you are carrying the Raizer to somewhere where a fall has occurred.
How Much Does the Raizer M Cost?
The regular price of the Raizer M lifting chair is £2154 with VAT. A reduced cost option is available for those eligible for VAT relief. The reduced, VAT free cost of the Raizer M is £1795.
The lower price of the Raizer M facilitates bulk purchases, and the manual operation means no charging of the device is required.
How Much Does the Raizer 2 Cost?
The fully electric Raizer 2 is available to buy without VAT at £3671. This remote-controlled version is £4405.20 without VAT exemption.
I Want to Buy a Raizer Lifting Chair – How Long Will Delivery Take?
Vivid.Care is based in Harrogate, Yorkshire and can deliver your Raizer chair the next day.
Place your order before 1pm for next day delivery (if item is in stock). You will receive:
Raizer lifting chair
User manual & assembly instructions
Raizer carry bags
Lap belt
A crank handle (only with the Raizer M)
Remote control (Raizer 2 only)
In-car charger (Raizer 2 only)
What Accessories Are Available for the Raizer?
What if Something Goes Wrong?
Vivid.Care offer service contracts for either version of your Raizer Lifting Chair. We also have service contracts available for multiple and bulk purchases of the Raizer.
Contact us for more information on the right service contract for your Raizer.